Reading Time: 6 minutes read
Another year, another difficult choice to make: what to do for the annual Christmas picture this year? There will most likely be no geopolitical ramifications because of your choice. However, you want to avoid a relative saying, "yeah, this looks like last year's card." Instead, choose from family christmas picture ideas that bring a smile to everyone's face. Actually, aim for the card that makes the person who receives it, pick up the phone to reconnect. That's what holiday cards are all about.

If you've sent out a few and want a few suggestions on keeping your picture ideas fresh, read on.
Family Christmas Card Ideas
Simply researching a number of ideas to base your holiday card on makes the process easy. You'll also be happier with your finished product. Family portraits come in many shapes and forms. Great ideas make for better correspondence to your friends and family.

1. Baking Christmas Cookies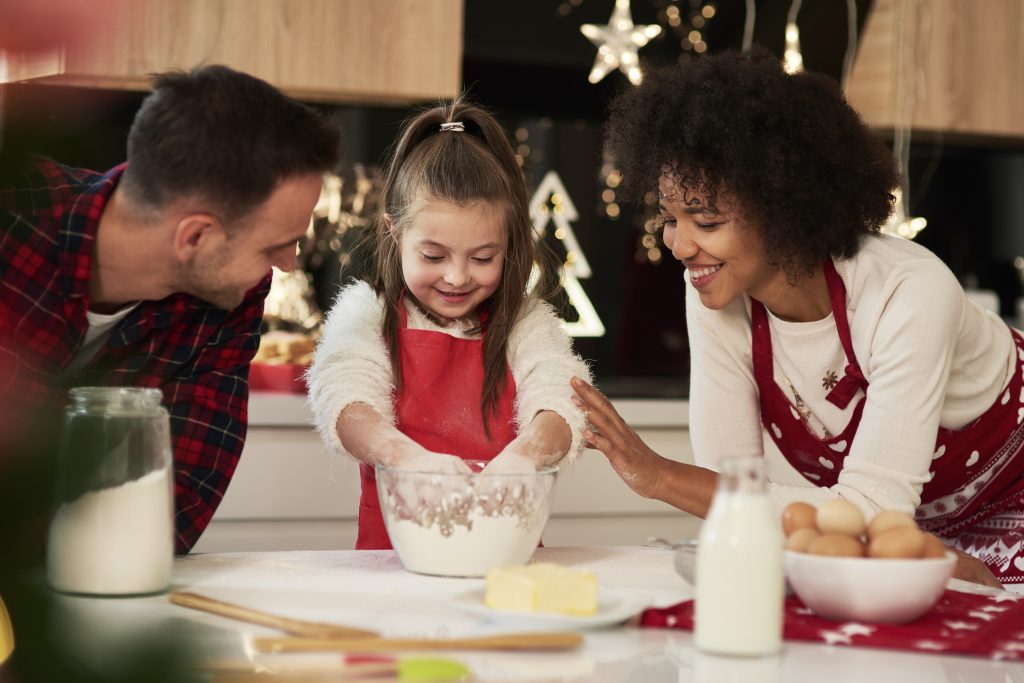 For most families, there's a signature treat that's a sign of the holiday season. For some it's candy, others might be known for a pie, cake, or bread. However, the tried and true holiday cookie is an excellent treat to center a Christmas photo around. The simplicity of the recipe makes it ideal for the whole family to participate in. Basic mixing of ingredients lets even the youngest members of the family join in. The decorating with frosting and sprinkles is holiday photo gold. Get everyone an apron for this photo option. Have a little fun with frosting on the nose to capture some funny family christmas pictures. Take a photo of the family marveling at a smartly arranged plate of your creations. And of course, be sure to test a few cookies to ensure they're safe for human consumption. ?

2. Selecting and Decorating the Tree.
The iconic symbol every family who celebrates Christmas gathers around is the Christmas tree. The best trees are the ones that are selected by the family. Yes, some committee is good in this exercise. Before loading everyone in the car, do some basic planning to ensure some great outdoor family christmas pictures. Check the weather to help achieve a sunny day or snowy day photo. Decide on what everyone is wearing to create a consistent, warm, and comfortable look. Christmas tree farm family pictures are a great family activity. The trees might already be cut at the farm, but bring a saw or axe as a prop to create an authentic holiday photo. Once home, try taking some photos of the family decorating the tree.

3. Don't Stay Still. Try Active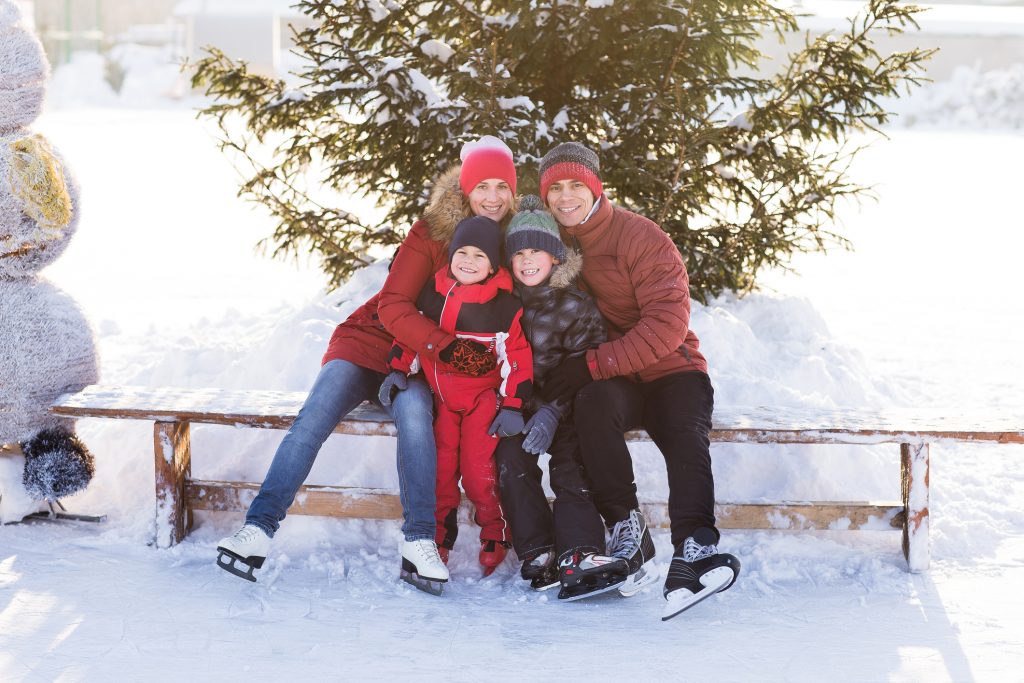 If you have one of those families who prefer movement more than fighting over the remote, try some favorite family activities to photograph. Christmas family poses for pictures don't need to be stiff and staged. Showcase your family's personality in your holiday photo this year with some movement! Build a snowman, go ice skating, go skiing, or take the family on a walk in the park or woods. The beauty of these activities is the smiles on faces tend to be natural and genuine.

4. Include the Furry Family Members
Pets are often great members of the family to include in family Christmas card ideas. Their character and furriness add to the moment. Family Christmas pictures with dogs can be a good excuse for a trip to the groomers. A good place to pose this shot is on the front steps, or the porch of your home. This frames everyone within the features of your house and has a comfortable seat for the family photoshoot.

5. Feature a Famous Landmark
Does your area feature a great historical landmark or a favorite place you visited as a family? Tailor that special spot to work as the background of your holiday card photo. Let's not forget, holiday cards are all about spreading joy. They're also a great way to update everyone on your family. Including a well-known spot can also function as an invitation to visit. Consider tailoring your family Christmas picture outfits to the landmark.

6. Go Sledding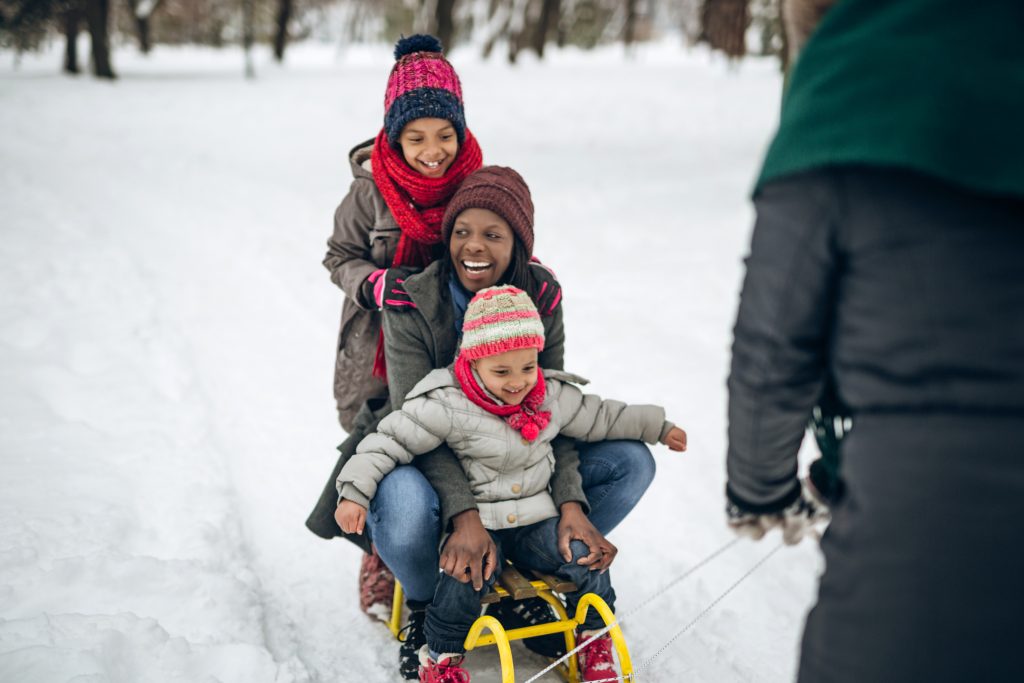 If you're looking for less formal family Christmas pictures, bundle up, grab some sleds and hit the slopes. No sleds? Break down a couple cardboard boxes for a quick sledding hack. You'll find no greater source of funny family Christmas pictures than when sledding. The variety of expressions you see on sledding faces is Christmas photo card gold. Get a few shots of everyone enjoying a hot beverage and a bonfire if available. Pro tip: use the Burst Mode setting to ensure quality motion shots. Pro tip #2: Ask a fellow sledder to take the family shot in burst mode. Then, offer to return the favor.

7. Head to a Garden, Orchard, or Nursery
Big family Christmas picture ideas needn't always involve a setting in your home. Sometimes taking the family outside to a well curated garden or orchard makes for excellent outdoor family Christmas pictures. They often have a variety of flora to sample options to find your best shots. Christmas tree farm family pictures make for warm, heartfelt holiday cards.

8. Make the Outfit the Idea
Your family's attire can make your holiday card feel special and unique. A simple way to pull off this idea is to dig into the pajama drawer. Family Christmas pajamas pictures show everyone dressed in their coziest outfits. You really can't go wrong dressed in Pj's sipping cocoa in front of a fire. Or, gathered on the sofa listening to a reading of a classic holiday story. Coordinating outfits for family Christmas pictures can and should be a fun activity. If matching outfits isn't feasible, consider family Christmas shirts for pictures.

9. No Snow? No Problem.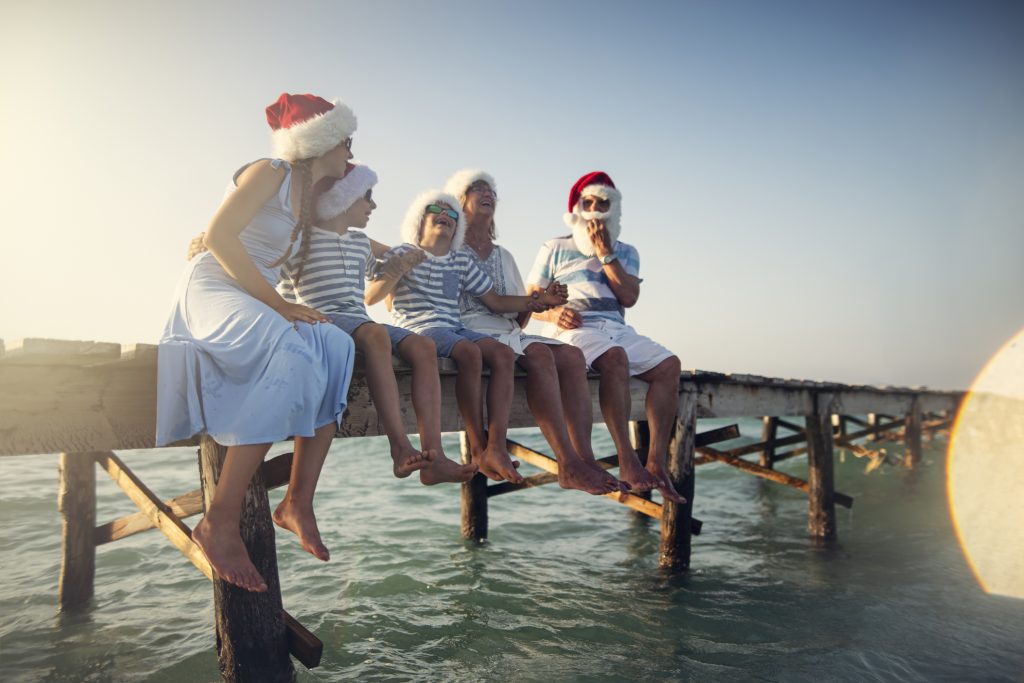 Christmas is celebrated everywhere. Even in places that don't experience snow in the winter months. If that's you, bring the sun, surf, and sand into your family Christmas picture ideas. Head to the beach dressed in seasonal attire. Lose the shoes but don the red Santa hats to capture the holiday feel. Got a pool? Employ an inflatable or two and capture the family afloat with a palm tree in the background.

10. Find a Scenic Rooftop
If you happen to live in a larger metropolitan area, a fireplace or backyard isn't always an option. Rooftops can be excellent places to get memorable Christmas photos. They're a great way to capture landmarks and cityscapes in the background.
Transform Your Photos Into Something Special
Once you find the perfect family Christmas picture idea, make whatever preparations are required and then have fun with it. Approach the project as a fun activity instead of something on your to-do list. The photos will reflect fun if you're having it. Then, take your best shots and feature them in your family holiday card. It's easy to do with Motif. Create a photo book and calendars while the moment is fresh. Give beautiful, high-quality photo projects to close any distance with photos.