Reading Time: 7 minutes read
Admit it: you've sent store-bought holiday cards before. While the thought is there, the message often falls flat. To lift spirits this year, send a custom Christmas card. It's not as challenging or as time-consuming as one might think. A reliable camera and a few good Christmas card ideas are all that is required. Below are a dozen cute, festive, and even tasty photo options to spark creativity. Try one or try them all!
Zoom in on the Decorations
There are countless ways to celebrate Christmas, from mistletoe in the doorway to inflatable reindeer in the yard. By focusing on the decorations, you remind people of all the fun of this holiday. Use these Christmas card ideas to spread joy and spark smiles.
The Christmas tree
There are many ways to capture that beautiful Christmas tree. The traditional photo includes the whole tree from the skirted base to the angel's head. With all the decorative lights on, you don't need the flash. If you want to try something outside the box, zoom in on the ornaments. The ornaments are what make many Christmas trees unique. Many tell a story, which makes for an extra-special Christmas greeting card.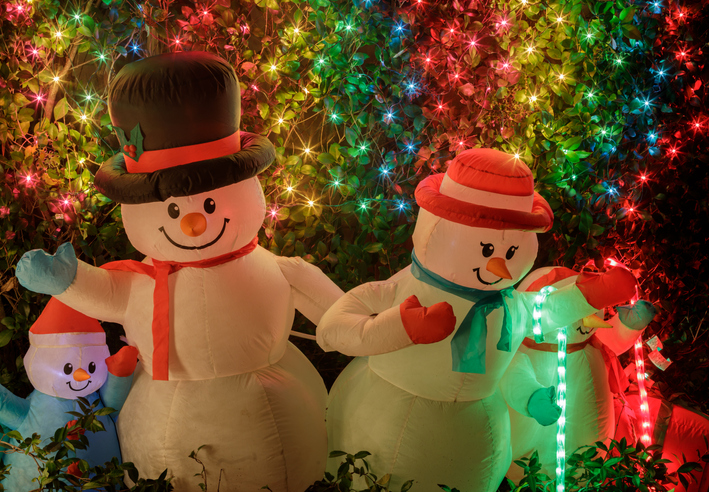 Lawn decorations and house decorations
You invested a lot of time decking the halls. Show it off. Friends and family would much rather see your home than a stock photo of someone else's. It's one more way to close the distance and make it feel like everyone is celebrating together. When taking pictures of lawn decorations outside or the festive touches inside, use the rule of thirds. This composition helps prevent clutter in your photo.
Stockings above the fireplace
If you have a fireplace, this photo op is a must. It's one of those images that evokes the peace and calm that people need during the holidays. Make sure the fire is inviting, and stockings are hanging neatly. Set the scene as if loved ones were there in person.
A wreath on the door
Is the Christmas greeting card an invitation? A wreath on the door is symbolically a warm welcome. A fresh, live, needled wreath is nice, but not required. A crafty, homemade wreath can be just as photogenic, especially if it has a "Merry Christmas" or "Welcome" sign attached. This Christmas card idea really allows personality to shine through. Friends and family will surely appreciate the familiar message.
Focus on the Family Time You Do Get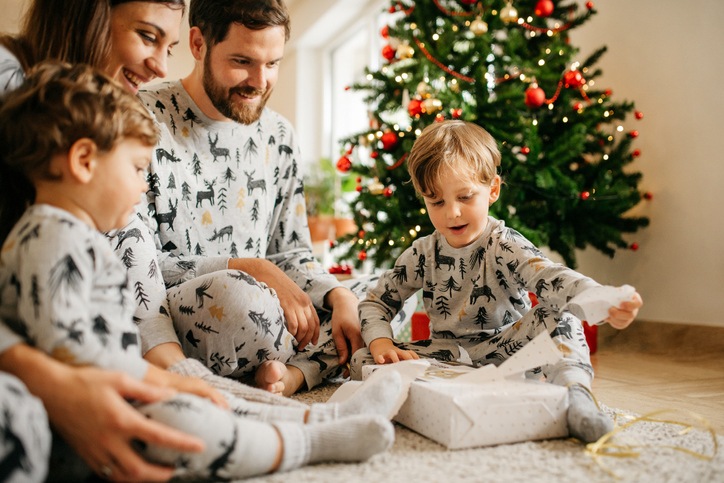 There may be limitations to who is available for visiting in person. But there are still plenty of ways to focus on the family at home. Getting everyone to sit still for a photo op is often tricky.
A family portrait in festive colors
The family portrait is worth the effort of getting the kids to wear something nice. Now is an excellent opportunity to try this holiday photo portrait. Have everyone wear festive colors, giving them leeway with patterns and style. Take a family portrait in lively colors outside in front of the house, at the Christmas tree farm, or sitting on the sand if residing near the beach. Natural light is most flattering and helps guarantee a professional-quality photo for the Christmas greeting card.
Get a picture of the family opening presents
Whether used for custom Christmas cards or not, get a picture of the family opening presents. It's everyone's favorite activity and one that extended family will love to see. Taking pictures of gifts that were mailed can be used later in thank you cards to those who couldn't be there in person. Make them feel that they're a part of your holiday by capturing expressions of surprise and pure happiness. Tip: When photographing people in a dramatic setting, use Portrait mode on iPhone. It puts the focus on the subject, so those bright eyes and big smiles pop!
Matching Christmas pajamas

Matching Christmas pajamas is a cute family tradition that screams holiday cards. Take the photo with a classic face-the-camera pose. Or, try something playful, like an overhead shot of a pillow fight in bed. Some families even dress up their four-legged friends to make it an all-inclusive photo. No matter how many people or pets are in on the fun, it's a picture-perfect moment.
Focus on the Season
For a more literal interpretation of "season's greetings," focus on the season itself. It may be very cold, but winter has a lot to offer. There's winter beauty everywhere, from intricate snowflakes stuck on your windows to ruby red cardinals resting on a limb. This natural scenery not only stuns but is also non-denominational. You can send these holiday photo cards to anyone and know it will be well received.
A winter wonderland

A winter wonderland is one of the most classic holiday card ideas. Imagine either a snow-covered landscape or a twinkling show of lights that a car can drive through. When choosing the latter, adjust camera settings to avoid glare. Alternatively, embrace the light to get a dramatic bokeh effect. For landscape photos, it's all about composition and finding a subject as a focus-point.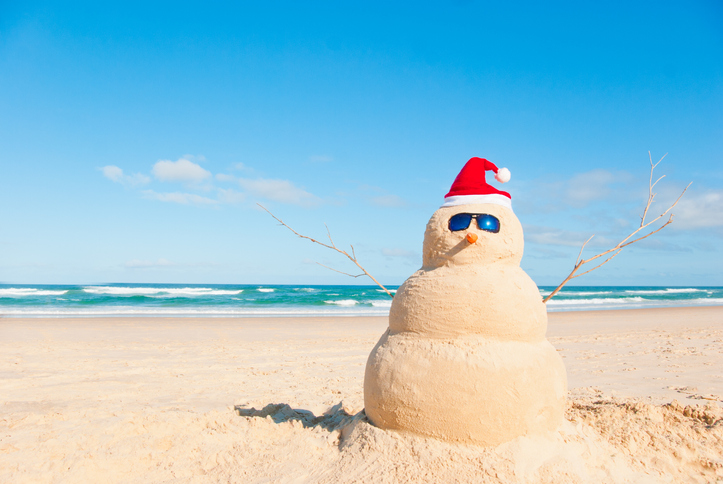 No snow? No problem.
Snow doesn't fall in all fifty states. Get creative if there's no real winter season. That may mean heading to the beach to build a sand-man instead of a snowman. Or writing "Be Merry" in the sand, capturing it from overhead. In the desert? Lie down and create sand angels instead of snow angels. Decorate a cactus with Christmas lights. There are endless alternative options when sending greetings from warmer locals.
Draw a Crowd With Holiday Food
Food photography always draws a crowd – and lots of likes. Being a professional chef or food stylist is helpful, but isn't a requirement. If zooming in on holiday food, this custom Christmas card is guaranteed to get everyone's attention.
Christmas Dinner
Capturing dinner isn't only a great Thanksgiving photo card idea. Christmas dinner is often equally as extravagant. Use the good china to plate this feast. That makes it a worthy photo-op for custom Christmas cards. When photographing the dinner table, focus on the holiday food or capture place settings before they're filled with goodness. Stand on a chair to get a clear overhead shot, where plates and bowls overflow the frame.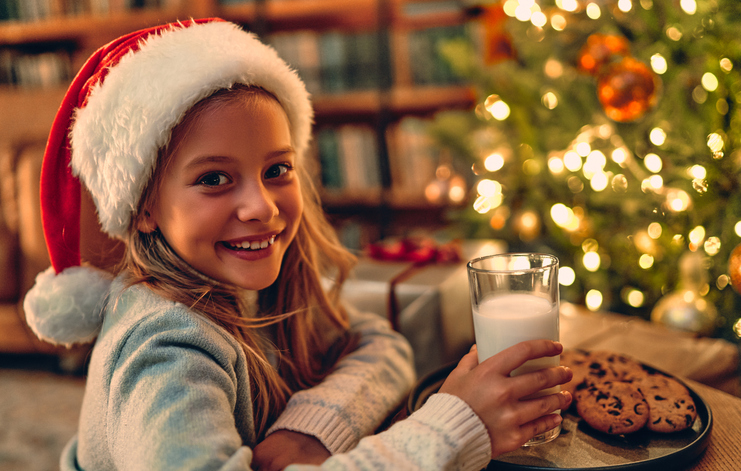 Cookies for Santa
When struggling to get the kids involved with Christmas card ideas, tell them to put out cookies for Santa. Cookies make for good motivators when photographing kids. Be sure to turn up the shutter speed or use burst mode to catch them carrying the plate or stealing a bite. Everyone swoons over these sweet pictures.
Toasting marshmallows around a fire
Looking for a unique holiday card? Toasting marshmallows around a fire may not be quintessential Christmas, but it does conjure up warm-and-fuzzy feelings. All that gooey imagery is pure eye candy. Take a photo of the family gathered around the fire or zoom in on the marshmallows melting over the flame. To nail this photo, brush up on some essential night photography tips beforehand.
Print Your Christmas Cards With Motif Photos
If you're taking the time to make a custom Christmas card, it must be paired with quality printing. Fortunately, that's what you get when printing Christmas cards with Motif Photos. Motif only uses premium paper with true whiteness, and no image bleed. Even their envelopes are constructed with the utmost care. Rest assured, your favorite Christmas card ideas are in good hands with Motif.