Reading Time: 6 minutes read
A large turkey dinner, kids playing football in the backyard, watching a parade on TV. Just a few of your typical family Thanksgiving traditions. This year, consider adopting a new one to spread even more holiday cheer. Photo cards are the easy choice. Anyone can create them. Simply follow one of these custom Thanksgiving photo card ideas and watch the holiday fall right into place.
Idea #1: Thanksgiving Photo Invitations for Your Special Feast
The idea:
If hosting Thanksgiving dinner, this idea is perfect. Printed Thanksgiving photo invitations are much more personal than a text message or a private Facebook event post. Invitations take a little time and consideration. That level of effort shows how important the day is for the family. It sends the message that Thanksgiving is not just a one-hour dinner. It's an extraordinary occasion for sharing with the most special people in your life.
The execution:
When creating a Happy Thanksgiving photo card invitation, a semi-professional looking photo is useful. By no means does it need to be a for-hire portrait. With a few iPhone photography tips, most people can take pics like a pro. Shoot for a well-composed, well-lit image. Here are some Thanksgiving-themed photo ops that are perfect for a dinner invitation:
Classic family portrait (don't forget the fur babies!)
Dressed up dinner table
Candid shots of last year's Thanksgiving
Fall decorations from around the house – candles, pine cones, pumpkins, etc.
A wreath-adorned front door
Wide-angle shot of your house, complete with fall foliage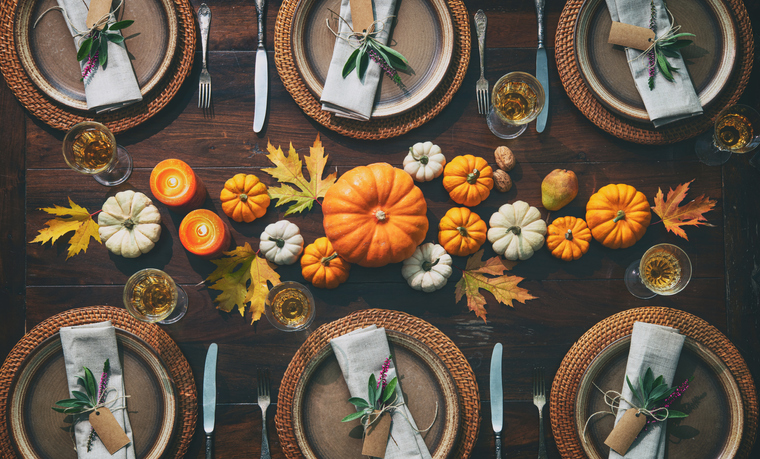 Can't decide on just one? Group a handful of pictures into a collage. Be sure there's a consistent theme among the photos. One particular color tone, filter, or background can tie it all together.
The timeline:
Work backwards from the day you need the invitations to create a reasonable photo project timeline. Proper etiquette suggests guests receive their invitations at least two weeks before Thanksgiving Day. That means the timeline should look something like this:
24-30 days before Thanksgiving – Create the photo card invitation and place your order.
19-23 days before Thanksgiving – Put invitations in the mail.
Fourteen days before Thanksgiving – Confirm that all guests have received their invitation.
5-7 days before Thanksgiving – Tally the RSVPs and finalize the guest list.
Idea #2: Custom Thanksgiving Holiday Cards to Kick Off the Season
The idea:
Around the first of December, holiday photo cards start pouring in. Suddenly, there's a collage of smiling faces on the refrigerator. Every friend, family member, and newlywed couple appear smiling and happy. Why wait until the final month of the year to spread cheer? Sending custom Thanksgiving holiday cards is an excellent way to kick off the festive season. Everyone could use an early pick-me-up this year. The earlier, the better!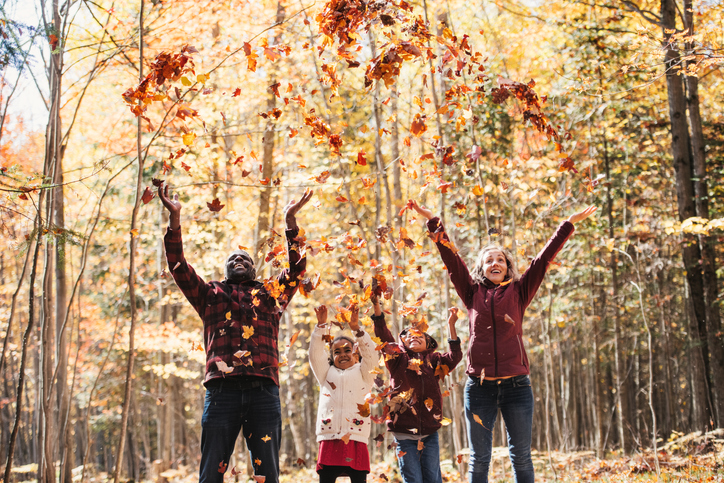 The execution:
Unlike an invitation, people expect cute family photos on a holiday card. Stick with pictures of people and pets for this project. Fall foliage can be the background of your portraits instead of the main focus. If looking for inspiration, there are plenty of ways to create holiday card-worthy family portraits.
Next, choose between a simple layout or a collage. The more straightforward option involves choosing one good photo to fill the entire front of the card. Then, on the inside, add a different portrait and a personalized message.
The collage idea is best used as a year in review. Select several snapshots that capture all the essential highlights – weddings, graduations, baby announcements, championship games, etc. With so many memories to spotlight, filling up both "pages" of the photo card, front and back, should be reasonably easy. Remember to reserve half of one inside page for the holiday greeting and signature.
When finished, leave the printing to an experienced holiday photo card maker, like Motif.
The timeline:
These early holiday cards should arrive on or before Thanksgiving. This allows for a little more leeway than the photo card invitation. Still, be sure the cards get in the mail on time. The following schedule will keep you on track:
24-30 days before Thanksgiving – Gather your photos or take new portraits.
21-23 days before Thanksgiving – Order the custom photo cards.
Seven days before Thanksgiving – Mail the photo cards.
Idea #3: Personalized Thanksgiving Cards That Show Gratitude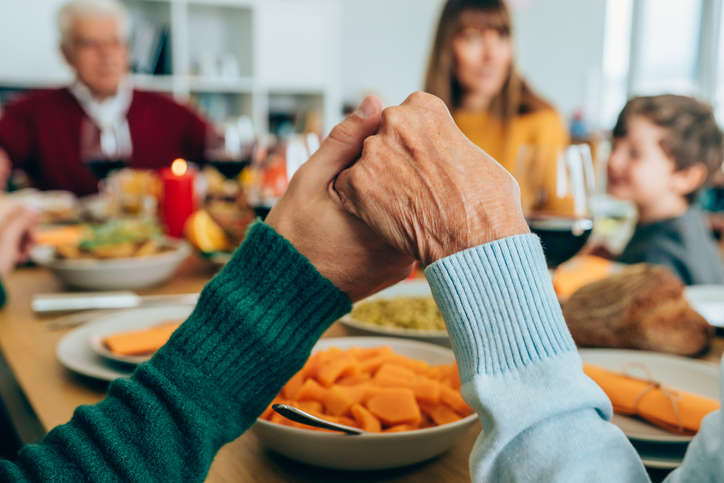 The idea:
Thanksgiving is the perfect opportunity to express appreciation for the people in your life. Many families go around the dinner table, sharing messages of thanks. But what about friends, teachers, and neighbors? Personalized Thanksgiving cards tell everyone how much they mean to you.
The execution:
Start by making a list of people for whom you are grateful. Let those names inspire you to decide on a theme or a particular photo. Mailing messages from one family to several other families call for group photos. Friend-to-friend Thanksgiving cards might feature more pictures of pets, holiday décor, or fall foliage. Choose photographs that symbolize love and gratitude to drive home the message.
The actual message matters, too. Write out a few different ideas then choose the most sincere but succinct. Remember, you're printing a batch of Thanksgiving greeting cards. One message has to make sense for the whole bunch. Here are some examples:
Thank you for bringing joy and laughter to everyone around you.
I'm blessed to have you in my life.
The world is a better place because of you.
I'm truly grateful to call you a friend.
Once the cards are printed, add a more personal, handwritten note. Run down the list again and jot down at least one thing you love about that person. Do they make you laugh? Are they a good listener? What do they add to your life? Ponder these questions and use your answers as a guide.
The timeline:
What's most appealing about this Thanksgiving photo card idea is an absence of a hard deadline. Ideally, these notes of gratitude should arrive around Thanksgiving Day. But there's no definitive expectation. This is a surprise gesture that will warm hearts no matter what day it lands. That said, try to get it in their mailbox before New Year's Eve.
No matter which Thanksgiving photo card you create, use Motif's smart technology and intuitive tools to perfect the project. Motif's easy-to-use editing software lets you sharpen blurry images, adjust brightness, and play around with different layouts. From start to finish, Motif makes this new Thanksgiving tradition a piece of cake…err, pumpkin pie.