Reading Time: 7 minutes read
Everyone hopes to capture the perfect Christmas photo. The holidays can make family photos a bit trickier. Schedules are all over the place and emotions are running high. There's a lot to navigate. Get creative with your Christmas picture ideas and start early. As soon as decorations go up or snow comes down, start snapping away. The more memories gathered, the better chances you have of capturing that great photo. Here are five picture ideas to kickoff your holiday photography season.
Idea #1: Show Off Your Christmas Decorations
Which Christmas decorations?
Show off the Christmas decorations inside, outside, on the roof, or on the tree. Even inflatable lawn decorations are fair game. If it spreads cheer and represents the family's personality, they'll love it.
Why Christmas decorations?
It takes an entire weekend (maybe more) to put up roof lights, hang stockings, and get the Christmas tree just right. Don't let investing all that time go to waste. Take pride in your Christmas decorations and in the care you took putting them up. A permanent record lets you look back at decorations over the years. Use these holiday photos to recreate the same scenes or to one-up yourself in the future.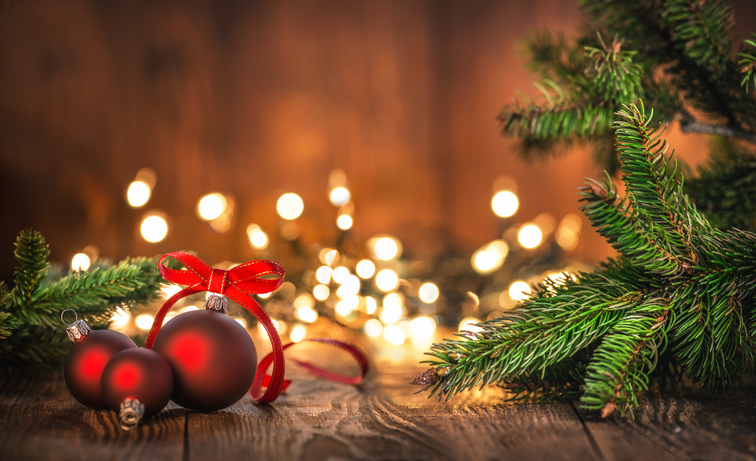 How to photograph Christmas decoration:
Decorations actually make a photographer's job easier. There's no worrying about props or backdrops. The staging is done. Simply frame the shot and establish the right lighting. Composition is key. Trying to capture everything often results in cluttered and busy photos. Instead, use the rule of thirds to create a clear, well-balanced image. Play around with zoom lenses. Macro photography is great for closeups of that special ornament on the Christmas tree.
Idea #2: Take a Formal Picture With Everyone Dressed in Christmas Colors
What is a formal Christmas picture?
Candid shots during the holidays are sweet and sentimental. A formal picture is a staged, professional-looking photo. Everyone's outfits are coordinated. They're all smiling ear-to-ear. Their eyes are open and looking straight at the camera.
Why take a formal Christmas picture?
A formal family photo is one of the most classic holiday card picture ideas because it embodies togetherness. It's seizing a Christmas moment when the entire family is together, especially when they may live miles apart. It's the best way to send a group message in one card: "Happy Holidays, from our family to yours!"
How to take a formal Christmas picture:
This can be one of the trickier photos to take. Holidays can be hectic. Perhaps there are toddlers in the family who are unable to sit still for seconds, let alone minutes. To make this a little easier, instruct everyone to wear Christmas colors. Decide on one well-decorated spot inside or outside the house. This should be the backdrop to the photo. Don't overcomplicate. Use an iPhone to take the picture. Simply place it on a tripod or other stable surface and set the timer. To spice things up, try one of these 7 group portrait poses.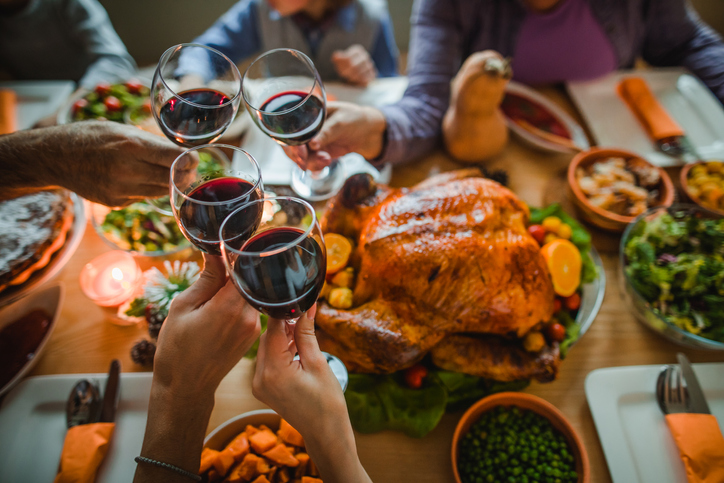 Idea #3: Capture Christmas Dinner
What is a Christmas dinner photo?
Food photos make great holiday cards. When you capture Christmas dinner, think beyond the food itself. All the events leading up to the big feast are equally special. Capture a kitchen full of people preparing the dinner. Grab a shot of the place settings. Get a panoramic of the family around the table. Thinking about turning your Christmas photography into a photo book? Capture all of these family photo ideas and more to tell the full story of Christmas Day.
Why take a Christmas dinner photo?
For many families, Christmas dinner is the main event. It's what brings everyone together. Logistically, this makes things easier. The subjects are typically photo-ready. The food is fresh and perfectly prepared. The family is dressed up and on their best behavior. People aren't moving around very much. A little hustle and bustle is part of the allure.
How to capture a Christmas dinner photo?
When taking a Christmas dinner picture, the goal is to get candid, intimate shots. Take the set-it-and-forget-it approach. Turn off the camera's flash and set a higher ISO. To be even more discrete, set up a tripod in the corner of the room and use a remote trigger to snap photos at leisure.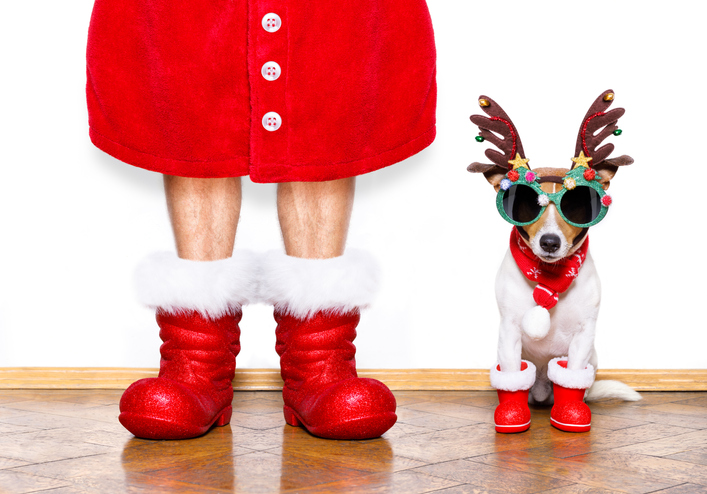 Idea #4: Dress up in Fun Costumes
What is a fun Christmas costume photo?
Santa may or may not not be real, but that doesn't mean he can't come to life in your photos. Throw on the suit and hat, dress the dog as a reindeer, and take some silly snapshots. You're not limited to Santa. Dress up in fun costumes of any kind. Try a winter theme and dress the baby as a snowman. Gather the family for a tasteful manger scene.
Why take a Christmas costume photo?
When dressing up in fun costumes, it's purely for entertainment. Christmas card recipients will instantly laugh or smile, seeing all the creativity that went into this photo op. Costumes also can make photo subjects more at ease when pretending they're someone they're not. Shy people often become gregarious.
How to capture a Christmas costume photo?
If it's possible to take beautiful Halloween photos on an iPhone, there's no reason the same cannot be done for Christmas holiday photos. Put the iPhone in Portrait mode to make faces the focus. Take the photoshoot outdoors during golden hour to leverage that warm natural light. Depending on the costumes, extra thought may be needed to perfect the overall scene. Add props, repurpose furniture from around the house, or exaggerate hair and makeup. There are plenty of ways to be resourceful.
Idea #5: Focus on the Season
What is the purpose of focusing on the season?
Capturing a winter wonderland is one way to focus on the season. For those who live in warmer climates, a sunny Christmas might be more appropriate. Whatever weather or seasonal scenery the environment offers, highlight it in a custom holiday photo card.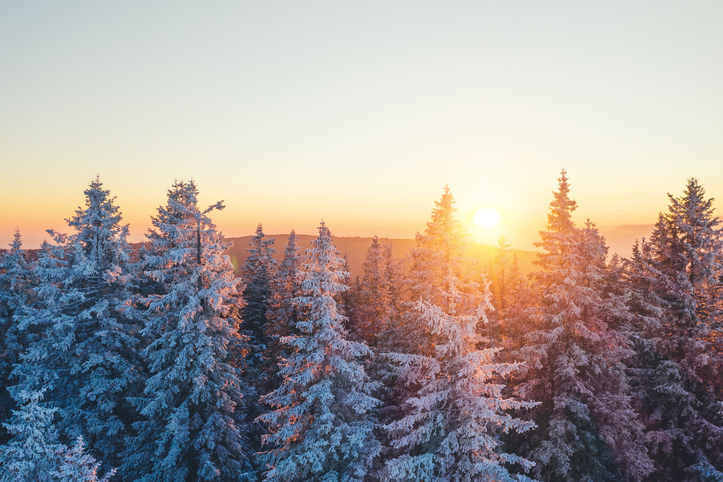 Why focus on the season?
Winter has what other seasons do not. Even Florida gets colder temperatures between December and February. It's a good time to catch unique weather patterns: a heavy snow, strong wind, or drooping icicles. This season is also unique for its festive décor and accessories. Look around and you'll find wood sleds, wool plaid blankets, cable-knit socks, mistletoe and more. Whether focusing on weather or wears, a one-of-a-kind, seasonal image is guaranteed.
How to capture the season:
Nature photography is temperamental. Conditions can be challenging to predict on any given day. It's still possible so try and plan ahead. Check the forecast and avoid gray skies. If it's a total whiteout with snow all around, overexpose the photo and get close to the subject. This helps maintain the details while adding depth.
Share Your Christmas Picture Ideas
You can share all your holiday photos on Facebook or Instagram. However, there's something special about receiving a printed photo project as a gift. Create a custom card with these Christmas picture ideas. Or create a Christmas photo book with them. Not only will your immediate family enjoy taking the photos, your extended family and friends will love seeing them. The Motif app makes the whole process a breeze, thanks to its seamless integration with Apple Photos. There's no uploading required, so you'll have more time to add personal touches and make it an extra-special gift for the people you love.