Reading Time: 6 minutes read
Thanksgiving is a perfect holiday. There's no pressure to deck the halls and exchange gifts. It's simply a gathering of friends and family for one memorable meal. Cooking, eating, and gabbing with loved ones are the only obligations. Who wouldn't want to relive this day over and over? That's the beauty of photography. Taking Thanksgiving pictures effectively freezes that moment in time. It doesn't just mean snapping Instagram-worthy food photos. All the best memories should be captured with these Thanksgiving picture ideas.
Thanksgiving Family Picture Ideas
When one person is the designated photographer, that person is rarely seen in a photo. Even though it's cliché, get the entire family in a portrait. An orchestrated group photo is the only way to guarantee every guest is included. This may require the occasional selfie. Something else to be thankful for is The Apple Camera app that features a 10-second timer. Use it to your advantage, along with these other top selfie tips.
While the family is gathered around before, during, and after dinner, seize this opportunity to catch sweet, sentimental interactions. For many people, Thanksgiving is an annual reunion. Whether separated by a pandemic, busy work schedules, or any number of miles, many attending Thanksgiving have been apart for a while. Be sure to take candid shots of family members seeing each other for the first time in months. It'll be a real tear-jerker moment – now and later.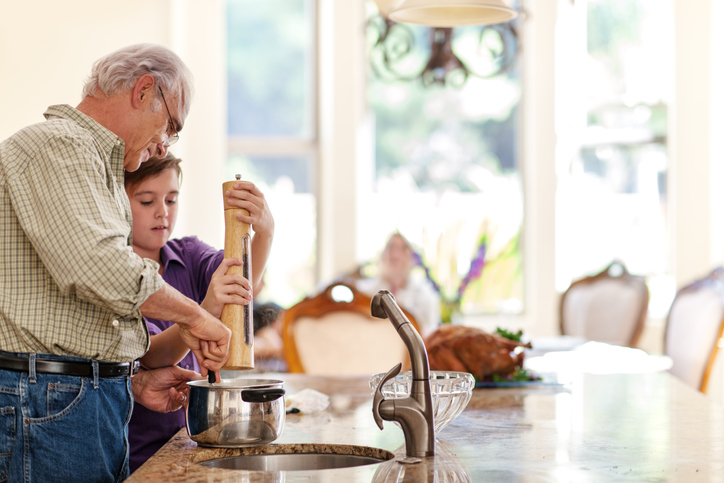 Meal Preparation Pictures
Meal prep may sound like a tedious Sunday afternoon activity. But it's far from true on Thanksgiving Day. A crowded Thanksgiving kitchen is a good sign of what's to come. People will ogle the golden-brown turkey and sneak a spoonful of mashed potatoes when Grandma's not looking.
Grab a camera and capture these minor offenses. Be sure to use Burst mode. The rapid-fire shutter helps catch those potato pirates red-handed – and any other meal prep action shots.
Staged meal prep photos are also welcomed. Once the hosts are done setting up the table, focus the camera on the pre-dinner scene. Try to capture the beauty of strategically-placed plates, a fall-inspired table runner, and a fresh floral centerpiece. Shoot from the side of the table, looking up.
Or, stand on a chair and get the bird's eye view. Composition and the rule of thirds are essential for these types of Thanksgiving pictures.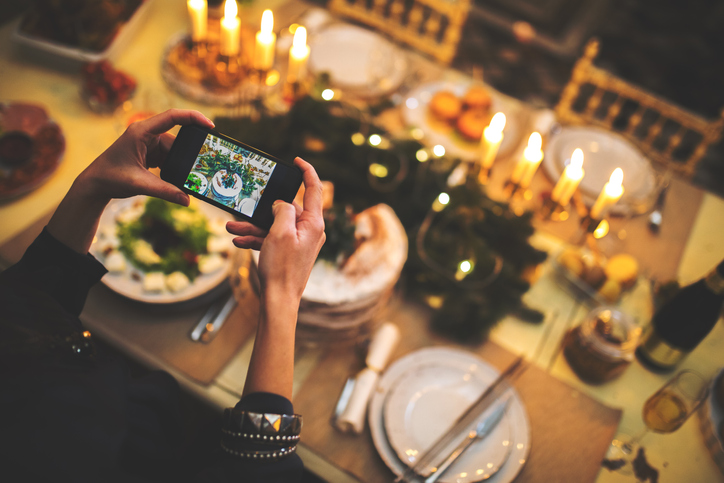 The Final Table Scape
Once dinner is served, snap pictures of the full table spread. The feast (and quality family time, of course) is what Thanksgiving is all about. To capture everything at once, find the right angle. Standing off to the side and shooting above table level is often the best bet.
While there isn't control over how each dish is plated, good food photography tips will help styling the food and accessories. Sometimes adding a spoon to the bowl or repositioning several items to fit the frame is all that is needed.
If devices are permitted at dinner time, snap a photo of the family gathered around the table. It can be a quick click at the start of the meal.
Catching everyone holding hands and bowing their heads for the blessing is another tender moment. Funny food photos are a real gem, too. Entice a favorite uncle to grab a turkey leg and make a face as he bites into it. Don't overwhelm the family, though. Take several photos, and then retire the camera for an hour or so. Enjoy Thanksgiving dinner!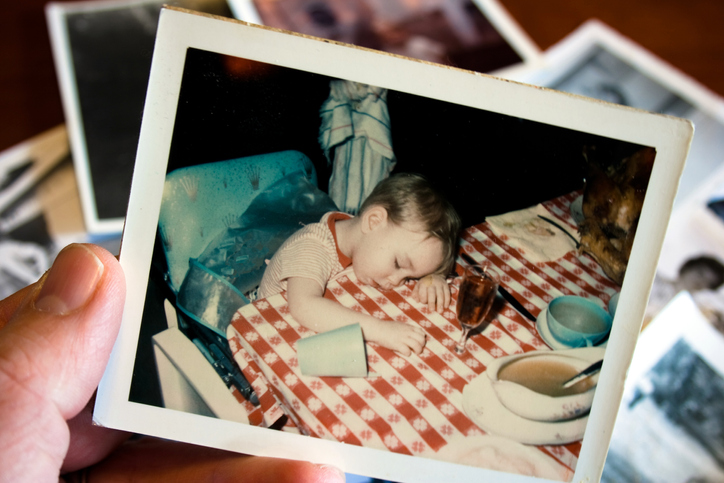 Post-Meal Food Coma
The meal is over. Now what? That's when there is often a mass migration to the couch. Some ambitious guests will put away leftovers and clean up the mess. Photograph these gracious helpers. They work hard and deserve the credit.
When finished in the kitchen, focus on the family gathered in the living room, watching TV, and bonding. That's where many sweet shots of Grandpa telling stories or siblings fighting over the remote are found.
Eventually, all the chatter and commotion settles down. TV time turns into the post-Thanksgiving food-coma nap. Take pictures of those sleeping beauties, within reason. Be mindful of everyone's wishes. Avoid any dreamers who would be sincerely humiliated or offended by the invasion of privacy.
Thanksgiving pictures are meant to conjure love and sentiment – not revenge or blackmail.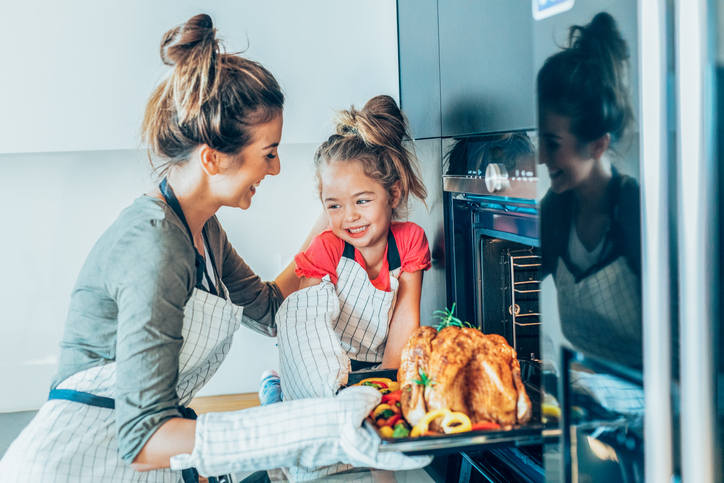 Cute Pictures for a Thanksgiving Invitation Card
The group photo and full tablescape are great options for creating a Thanksgiving invitation for next year's event. But also try something that makes guests giggle or swoon. Set up a few shots with kids or pets for super-cute photo card moments. Here are some Thanksgiving picture ideas to try:
Baby dressed as a turkey in a pot
Kids in chef hats and aprons, cooking Thanksgiving dinner
Dogs begging for turkey
A candid shot of everyone watching a Thanksgiving Day Parade
For a more traditional portrait, keep it casual and easy. The family dressed in autumn colors, for instance, is fail-proof.
It's easy to coordinate outfits as nearly everyone has forest green, burgundy red, or a shade of brown in their closets. Each family member can pick a different fall hue or wear matching shirts with complementary bottoms. Wearing autumn colors against an autumn backdrop is picture perfect.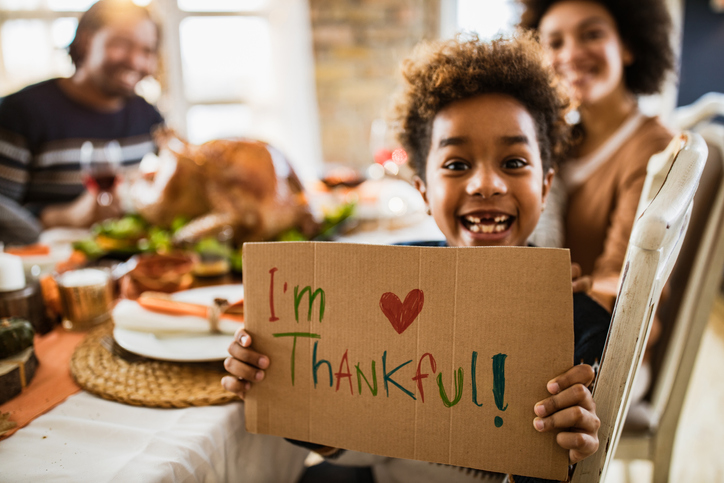 No matter which Thanksgiving photo card idea you choose, it deserves to be showcased. While taking a well-composed, memorable photo is the first priority, where it goes from there matters, too.
Photos that special should be printed on premium paper with vibrant colors and zero bleed-through. Print your Thanksgiving photo card with Motif. Motif was the leading global supplier to Apple Photos and uses the same quality paper used to make Apple Photos products.
You can trust those high standards and care are taken when creating any Motif photo project – especially one that highlights all the things for which you're most grateful.