Reading Time: 6 minutes read
Is it just us, or is there something really special about black-and-white photos? We're not sure if it's the retro feel or the way that, somehow, the absence of color intensifies the shading and contrast in the photos, but black-and-white photos have a nostalgic draw. And while full color is undoubtedly beautiful, there's just a certain "je ne sais quoi" that black and white photos bring to the mix—particularly when compiled into a full book. If you're creating a whole black and white photo book, there are a few things to keep in mind to keep your images and book diverse.
Read on for our top tips!
1. Select photos strategically
To make photos "pop" without color, you need think a little differently about your selection process. Motif's intelligent tools can evaluate your images for image clarity, focus, etc., but you may want to pay special attention to your photos' contrast levels. In full-color photos, we tend to look at overall color balance and for colors that "pop." However, since black and white photos don't use color, you need to literally evaluate shades of grey.

For example, think of your favorite photos of your pet. Odds are, your sweet tabby kitten isn't simply grey—it's the shades within those stripes that stand out. So to make your kitten pop in black and white, you're looking for photos that show all those different shades—and hopefully some bright whites in there (such as the light hitting those big beautiful eyes), too.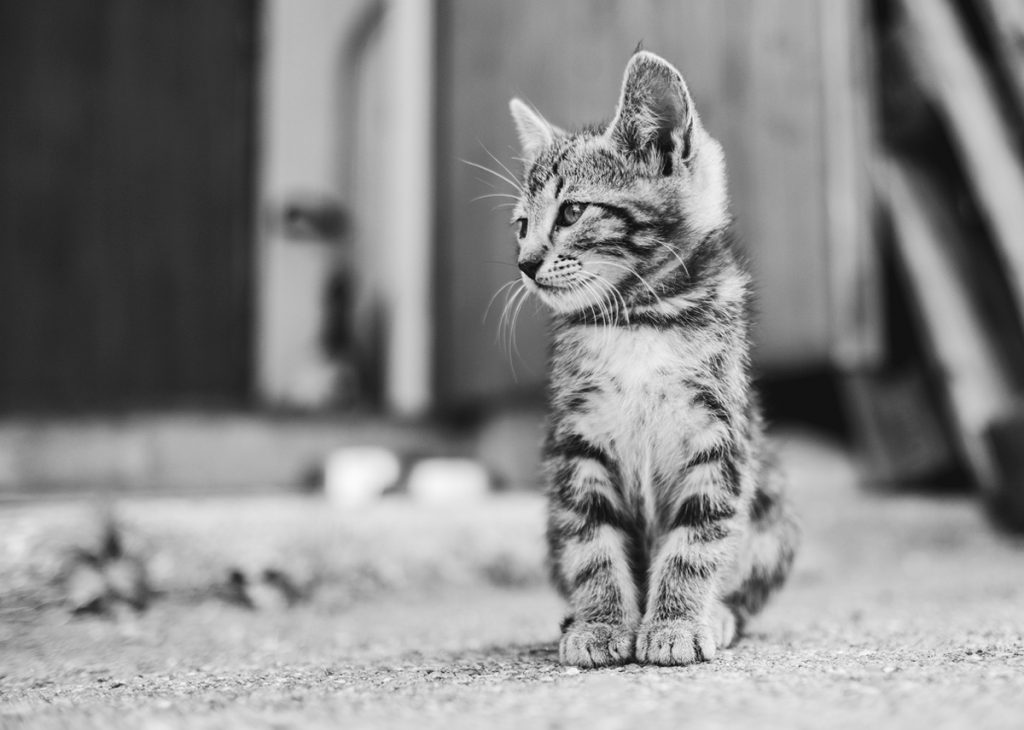 Look for images that use a full spectrum of shades—crisp, bright whites and pure, black darks that stand out, with varying shades of grey in between. Make sure each photo is crisp and clear and has an obvious focal point or draw. It's likely this is what you're looking for in color photos, but you must intensify that criteria as you evaluate your black-and-white images.

2. Make use of editing tools
You probably take most, if not all, of your pictures in full color, but today's myriad of great photo editing programs make it easy to turn any shot into a black-and-white photo. A simple photo filter can convert your image in two clicks, overlaying the black and white on your existing image. Other programs allow you to simply change the photo mode, discarding your color (pro tip: make sure to "Save As" before you make the change.).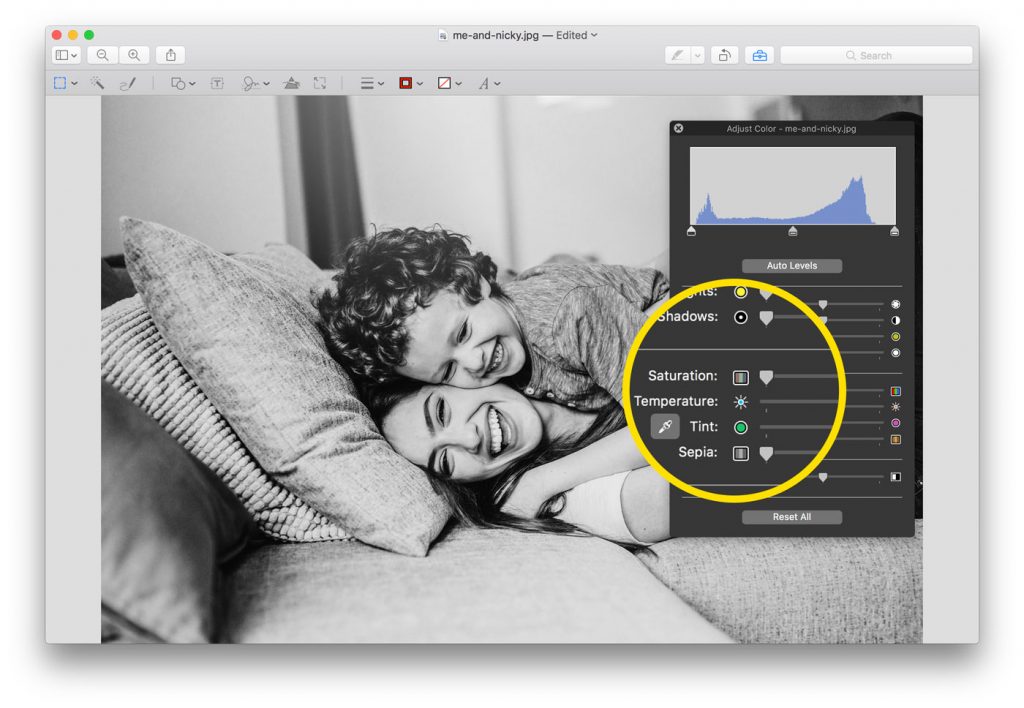 However you choose to edit, convert to black and white before you make any additional changes since they'll apply much differently than they would in full color.

After converting your images, edit for crispness, contrast, and lighting. Contrast is an easy way to play up those highs and lows that make your blacks and whites really pop. Just be careful not to overdo it so much you remove your mid-tones. Many programs have editing tools to update your sharpness, making lines and edges extra clear. Consider blurring your background a bit more than your aperture naturally applied to help your photo's focus stand out.
Don't over-edit, but taking an extra moment or two to make sure your photo is really clear and help the "colors" stand out can make a big difference. If you need some extra tips in the editing arena, check out this post that gives you 10 ways to make your photos look professional through editing.

3. Have fun with backgrounds and patterns
Even though your photos are black and white, you still have some design decisions to make for your pages. Motif offers many built-in themes, which can add patterns and designs to your pages behind your photos. You might consider something as simple as stripes or diagonal lines, or something with light greys. These selections will add some character to your book, while also maintaining the black and white tones your pictures use.

You also have the option to make your page backgrounds in full color—using color behind your black-and-white photos is an intentional design decision. It can help your photos to pop, and color can also lighten the feel of your book.

This can be a great option in a baby book. Black and white photos have a special way of capturing the smoothness and perfection of baby's skin, while giving an extra twinkle to those peepers. But babies also look great against pastels, and pastels have a way of "branding" a book as being for baby. Choose a sweet pink for baby girl or a hue of pastel mint that matches baby's bedroom theme color. Your photos will still pop, but your book will lend itself to "baby" in a playful, yet elegant, way.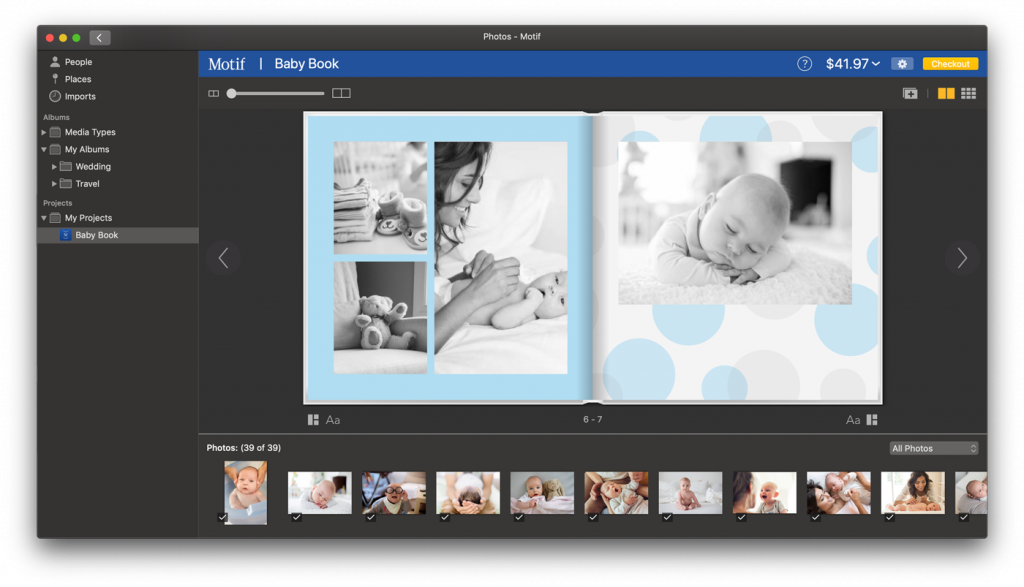 If you want a serious, sophisticated black-and-white photo book, consider a black-and-white page background as well—think carefully about the overall look and feel you're going for, and make your design decision accordingly.

4. Make sure your black-and-white photo book has texture
Since your photo book will not have full color, texture is extra important. Page backgrounds and patterns are a great way to accomplish this elegantly. You can even use background patterns sporadically throughout your book, leaving some pages crisply white with a pattern every few pages or so.

Another way is to add texture is to intentionally vary your photos from page to page. If one page shows a black-and-white photo with lots of dark black and greys, pair it with a light, bright photo on the next page.

You can also look for texture within your photos. If you're creating a black-and-white photo book of your wedding, consider the details. Maybe your wedding cake used smooth, sleek buttercream while the train of your dress was made of beautiful, detailed lace. Pair these photos together to play up the variance.

Including character throughout your book adds another level of variety and visual interest.

5. Consider using "color"
Have you ever seen black and white photos with just a hint of warmness? Odds are those photos were actually sepia. Sepia comes in a variety of shades and involves adding a filter over your black and white photos.

You can set your sepia tone to browns, warm greys, or even slightly orange. Sepia gives a bit of warmth to black-and-white images, while keeping them black and white. We personally recommend using this tone sprinkled throughout your black-and-white photo book, rather than on every photo.