Reading Time: 8 minutes read
Halloween unleashes the creativity in everyone. It's the perfect time of year for photographers – amateurs and professionals alike. It's also the perfect time to prepare for this spooky holiday. These extra-special photo-ops could easily be missed. This guide offers several Halloween photoshoot ideas for your family, including props, backdrops, and tips to help capture boo-tiful photos this fall.
Halloween Photoshoot Ideas
 Newborn Halloween photoshoot ideas
It might be challenging to take a baby around the block on a mid-fall evening to trick-or-treat. But plenty of cute Halloween pictures are still possible
A pile o' pumpkins – This classic fall photoshoot idea never gets old. Simply lean the child up against a few pumpkins and snap away. Make it original by changing angles for photographs. Show the baby's backside. Or, clean out a large pumpkin and have them sit inside. Line it with a soft blanket to make it cozier. Paint a message on the pumpkin ("My first Halloween!") to personalize the pose.
Cuddled in a cauldron – Swap the hollow pumpkin for a black cauldron. The baby can be awake or asleep for this photoshoot. Add a cozy blanket, a witch's hat, bottles of "potions," and a stirring pot stick as props. Aromatherapy diffusers create perfect steamy backgrounds. It's a safer way to get that spooky effect. Soothing essential oils may help keep the baby in slumber during the photoshoot.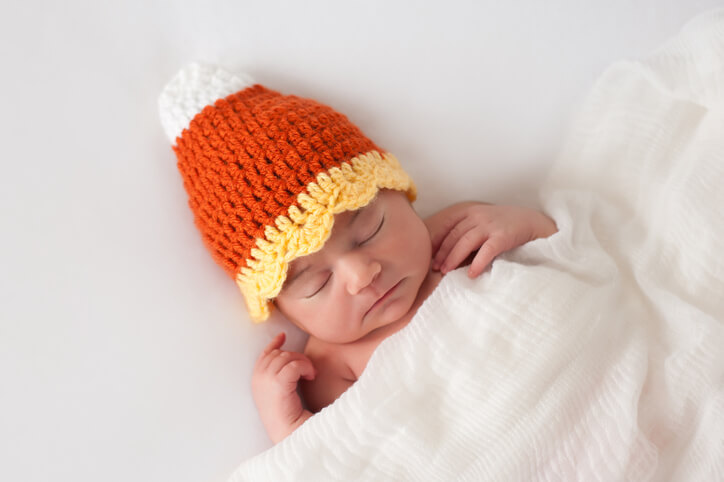 Dipped in candy – Fill a large basket, bowl, or serving tray with candy corn. Swaddle the infant in an orange blanket and lay them down for a nap in the basket. Add a candy corn-colored beanie to complete the theme.
Sleepy scene – This is an excellent opportunity for funny Halloween photos. Let your sleeping baby lie, as the scene is constructed around them. Use props like a broomstick and witch's hat to turn the baby into a flying witch. Cut craft paper into stars, bats, or a moon to fill the space around them. Try this scene in their crib or playpen.
Halloween photoshoot ideas for toddlers
Are the children past the sleeping infant stage? Try these Halloween pictures for kids ages two and up.
Sibling stew – Every child gets to participate. Dress the older sibling(s) in a witch or monster costume with a spoon in hand. Meanwhile, the smaller tot is placed in a pot (or cauldron) over the stove. Set the scene with the older sibling "stirring" the pot. Look for that wicked grin and snap away.
Pumpkins for sale – Transform that summer lemonade stand into a Halloween prop. Cover it with leaves and a new hand-painted sign. Stack pumpkins of varying sizes all around to make it feel like a real pumpkin patch. Pose your toddler in front of or behind the stand. Have them hold the "for sale" sign, pick up a pumpkin, or simply smile straight at the camera.
My first Halloween outfits – Think of this as a fashion show. The idea is to capture the toddler in a variety of cute, funny, and scary Halloween outfits. Create a miniature stage for them, or have them strut down the hallway like it's a catwalk. Dramatic poses are welcome!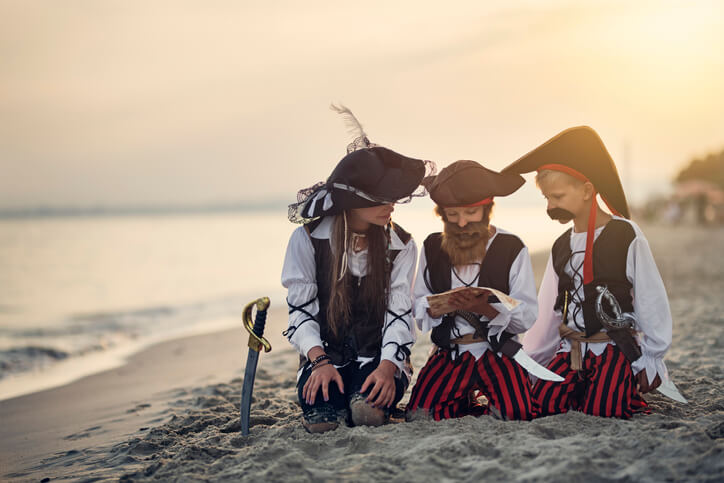 In character – When taking pictures of kids in costumes, make it interactive. Take them to a setting that reflects the theme of their costume. A beach photoshoot is perfect for a little pirate. Whereas, a baby bear would rather be crawling in the woods. Being in the character's environment inspires children to play freely. Friends and family can always help act out the scene, too.
Halloween Family Photoshoot Ideas
Step out from behind the camera and get the whole family involved! Set up a family Halloween costume and take photos all together. 
Dress as fictional characters – Plan out a costume from your favorite characters from your family's favorite TV shows and movies. For example, dress up the family as Disney and Pixar's The Incredibles. Strike your best  superhero poses, then take a photograph that shows off each character superhero power. Or if you pick a movie like Jurassic Park, dress the little ones as dinosaurs and have a few pictures that look like you're running scared from them. 
Act it out – whether you all dress up as animals from the zoo, dinosaurs, or a group of insects you and your family can act the part! Let out the roars and buzzes as you all have your Halloween photoshoot.
Halloween Photoshoot Props
Carved pumpkins are obvious Halloween photoshoot props. However, those orange gourds only go so far. The props needed will depend on your photoshoot theme. Below are some ideas to fill a cute or spooky Halloween scene.
Cute photoshoot props:
Whole or carved pumpkins
Leaves (faux or fresh)
Halloween candy
Candles
String lights
Wagon
Wicker baskets
Bales of hay
Plaid shirts
Burlap
Photobooth cutouts
Spooky photoshoot props:
Witch's hat
Broomstick
Old books
Glass bottles (for potions)
Plastic bones
Faux tombstone
Fog machine/dry ice/steamer
Rubber critters (bats, spiders)
Wood chest
Stretchy cotton for cobwebs
Halloween Backdrop
One thing is certain: a Halloween backdrop needs to fit the theme. It's all about being realistic and resourceful. Most people aren't working on a movie set, so green screens, fog machines, and special effects may be out of reach. That doesn't mean some local exploring couldn't assist. Drive around town to scout locations. An abandoned building with a dilapidated porch is a great option (if it's safe). Other possible Halloween backdrops include pumpkin patches, stone archways, wooded areas, and open parks.
Of course, staying home is always an option. This may require more props to complete the backdrop. Start by selecting a bare wall in the home. It's always easier to start with a blank slate. If none are available, head outside to the front porch or back yard. You could turn a tool shed into a spooky Halloween set. Or use the natural grass and fresh-fallen leaves to your advantage. Anything that's free and accessible is a win!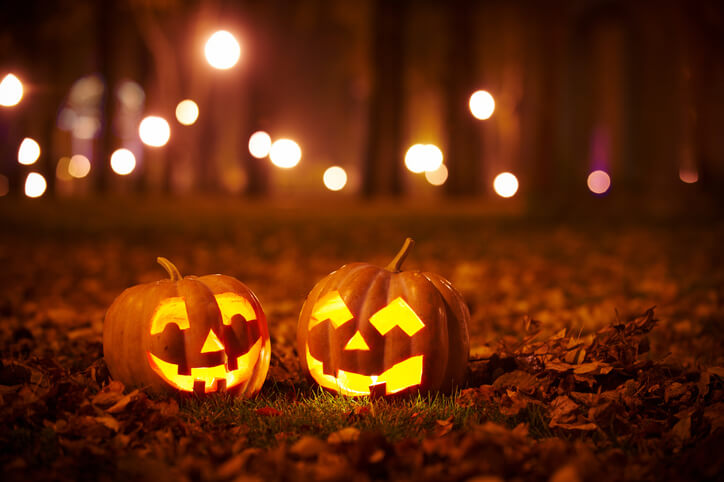 5 Halloween Photoshoot Tips
1. Shoot early.
Get the shots before dark. Even scary pictures need a little bit of light to ensure a clear enough subject.
Time the Halloween photoshoot for golden hour or sooner. This way, photos turn out exactly how they were envisioned. There is also a better chance of catching the little ones in that snap before they crash.
2. Change modes.
If it's too dark, Apple's latest iPhones now have a great Night mode. Learn how to use the iPhone Night mode in the right place at the right time. It automatically detects low lighting scenarios and adjusts the camera exposure accordingly.
3. Use HDR.
Take advantage of iPhone HDR with dark skies and bright jack-o-lanterns. HDR, or high dynamic range, helps to get the best Halloween photos in high-contrast settings. Candlelit carved pumpkins create contrast when their bright yellow light interrupts a pitch-black evening. To use HDR, open the iPhone Camera app and tap HDR in the top menu bar.
4. Be candid.
Photos don't need to be posed to be perfect. Get candid shots when the kids are trick-or-treating. This tends to be one of the trickier Halloween photography ideas, simply because sugar-hyped kids tend to bounce around. If you can catch a few snapshots, these precious moments show a lot of personality.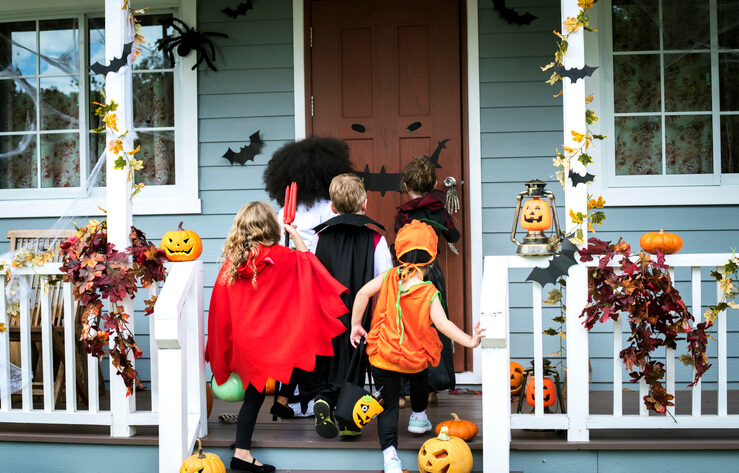 5. Group up.
Make memories with loved ones by actually joining in on the fun. Just set a timer to get in the group photos. The iPhone Camera app allows you to choose a three- or 10-second countdown. Ten seconds should be enough time to get into position – props and all.
What to do With Your Halloween Pictures?
You could take Halloween pictures and post them to social media. But in a matter of days, they will be buried in the feed. By Thanksgiving, all those precious moments are a distant memory. So what should be done with those Halloween photos? Make something meaningful and more permanent.
Halloween photo album
With all the makeup, costumes, and pageantry that goes into Halloween, these holiday snapshots deserve to be printed and cherished.
A Halloween photo album printed on high-quality paper lets you showcase all the boo-tiful images you captured. Colors are more vibrant, and the details are sharper. After investing so much time and effort into creating these memories, they deserve a worthy display. Using the Motif Photos app guarantees your Halloween photos are printed on premium, no-bleed paper with optimal vibrancy. You can design a photo book on your phone with Motif in six easy steps. Sounds pretty spook-tacular, doesn't it?
Halloween photo cards
If you can't commit to a full photo book, try Halloween photo cards. A photo card project is a lot less involved. Simply select a few images and craft your message. Use these cards to invite people to a Halloween party, make a family announcement, or share a special snapshot with loved ones. Motif's photo cards are sized perfectly for standard picture frames.
Whichever photo project you choose, these Halloween photoshoot ideas are in good hands with Motif.