Reading Time: 4 minutes read
Gone are the days when drawings of Santa or Rudolph graced Christmas cards. Today's holiday cards are one-of-a-kind works of art designed to showcase your family at your best. But don't get stressed out. By following a few simple tips, you can easily create a holiday card family portrait worthy of display year-round.
1. Choose the right location for your family's personality.
Get creative when it comes to choosing the right location for your family portrait—and remember what's "right" for your family will probably be different than what's right for the family down the street. Start by thinking about the tone you want for your card. If you want a fall family portrait, a field or park at sunset might be just right. But if your family is more offbeat and urban, think about settings like stairsteps outside a building downtown, a rotunda at a government building, etc.
2. Schedule your portrait session at the right time of day—and for the right length of time.
Photographers call it the "Golden Hour" for good reason. The hour just after sunrise and the hour just before sunset are known for warm, diffused light that creates appealing shadows. Whether you've hired a professional photographer or you're taking the DIY approach, you'll love the way the light of the Golden Hour adds interest and appeal to family photos shot outside.
When planning your photo session, keep in mind the age and attention span of your children. Unless your kids are unusually patient, 20 minutes is about as long as you can reasonably expect them to sit still. Plan carefully so everything moves quickly once the photo shoot starts.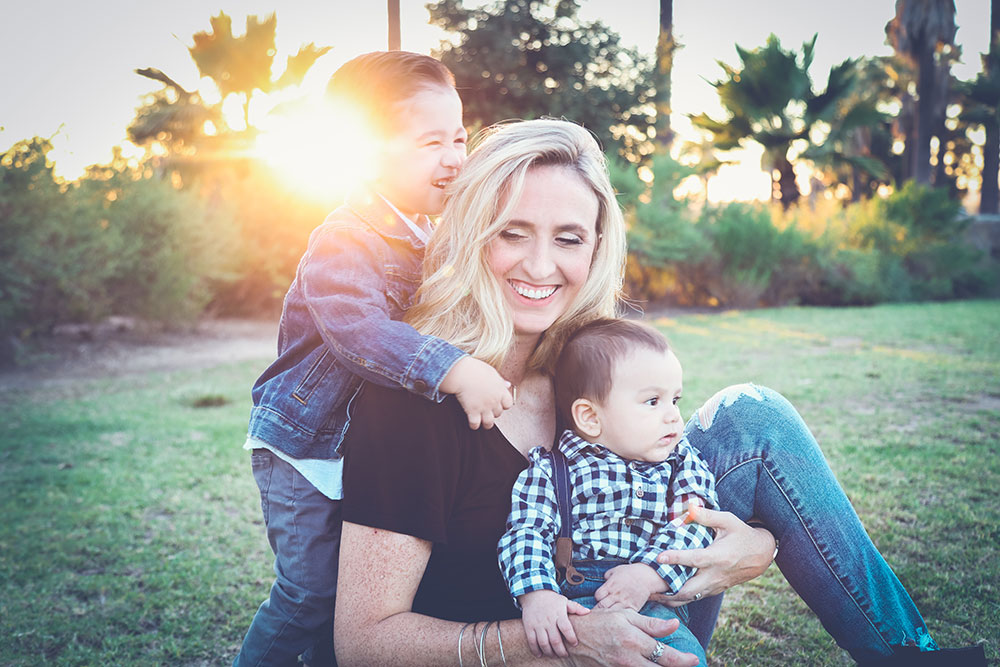 3. Consider an action shot for your family portrait.
Your family might feel more comfortable with an action shot rather than a posed portrait. Maybe you're baking holiday cookies in the kitchen or decorating the Christmas tree. Particularly, if you've hired a professional photographer, a documentary-style approach might be an appealing option—or a nice compliment to the family portrait at the center of your holiday card.
4. Think carefully about your background.
Without some consideration, the background of your photograph can easily become distracting. Remember: this is a family portrait, not a postcard. Choose a background that's interesting and appealing but not overpowering. Even if you're shooting the photo at home, you might consider temporarily redecorating the wall behind you. You want your card recipients to notice the people in the photograph, not the framed school photos hanging on the wall.
5. Choose the right wardrobe for your photo.
Again, the name of the game here is engaging, not overwhelming. You don't have to dress everyone in white shirts and blue jeans. Think about both the look and feel you want for your photograph and your family's personality. If you want a true holiday look, by all means go for festive sweaters. But if you want the photo to have a little more shelf life, choose coordinating clothing that isn't too matchy but is definitely cohesive. It's best to shy away from prints and focus on solids. Layers photograph well, too.
6. Use a tripod and a remote.
If you're taking the DIY approach, do yourself a favor and invest in a tripod and a remote. You really don't want to injure yourself tripping over the coffee table or (even worse) the Christmas tree when you're dashing into a photo. At the very least, take the time to practice using the camera's self-timer when you're not under pressure. The kids (and your spouse) will get extra-squirmy if you're trying to learn on location. Tip: place a stuffed toy on top of your camera and instruct the kids to look at said toy during the photo shoot.
7. Try out interesting poses.
The rule of thirds takes a ho-hum photo to the next level. Your family doesn't necessarily need to be dead-center in the frame. Nor do you want everyone's head on the same level. Consider staggering levels, having your family seated on the ground, placing the camera at a lower level, shooting from above, etc. Simply taking a different angle will give your family portrait added personality.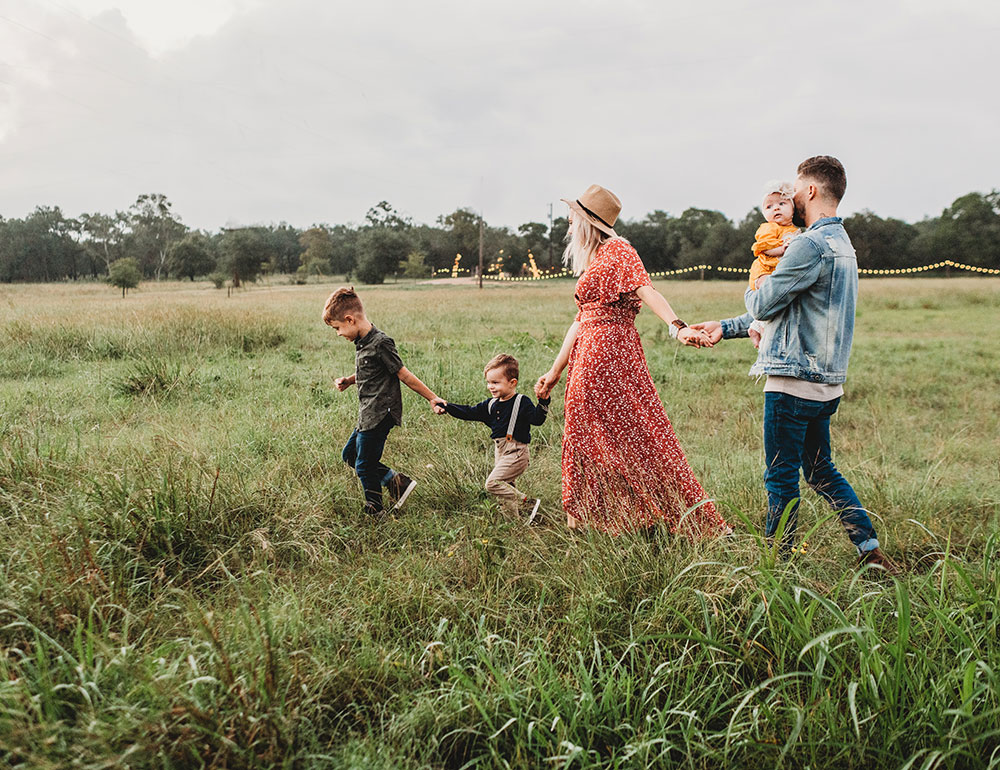 8. Take lots—and lots—of shots.
When it comes to family portraits, more is definitely more. Blow it up! Keep your finger on the shutter button. That squirmy moment just before or after the pose might contain the most charming expressions and capture your family's personality perfectly. You want to give yourself plenty of options. Scroll through your photos before you declare your shoot over, make sure you have some good images, and be sure to zoom in on your LED screen and confirm that everyone's eyes are open.
No matter which location you choose and whether or not your theme is full-on festive, the No. 1 way to ensure you capture a holiday card-worthy photo is to have fun with the process. When you're relaxed and having a good time, your kids will be more relaxed, too, resulting in the kind of natural expressions that turn your family photo card into a treasured keepsake.