Reading Time: 5 minutes read
A new iPhone launch means exciting upgrades for photography enthusiasts and amateurs alike. The iPhone 12 series features four models to choose from: the iPhone 12, iPhone 12 Mini, iPhone 12 Pro, and iPhone 12 Pro Max. Which one is the best upgrade based on photography needs? From examining the iPhone 12 pro camera to explaining the differences in the iPhone pro max camera, this blog post will give you all the tips and tricks you need to make the most of iPhone 12 and its updated camera features.
iPhone 12 Front- and Rear-Facing Camera Specs

Apple's entire iPhone 12 series features two front-facing selfie cameras. One primary wide-angle lens and one Ultra Wide lens. The Ultra Wide version boasts a 13 mm lens with a 120-degree field of view. Both cameras are 12 megapixels. The camera has a 7-elements lens with a larger aperture. It allows 27% more light in for improved low-light photography. The iPhone 12 cameras also have a Structured Light (SL) sensor for "bokeh simulation," which creates a natural-looking background blur effect. The front-facing cameras also feature lens correction, which automatically corrects lens distortion in photos. This is useful for large group shots.
As for the rear-facing cameras, the iPhone 12 and iPhone 12 Mini have two lenses – one wide-angle lens and one ultrawide lens. The iPhone 12 Pro and iPhone 12 Pro Max have three 12-megapixel rear cameras – wide, ultrawide, and telephoto.
iPhone 12 Camera Zoom
The iPhone optical camera zoom range varies based on the model. The iPhone 12 and iPhone Mini have a 2x optical zoom range, with digital zoom up to 5x. The iPhone 12 Pro has a 4x optical zoom range and a digital zoom up to 10x. The iPhone Pro Max features a 5x optical zoom range and a digital zoom up to 12x.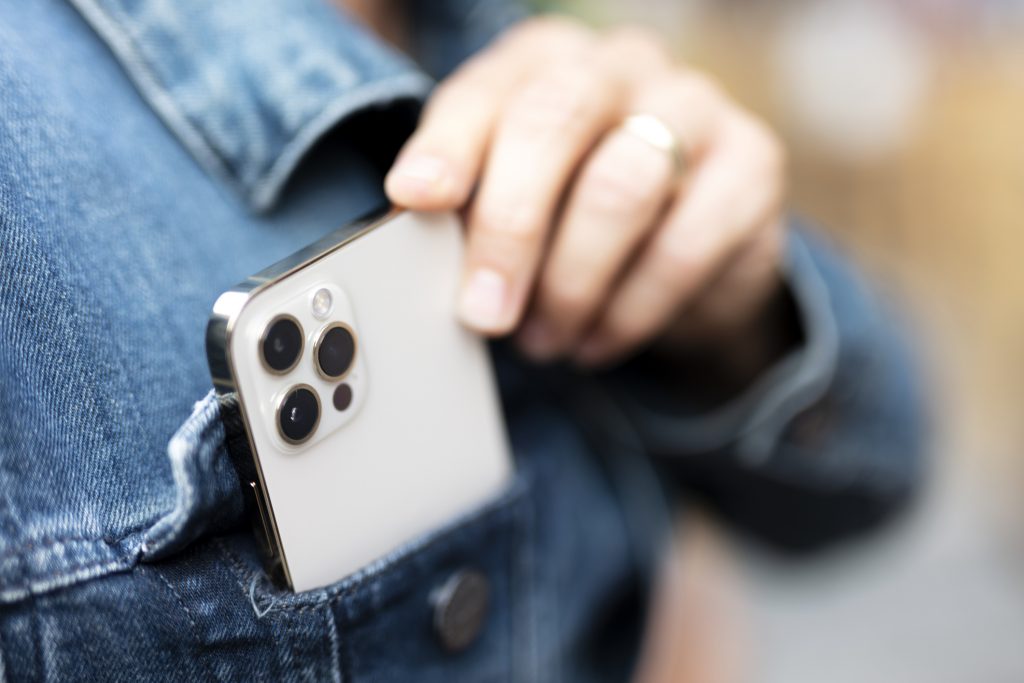 iPhone 12 Pro and iPhone 12 Pro Max Camera
The iPhone 12 Pro and iPhone 12 Pro Max cameras offer upgraded mobile photography features. While both phones have a triple-lens rear camera setup – the wide, ultrawide, and telephoto lenses – they vary in range. Both the 12 Pro and 12 Pro Max cameras also feature a LiDAR sensor (which stands for "light detection and ranging"). The LiDAR sensor is located near the rear camera lenses. Its purpose is to improve portrait mode effects and low-light focus.
iPhone 12 Pro Camera
The iPhone 12 Pro lenses are the same size as the iPhone 12 and iPhone 12 Mini. The addition of the Telephoto lens provides the iPhone 12 Pro's camera superiority. The iPhone 12 Pro Telephoto lens is 52mm with a 2x optical zoom. It allows the camera to shoot objects at a far distance with greater accuracy and advanced precision. Combined with the LiDAR sensor, photographers have more confidence in shooting anything anywhere.
iPhone 12 Pro Max Camera
The iPhone 12 Pro Max stands alone. It features the iPhone 12 series's largest primary camera – a 26 mm-equivalent lens in front of a 12-megapixel sensor. There's an ultrawide 13 mm lens and a 65mm telephoto lens with a 2.5x optical zoom over the main camera, which also features a LiDAR sensor for building depth maps. The iPhone 12 Pro Max camera also features a physically larger wide camera sensor that creates larger pixels. Larger pixels bring in more light. The iPhone Pro Max camera results in better light sensitivity and more detailed, colorful images.
Sensor Shift
Sensor Shift is a new sensor-based optical stabilization system only available with the iPhone 12 Pro Max camera. Like every phone camera, the iPhone Pro Max camera shifts the lens to offset camera movement. However, Sensor Shift also stabilizes the sensor itself. It creates sharper pictures than any iPhone before.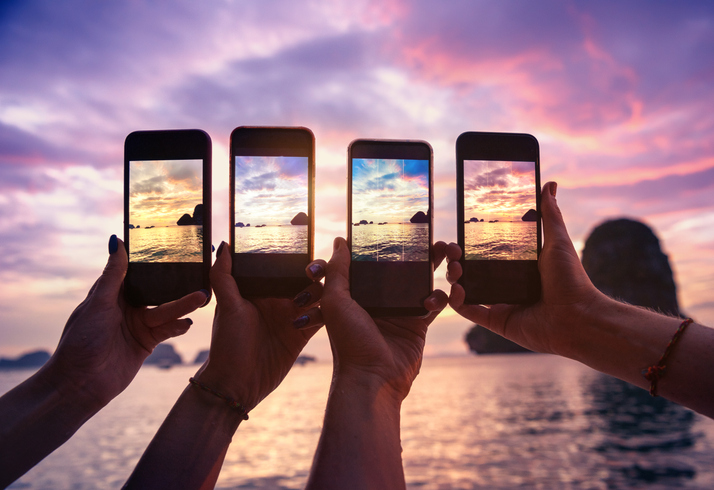 Updated Features on the iPhone 12 Camera
The iPhone 12 cameras also feature innovative functionalities that will bring more depth, precision, and creativity to photography. The updated features create better images for photographers at any level.
Night Mode
Night mode is now available on all Apple iPhone 12 cameras. Night mode kicks in automatically to capture dark subjects with natural colors and lighting without the need for flash. Night mode also works on a tripod with a shutter speed up to 30 seconds for low-light shots. The iPhone 12 and iPhone 12 Pro can capture night mode time-lapses. It's turned on automatically whenever lighting is low, and a time-lapse photo starts.
Deep Fusion
Deep Fusion is Apple's processing technology that achieves crisper photographic details in challenging lighting conditions. Since the technology is improved with the iPhone 12 series, Deep Fusion works even faster to discover more detail in low-light conditions.
Smart HDR 3
Smart HDR ensures faces are captured with natural highlights and skin tones while ensuring the shot is well-exposed in both highlights and shadows. Smart HDR 3 is smarter now, with improved machine learning to identify scenes to get the best shot beyond facial recognition. Now, Smart HDR 3 is used whether taking a portrait shot or the focus is a natural landscape.
Learning about and perfecting all of the iPhone 12 cameras and settings takes practice. The exciting new features of the iPhone 12 cameras means better IOS photos of the moments important to you. Take the best of those moments and put them in a card, a photo book, or a personalized calendar. Images can magically close any distance between those important to you. Intrigued to try some of the new, exciting features iPhone 12 has to offer? Download Motif photos and start creating some beautiful photo memories.
Bring your photo memories to life with Motif.
Experience the joy of creating personalized photo projects with Motif. Our photo book app seamlessly works with Apple Photos in macOS and iOS. It does all the complicated stuff leaving the fun creative freedom to you.