Reading Time: 5 minutes read
The hustle and bustle of the wedding is over, and you're finally jetting off to a romantic destination on your first trip as a married couple. With romance and relaxation on your mind, it might be easy to forego documenting this special time together, but that would be shortsighted. A honeymoon photo book is something you'll pull out year after year to transport you back to life as a newlywed.

The good news is, it's easy to collect a wonderful selection of photos during your honeymoon without much effort—leaving you plenty of time to enjoy the moment and just be.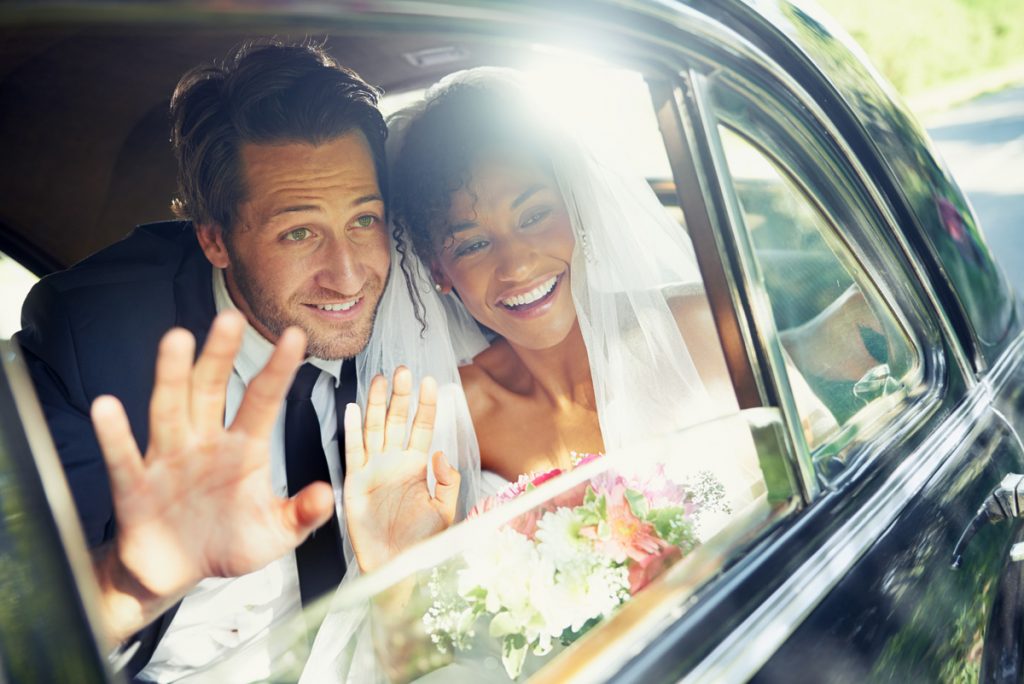 Maximize your romantic destination

No matter your personality as a couple, you likely chose somewhere photogenic as a honeymoon location. Whether you're enjoying the quintessential beauty of a classic European city such as Paris or Venice, exploring the spectacular sights of New Zealand, or even lounging in a cabana on the beach in Mexico, the setting for your photos will be phenomenal. Make the most of it! Be sure to include the scenery in your photos and capture plenty of details, such as interesting architecture, street signs, and local greenery. Years later, these photos will help you time-travel.

How to ask a stranger to take your photo
When you're traveling with just one other person, it can be difficult to capture photos together—but if you return from your honeymoon with dozens of photos of just your spouse, that would defeat the purpose, right? It's time to make new friends and ask someone else to take your photo. This can be a crapshoot, but try these tips for success:

Look for someone who has the same type of camera. Whether you're traveling light with just your iPhone or carrying the DSLR, finding a photographer who already knows how to use your equipment is half the battle and makes it much less likely the top of the Eiffel Tower will be cut off in your photo.
Set your camera to shoot in burst mode. That way, you'll be guaranteed to have a selection of photos to choose from. (And the benefit of digital photography is you can check your shots immediately and—if you didn't capture the money shot—discreetly ask someone else to try again in a few minutes.)
Depending on your budget and the beauty of your destination, you might consider hiring a local photographer to do a custom on-location photo shoot. Flytographer pairs travelers and photographers for travel photo shoots around the world. With a professional photographer on your team, you're guaranteed to have your photos taken by someone who both knows how to use your camera and knows the secrets for romantic photos in your honeymoon location. Plus, just like your engagement shoot, a professional will know all of the tips and tricks for capturing your love for one another in a photograph.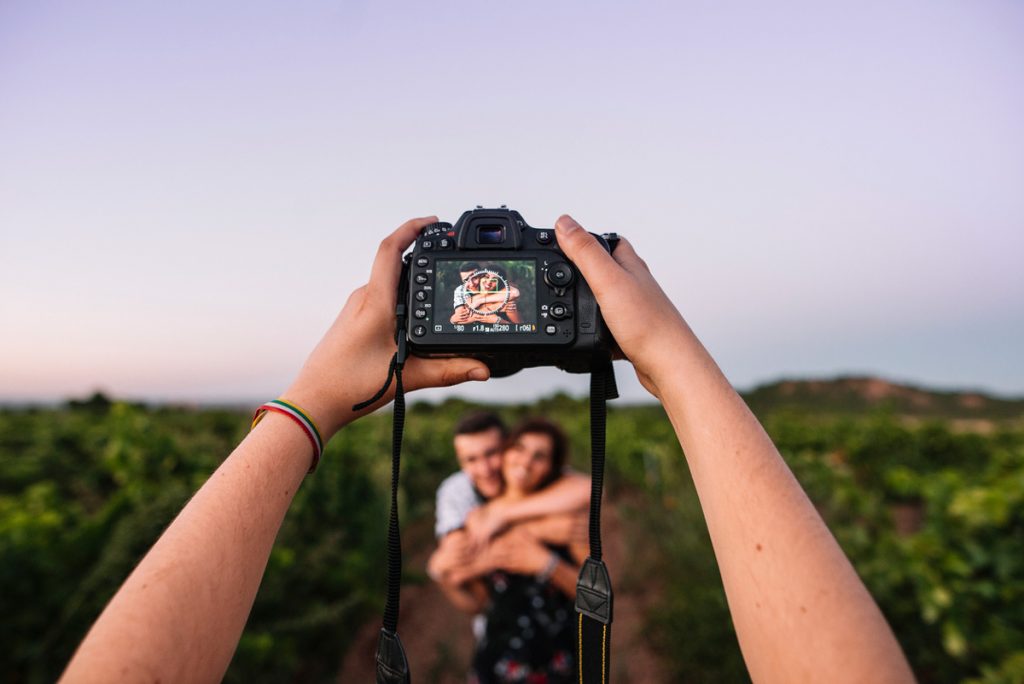 Don't miss the details
This shot list for weekend getaways can easily be expanded for your honeymoon. Start taking photos at your departure, whether that's a dramatic post-wedding send-off from the family or just a selfie in your Uber to the airport a couple of weeks later. Don't miss details such as:

The amenities in your hotel room when you arrive. Perhaps there's a heart made from rose petals on your bed or a tray of champagne and strawberries waiting for you upon arrival. Document it!
Memorable meals. It doesn't matter whether you're savoring a five-course dinner at a Michelin-starred restaurant or eating Nutella crepes on the street—these are your first meals as a married couple. Capturing them in photos will bring the smell and taste back to you in years to come.
Action shots. If you're an adventurous, athletic couple, your honeymoon will likely include special hikes or even experiences such as skydiving or ziplining. Be sure to capture before, during, and after shots, and take advantage of sport mode on your DSLR to shoot at high shutter speeds and document the action.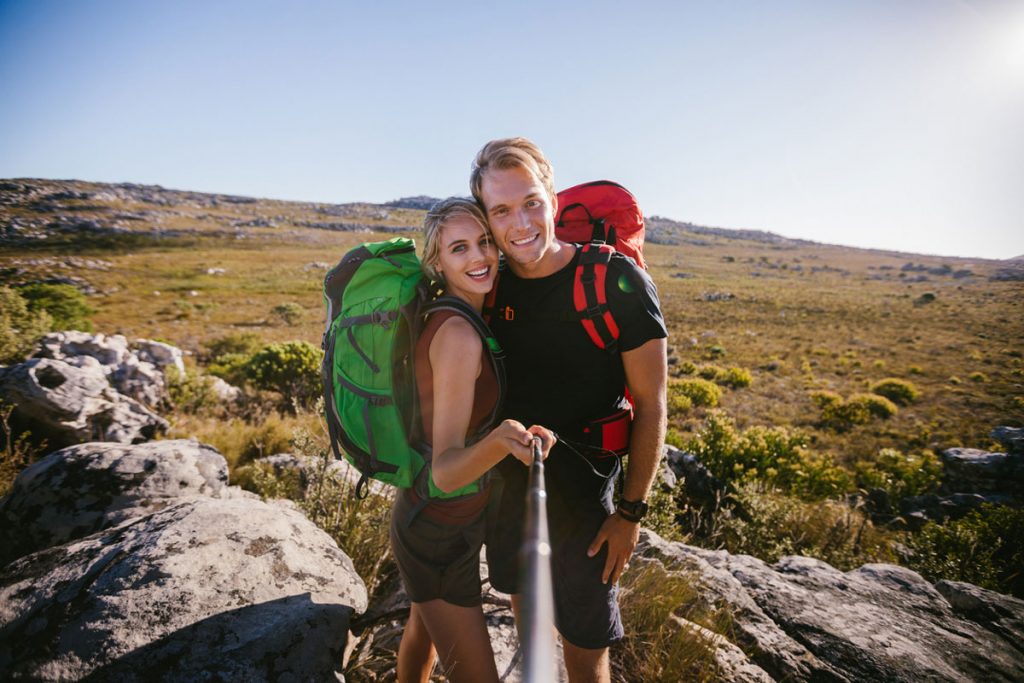 The quiet moments. You can finally take a deep breath after months of juggling wedding details. Savor it with a glass of wine or a cappuccino at a charming café. It's easy to snap a pic before you take a drink.
The last night. Your final evening before you prepare to return to reality and begin daily life as a married couple will be extra-romantic and possibly even bittersweet (just like the end of any vacation). Don't be so focused on your early departure for the airport that you forget to take photos.
Prepare for photographing your specific destination
Depending on your honeymoon location, you might want to pack a few extra supplies to ensure top-quality photos:

If you're going somewhere tropical, such as to the rain forest in Costa Rica, be sure to bring rain gear to protect your camera and lenses.
A white sandy beach photoshoot is breathtaking, but it can cause your images to be overexposed. Pack a white beach towel to serve as a reflector in a pinch.
A selfie stick might seem cheesy and touristy, but it's small to pack, and you might just be glad you had it.
Creating your honeymoon photo book
Now that you're home, don't let your beautiful honeymoon photos sit on your phone or memory card. Take time to cull through your shots and organize them into an album in the Photos app on your Mac. That makes it easy to create a high-quality photo album using Motif, a photo extension app that seamlessly integrates with Photos and uses innovative autoflow technology to take the hard work out of creating custom photo books and cards.

Your honeymoon photo book is a treasure you will enjoy for years to come. Have fun capturing the romance!