Reading Time: 4 minutes read
Photo books help us preserve memories so we can share them for years to come. However, designing a photo book takes time, a resource our busy lives make it difficult to find. That's where Motif comes in. The Motif app has been designed to create a quality photo book with the time you have. Using a few tips and tricks, you can get the most out of your evening and your memories by designing your own photo book.
Photo book design tip #1: "Autoflow" Your Photo Book
Motif connects directly with the Apple Photos app, so you don't have to import pictures from all over your digital space. Just run Photos, go to File, and click "Motif" under the Create options. You can import Memories, photo albums, or individual photos.
The tip is that Motif can automate most of the design work for you. To do this, choose the "Autoflow Book" option after you've selected your desired theme. Motif will then automatically curate your photos, finding the superior shots while removing duplicates.
Motif's algorithm manages this through advanced technology that looks for focus, clarity, people, smiles, image orientation, and a host of other criteria. It then incorporates your best photos into professionally-designed layouts with an eye for optimal orientation. It even crops and centers the shots!
With a few simple clicks, you'll have a gorgeous photo book ready to go.
Of course, you can choose the "Don't Autoflow" option if you want to build your photo book manually. But if you're short on time, you can't beat Motif's Autoflow option.
Photo book design tip #2: Choose Themes
Whether you go with Autoflow or design your photo book manually, you'll always have the option to preview your project before finishing. But what if you decide you don't care for the theme you selected at the beginning? Do you have to start all over?
Not at all. You can change your theme at any time to find the most meaningful way to present your memories.
Simply click on the Settings button in the upper right-hand corner. (It's the one that looks like a gear or wheel, located next to the pricing information.) This will open a drop-down menu, and you can select "Change Book Theme" to experiment with what theme compliments your vision.
Bonus tip: The Settings menu also houses a "Reflow Book" option. This option will redesign a new photo book in case you weren't overly fond of Autoflow's initial setup or you want to explore other combinations.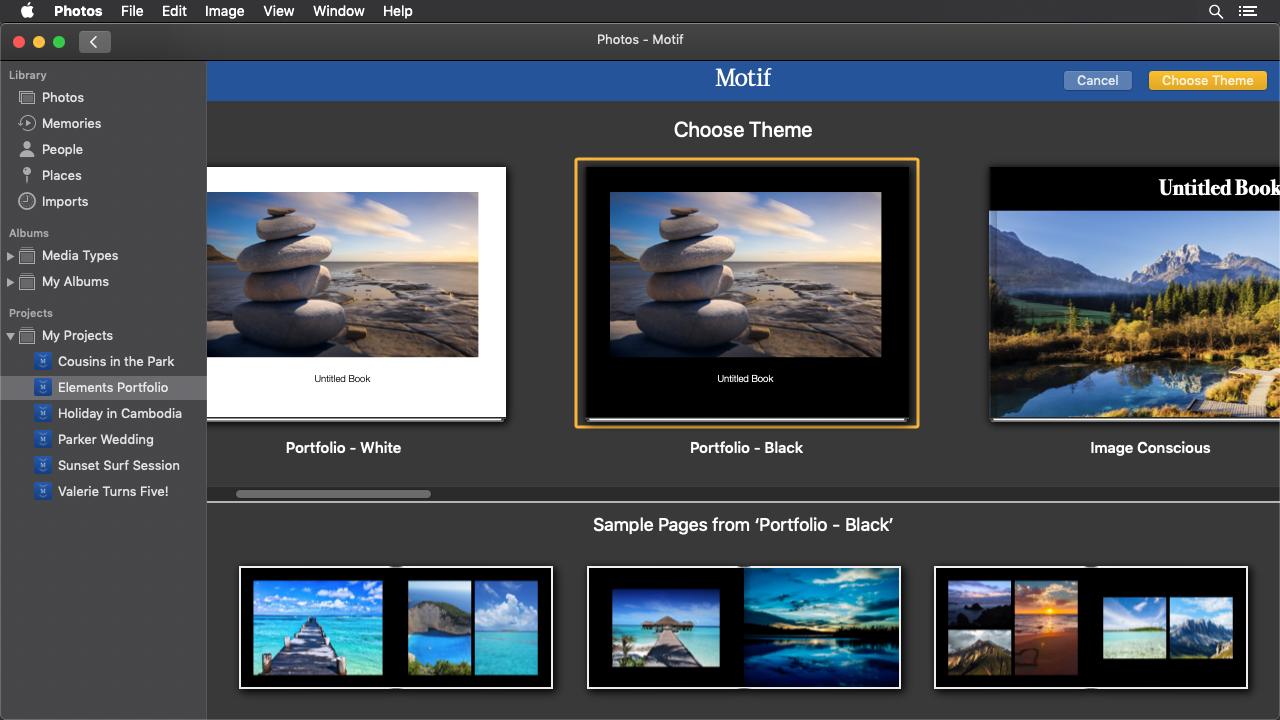 Photo book design tip #3: Design Page Layouts
Motif offers several polished page layouts that can be altered on the fly to suit your needs. The easiest way is to select the "Change Layout" box beneath the page you want to edit. This will open a new window where you can select the number of images you want on the page. Based on that number, the app will recommend a variety of layout combinations featuring different sizes and placements.
Choose the one you want, and you're good to go.
Motif makes manually laying out your page a breeze. Between each photo on the page is an invisible handle. Grabbing this handle with the cursor allows you to resize any image. Best of all, the other photos on the page will resize themselves accordingly, meaning you don't have to take the time to tweak every single one.
If you want to add a photo, drag one from the image palette located conveniently on the bottom of the screen. The page layout will automatically suggest new layouts as you move the image around so you can experiment.
Making these changes updates the page in real time, seamlessly showing you the changes as you make them. This way, you won't waste time hoping a fine-tuned adjustment looks as good on the page as it did in your head. You'll see the difference right away.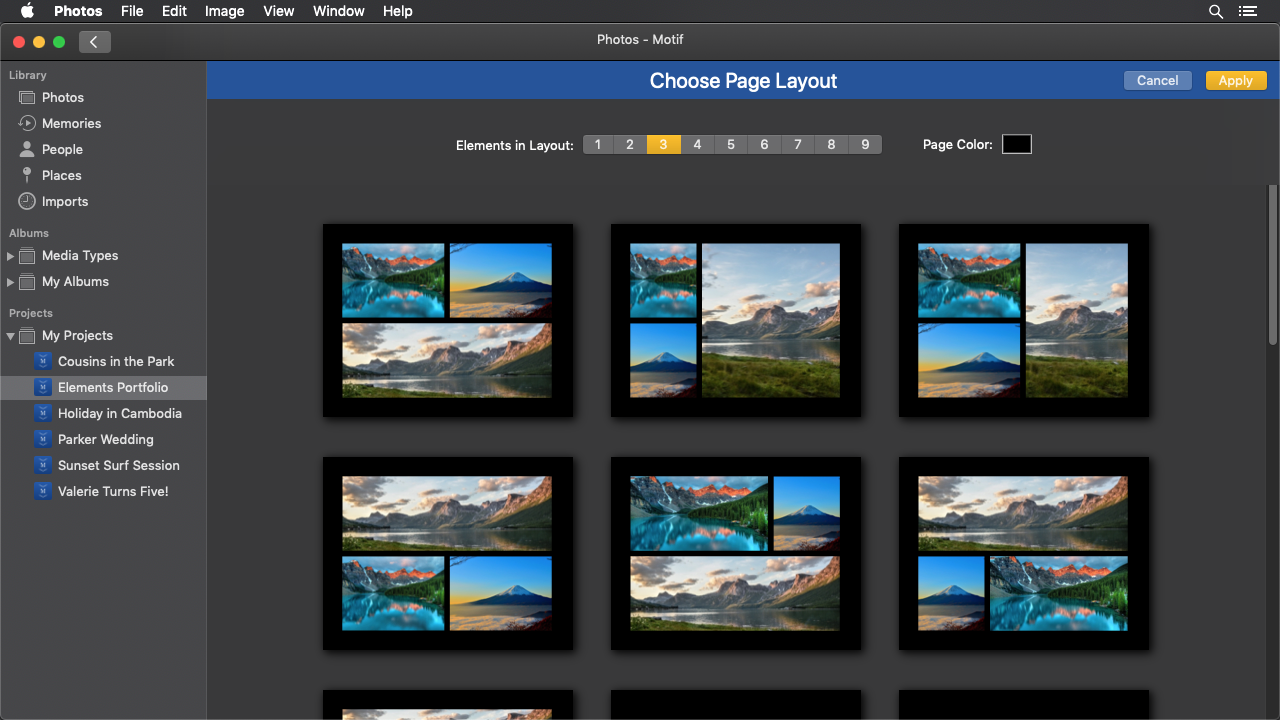 Photo book design tip #4: Edit Images
You can work with images directly in Motif using its image control palette. To access the palette, simply click on any image.
With it, you can zoom in on certain subjects, move subjects into center frame, rotate the frame, and contrast the photo with similar ones for a side-by-side comparison. This allows you to create the perfect representation of your memory without having to throw complex editing software into the mix.
Photo book design tip #5: Style Your Theme
Motif's professional themes make your memories shine, but each of us has our own style, too. The app's Patterns and Colors features were designed to help that style show.
On the page layout screen, you can select different background colors and patterns. The Pattern and Page Color menus both come pre-equipped with choices that naturally supplement your chosen theme.
But if you select the custom color option, you'll be presented with a color wheel that runs the spectrum of hues and shades. You can also pair a color with a particular pattern to create fun, unique effects.
Photo book design for the busy life
Whether you have a lot of time or very little, Motif believes you deserve a personalized way of showcasing your treasured memories. That's why the app was created with one goal in mind: to make it easy to design your photo book your way.