Reading Time: 9 minutes read
Decorating the tree, wrapping gifts, and baking cookies are sure-fire ways to get you in the holiday spirit. However, a marathon gift wrapping session might be too much. Baking all your holiday treats at once can be taxing. To mix things up a bit, make DIY Christmas cards.
It's a fun project the whole family can do together. DIY Christmas cards can be made at any time before the holiday. Take delivery time into consideration if mailing them out. Otherwise, start this seasonal activity whenever the mood strikes – or whenever a quick, holiday pick-me-up is needed.
How to Make DIY Christmas Cards
There are several ways to create DIY Christmas cards that contain a homemade message. Find the one that fits the appropriate time frame and skill level. (Not everyone is blessed with a crafty hand.)
Follow a DIY Christmas Card Tutorial
Thanks to YouTube, video tutorials are available for just about anything. DIY Christmas cards are no exception. Several craft stores have uploaded videos that walk those interested through the necessary steps. It might be wise to follow an arts-and-crafts blogger.
Pros:
Some people are visual learners and acquire skills quickly after watching a video.
DIY Christmas card tutorials are usually well-organized and easy to follow, even for those without an artistic bone in their body.
Video tutorials are highly entertaining, which helps keep everyone engaged.
Cons:
Shopping is required, as you'll have to source the supplies yourself.
It's like following a family recipe. Without the secret sauce, it won't turn out exactly like the original – no matter how many times the DIY Christmas card tutorial video is re-watched.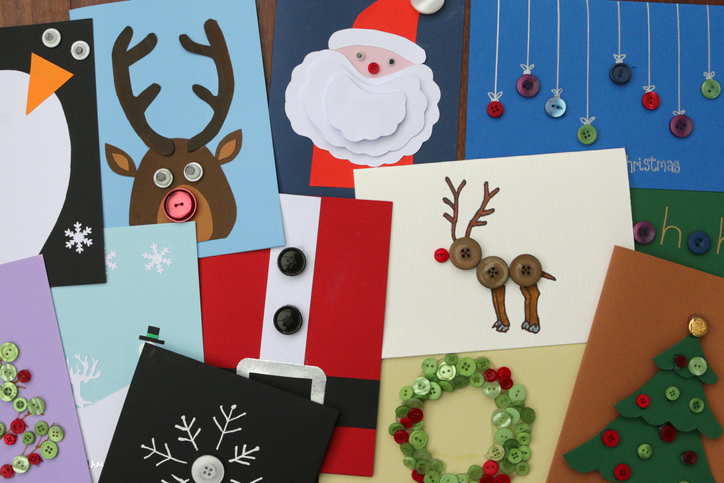 Let DIY Christmas Card Kits Guide You
Christmas card-making kits usually come with cardstock, festive patterned paper, stickers, stamps, and various other embellishments. They also include the envelopes needed to mail them. These kits are available at craft stores or online.
Pros:
These kits include nearly everything required to make a unique holiday card. However, scissors, tape, and glue are typically not included.
All skill levels are welcome. DIY Christmas card kits are practically fail-proof.
Cons:
Quantities are limited. DIY Christmas card kits are suitable for a dozen or so cards. For a big family, double or triple the amount of kits may be required.
There are limited customization options. The template provided in each kit is all that is available.
There are only so many different template options for sale.
Find a Free DIY Christmas Card Template
Freelance graphic designers create and sell templates for a variety of print projects. Head to Pinterest or Etsy and search "DIY Christmas card template free." There's no shortage of professional-looking designs. Keep in mind; these are simply PDF files. A physical card is not being purchased. It's a digital file that is downloaded. Once downloaded, personal touches can be added depending on your skillset.
Pros:
Once a template is found, it's quick to download and get started.
The template can be used over and over again. It's like getting an endless supply of cards for the price of one.
Even free DIY Christmas card templates are customizable, though there may be limitations to how much of the template you can alter.
Cons:

Cards will still need to be printed. Not all at-home printers are designed for heavy-weight paper.
If printing at home, know that the quality of the card may suffer. Commercial-grade printers are much better at producing clear images and crisp edges.
Cardstock and envelopes are sold separately and will need to be purchased.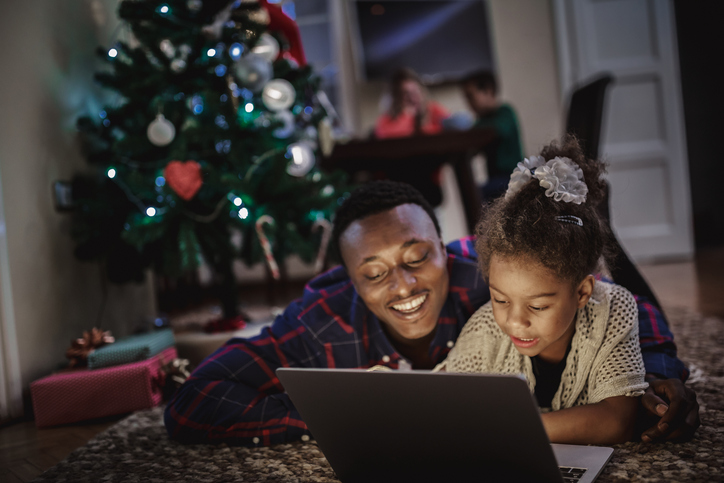 Make a DIY Christmas Card With Motif
The Motif Photos app is the premier print project creator for your Mac, iPhone, and iPad. Its smart technology helps generate DIY photo Christmas cards in a matter of minutes. Simply download the app and follow the prompts.
Pros:
Mac users don't have to waste time uploading since Motif seamlessly integrates with Apple Photos.
The best quality photos are guaranteed because Motif analyzes each photo for clarity, lighting, image orientation, and more.
With so many font styles and layouts, customization of your Christmas card is easy.
No craft tools necessary. Everything needed is on your computer.
Cons:
This is a time-sensitive method to create DIY Christmas cards. Factor additional time for a buffer to receive the printed photo cards, add postage and mail them out. Estimate approximately ten days between the time the order is placed and the time the cards are to be received by friends and family.
DIY Christmas Card Ideas
The second step in creating DIY Christmas cards is to establish a creative theme. The theme provides direction. It's a way to stay focused and organized. It's also what makes the card unique. Below are several Christmas card ideas to help begin the designing process.
Whether these DIY Christmas card ideas are for a significant other or grandparents, there's something here for everyone.
DIY Christmas Cards With Family Photo Collage
Were holiday family portraits taken recently? Perfect! Use those beautifully staged snapshots to create DIY photo Christmas cards. The photos don't have to be professionally done. Candid shots of the family opening presents, decorating the tree, or simply sipping hot cocoa by the fire are all excellent fodder for a photo card.
Send to:
Save the family photos for close relatives and best friends.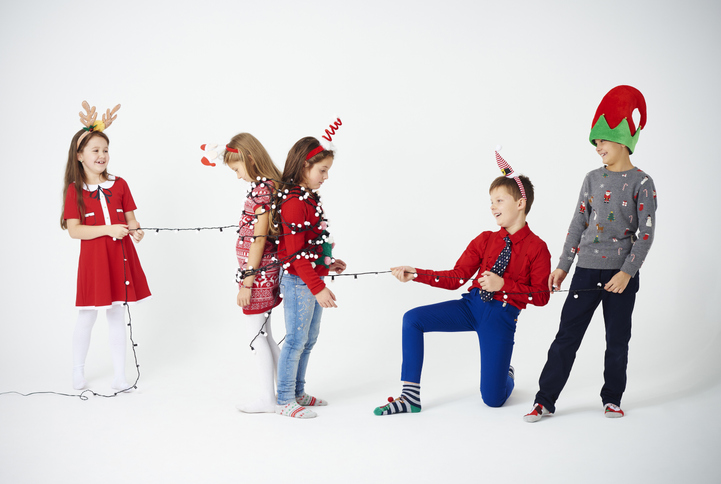 DIY Funny Christmas Cards
The formula for DIY funny Christmas cards is simple: pair a well-executed picture with a punchline. Think about using a play on words, irony, or clever pun. They're always a hit. Here's a few examples:

The kids wrapped up in Christmas tree lights with tape over their mouths that reads, "Silent night." (This also works with the parents wrapped up.)
A family or couple dressed up as hip hop rappers with the message: "Happy Holla-days" or "We hope you 'wrap' up the year with cheer!"
A collage of bad selfies or bloopers from your family portraits with that familiar Santa greeting, "Ho. Ho. Hopeless."
Send to:
Who wouldn't appreciate a good laugh, especially during the stressful holiday season? Spread cheer by sharing these DIY Christmas cards with anyone– coworkers, neighbors, friends, family, mail delivery person, teachers, and more!
DIY Religious Christmas Cards
DIY religious Christmas cards are a great way to honor the reason for the season. They also serve as a sweet, gentle reminder to focus on what really matters in life. This is most often accomplished with scenes of the manger or by adding angels to the DIY card.
The Christmas tree is a significant symbol of the holiday, too. It's an easy image to recreate. Craft a tree with construction paper and glitter. Or pull from a collection of Christmas pictures. Add a favorite prayer or scripture to make it feel more sacred.
Send to:
It's best to send religious greetings to people known to be spiritual subscribers. There's no harm in reaching out to those who might be struggling and could use a boost of faith.
DIY Vintage Christmas Cards
Pulling from a black and white photo album to make DIY vintage Christmas cards isn't necessary. The basis of this idea is to draw from sentiment. Reminisce about days of ole. Whether that means recreating a Norman Rockwell painting or quoting Shakespeare in the holiday greeting, it doesn't matter. Pick a period that means something special and focus on one specific image or message to represent it.
Print these DIY vintage Christmas cards on off-white or even brown cardstock. Bright white paper can appear starkly modern next to an old image.
Send to:
The great thing about vintage imagery is that it never gets old. People of all ages can appreciate a little piece of history.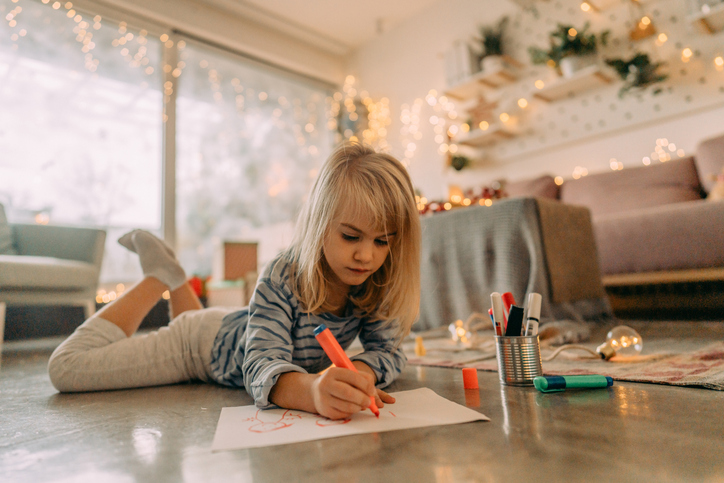 Cute DIY Christmas Cards
Cute DIY Christmas cards usually feature babies, pets, or babies and pets. Consider dressing them in costumes: baby as Santa and Fido as a reindeer. Create a full holiday scene with the little ones, and your DIY photo Christmas cards will wow everyone.
Sentimental moments are cute, too. Capture photos of the kids opening gifts by the tree or Grandma reading them a bedtime story. Equally as heartfelt is a DIY Christmas card made by the kids. Have them draw, paint, or color their own art. They can either make the card from scratch or take a photo of their artwork and use the photo to decorate just part of the card.
Getting the pets and kids to sit still will be the biggest challenge to these ideas. Follow a few key tips for getting great pet photos, and catching that one card-worthy moment will happen. As for kids, the younger ones tend to hold up best. And sometimes, the older kids act better when they have a younger sibling to hold or rest in their lap.
Send to:
Pet images are universally loved. But if the main subject of your cute DIY Christmas cards is the kids, send them to family and best friends only.
Say It With A Card
Cards say things people often don't in person. A custom card during the holidays can express more than a simple "Happy Holidays." Motif's custom card creator app takes the creative guesswork out of the process, letting you share a little photo-joy with those you want to make merry and bright.