Reading Time: 7 minutes read
Christmas is a special time of year. It occurs only once each year, and each year can be very different. The weather changes, the decorations change, even the group of people gathering can change from one Christmas to the next. That's why it's important to nail the Christmas photography. Capturing the holiday season with photos helps remember the who, what, when, and where of one of life's most celebrated holidays. Capturing these moments can create levels of anxiety, but here are a few Christmas photography tips and tricks to make it much easier.
Christmas Photography Ideas to Capture the Holiday
Begin with establishing some Christmas photography ideas. With so many options available, it can be difficult determining what to shoot. That's why we've narrowed down a few must-have holiday photos. They're categorized by type of photography. Stick to one category or try your hand at them all. Have fun and let the camera lead you on an adventure.
Christmas tree photography
The tree is the piece de resistance. No Christmas is complete without a few holiday photos of this symbol of the season. Here are several ways to capture the Christmas tree:
· A freshly decorated tree with all its trimmings
· The finished tree, surrounded by presents the night before Christmas
· A tree in the window (shot from outside)
· A tree with its lights on (and if available, and a fire roaring right next to it)
Christmas lights photography
Photography of lights takes time to get right. Christmas lights are far too pretty to miss in your photography. There are so many different ways and places to capture them. Try any of these classic photo ideas:
· Lights carefully strung on the Christmas tree
· A well-decorated downtown street
· Your home's outdoor light display
· A cul-de-sac or neighborhood with multiple homes lit up in a row
· That one house nearby that's always an attraction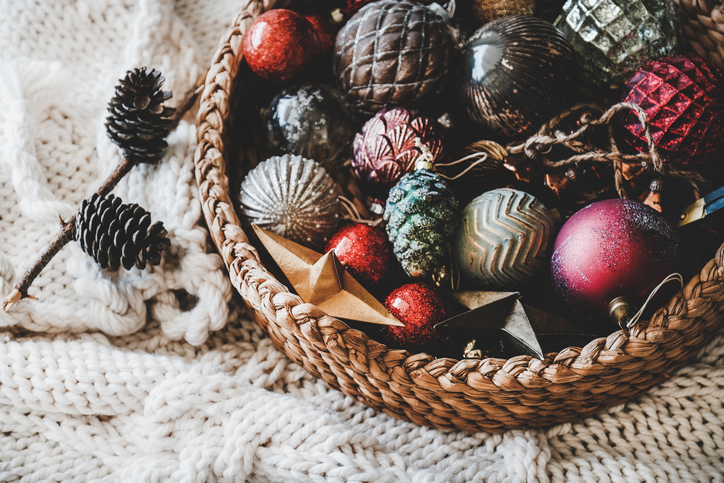 Christmas ornament photography
When it comes to Christmas ornament photography, play around with a few different angles. You might be surprised how artistic this type of photography can be. Use macro for close-ups. Begin with these ideas:
· Your complete collection of ornaments
· A closeup of ornaments on the tree
· A bowl of ornament balls
Christmas cake, cookies, and confections photography
Christmas cake, cookies, and other confection photography can be visually stunning. Carefully decorated confections always draw attention. Use Christmas decorations or the tree as a background. Take advantage of the photogenic subject with these Christmas delicacy ideas:
· An overhead shot of the entire "sweets" selections
· A shot of the Christmas cake
· Try a shot of the cake from an angle with a piece missing to show the inside
· Shoot an individual slice of the cake or bar on a plate with seasonal touches
· Capture the faces of children marveling at all the treats
7 Christmas Photography Tips
Wait until dusk.
One might assume that Christmas lights photography is best in the complete darkness of night. But such sharp contrast confuses the camera. It will either expose for the lights or expose for the surrounding darkness. While exposing for the lights sounds ideal, the photo ends up losing context. It's hard to tell where the lights are in relation to anything. The best thing to do is wait until dusk to shoot Christmas lights portrait photography. At this time there's just enough ambient light from the sky to accent the background. Shoot quickly. It's a small window of opportunity between dusk and total darkness. The results are worth the challenge, though. Creative Christmas lights can make the best holiday card picture ideas.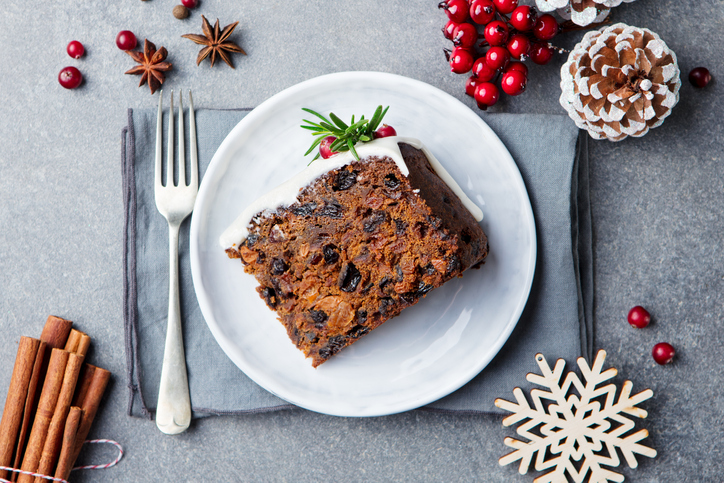 Forgo flash in low lighting.
Most Christmas photography is shot in low lighting. Shooting at dusk to capture outside decorations or inside capturing intimate moments by the fire is commonplace. In these scenarios, light sources are limited – and they should be. But do not use flash to compensate. It's the number one rule for how to take amazing photos in low lighting. Built-in flashes often result in red eyes, yellow streaks, and a shallow depth of field.
Set a low ISO and increase exposure time.
In low lighting, images are susceptible to unsightly graininess. By setting a low ISO, you slow the shutter speed. This allows more light to reach the lens and properly capture Christmas tree photography. To compensate for the low ISO and slow shutter speed, increase exposure time, as well.
Adjust aperture for each type of photo.
Change the aperture to get the right depth of field and focus for the type of photo being taken. When shooting Christmas cake photography, for instance, increase the aperture for a wider depth of field. This puts more of those beautiful cake details in focus. A high aperture is also great for that group shot around the Christmas tree. Keep in mind, it may be necessary to add natural or artificial lighting around the subject for perfect clarity. Alternatively, Christmas lights photography lends itself to a lower aperture. Drop it down to around f/2.8 to create a shallow depth of field and a dramatic blur in the background. Hint: this is how you get the beloved bokeh effect.
Use a tripod.
A slow shutter speed requires you to keep the camera steady for a longer period of time. Put the camera on a tripod or any flat, stable surface. This prevents unwelcomed blur or noise. Prefer to use an iPhone for your Christmas photography? Look for a smartphone selfie stick that transforms into a tripod. They're easy to find, especially during the holidays.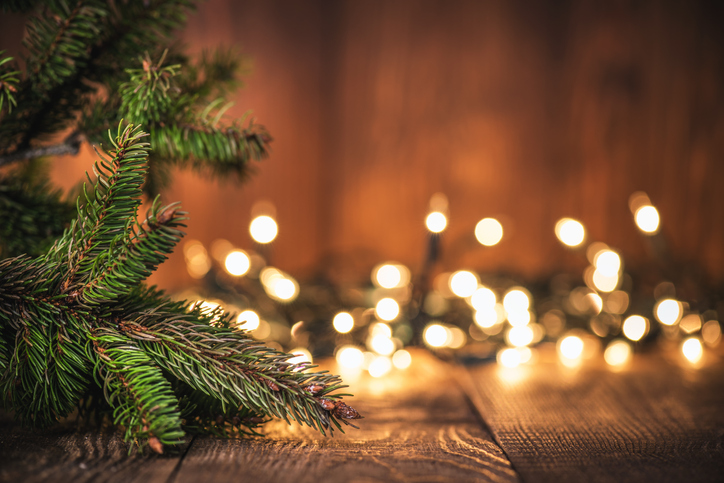 Shoot an in-camera bokeh effect.
The bokeh effect is a unique photography technique that creates blurry light reflections. It used to be a special touch that was only done in editing. Now, photographers use focus in-camera. With today's mobile advances, it's even possible to get a bokeh effect using the iPhone. No matter what device you choose, the bokeh effect requires a low aperture. Low apertures let in a lot of light, which helps create those blurry light reflections. Start with an f-stop around f/2 to f/4. To make the bokeh balls bigger, increase the distance between the main subject and the light source. Try closing the aperture a little more to make shapes. Bokeh balls can be octagons or hexagons, depending on the number of blades in the camera lens.
Use burst mode for newborn Christmas photography ideas.
It's always a challenge coming up with newborn Christmas photography ideas. Kids never sit still. That's why burst mode is your best friend when photographing children of all ages. Burst mode is a continuous shooting mode that captures multiple frames in a single snap. If the kids make any sudden moves, the camera catches everything in a series of images. This provides a better chance of getting the best shot of those angelic little faces.
Take lots and lots of photos.
An entire year will go by before the holiday season returns. And this year will be different than the last one, and the next one. Capture everything you can from as many angles and as many times of day as time allows. You don't need to keep them all forever. Choose your best photos and set them aside so you can keep your iPhone or camera uncluttered for the next big photo session. Use this holiday's best images in custom holiday cards, a photo book, or 2021 calendar. With the Motif Photos app, all those options are possible. Your images can close the distance between you and anyone special in your life.