Reading Time: 4 minutes read
Years ago, holidays were easy. We knew exactly what to get each sibling and parent. Then came along a spouse and with them, extended family, and soon after that, nieces and nephews and a multitude of new people to shop for. Eventually, we decided gifts for the family were the way to go, as we could dedicate a gift that everyone in the family could enjoy, while also maximizing each dollar's potential and result. One of our favorite gift ideas is to turn photos into something the family can enjoy and relive for years to come.

We love Motif for this because there are options, but also because the gifts we give are beautiful quality. Papers are thick stock and created to bring longevity, without fading or yellowing. Motif uses the best inks to make colors vivid and last. Bindings are carefully crafted. Quite simply, they're the best.
If you're looking for the perfect family photo gifts, you're in the right place. Get started with your own photo gifts for the whole family.
Step 1: Download the Motif app

Motif has a long history in supporting Apple Photo's printing, and has carried on that tradition as a native app. Originally developed for desktop use, the Motif app recently became available for iPhones and iPads as well, making it even easier and more convenient to create custom photo projects on the go. Get started by downloading the app from the app store.
Step 2: Get your photos ready

To get started, you'll need to have your photos stored together. That may mean bringing photos from camera SD cards into the digital world or simply shifting images from your computer to your phone or vice versa. iCloud makes it easy for Apple users to consolidate, but there are many apps and storage options out there. If you need some help moving photos between Apple devices, check out our handy blog.
Step 3: Decide how to put those photos to use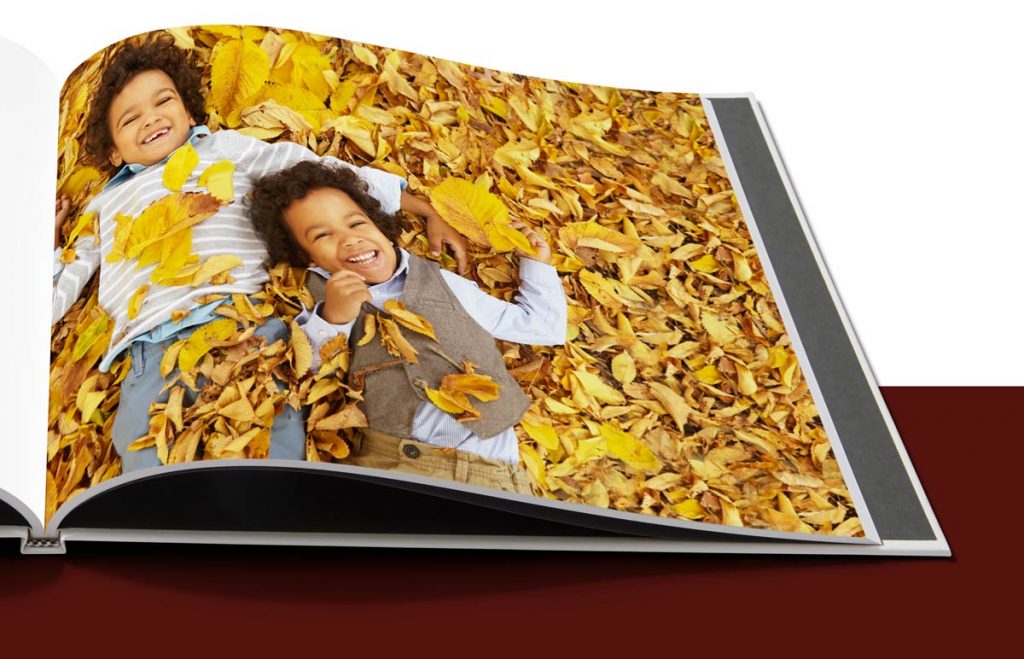 Once you have your photos ready, decide how you want to use them. Motif has multiple family photo gift options, including custom cards, calendars and photo books. Gifts come in various sizes, and what's right for one family may not be the right fit for another.
For example, you may send a customized, beautiful photo book to your grandmother but find that a personalized calendar better fits the bill for your sibling. That photo book could include a two-page spread dedicated to each member of the family. You can also craft a few pages focused on each of the children and their families, finishing the photo book with a spread filled with whole-family photos, unifying her story.
On your sibling's personalized calendar, showcase a photo with meaning on each month's photo page or feature several using Motif's professionally designed layouts. You can even customize the text on specific days, denoting dates of personal significance, such as "their favorite brother's birthday," anniversaries, the day their eldest is set to graduate high school, and more. These personal touches are what make personalized photo gifts so special, and Motif makes adding them possible and easy.
You might also need something small, but meaningful to let other family members know you remember and value them. In these cases, custom photo cards do just the trick.
In all cases, you can customize every detail, including layouts, photo inclusions, text, and more.
Step 4: Package them beautifully

Motif takes great care and pride in its products, and this is evidenced in how they arrive to you. Like its papers and inks, Motif's packaging uses a variety of quality materials, featuring clean design and careful packing to ensure each personalized item reaches you in perfect condition. The unboxing is exciting, as each of your items feels like opening a gift (as it should!).
Take a few moments to add to the allure by carefully wrapping your photo gift for the family in a beautiful paper and adding adornments like ribbon that matches the Motif packaging or your book theme. Take a few moments to include a personalized note that details the importance of the gift and why you chose it and its contents for the recipient. If you prefer, you can draft this note and include it directly in your photo book or calendar using Motif's text tools.
Your family is bound to love your gift, as you put in thought and time to create something beautiful just for them!