Reading Time: 4 minutes read
The release of iOS 14 brought an impressive list of capabilities to Apple mobile devices. And, the new Apple photo updates are ones you don't want to miss. The updates provide better functionality and practicality concerning searching, sorting, tagging, and organizing photos in the Photos App and Library.

Apple Photos App Update
The latest iOS 14 update for the Apple Photo app focuses on making the app easier to navigate while simultaneously offering quick and easy access to your photo library. It's now navigable within Photos by pinching or spreading fingers for zooming in and out throughout the app. Pinching to zoom in and out now works in Albums, Favorites, Media Types, and the Shared Albums sections of the ‌Photos‌ app. It allows for easy zooming in and out to see everything in a given location.

The ellipsis on the Photos app's top right opens up new actions for zooming in and out, adjusting the aspect ratio grid, filtering photos within albums, and creating slideshows. There's also the "Places" feature that shows on a world map where your photos were taken. You can sort the photo albums within the app however you want. Images can be filtered by favorites, edited, photos, and videos.
You can zoom into photos much further than previously. Swipe up on a single image, and a small screen appears. Add captions. Highlighted faces allow you to tap their face and see all photos of them. The Places feature syncs across devices and are searchable.
The iOS 14‌ update also improved the Memories feature. It now shows more relevant photos. Memories have been enhanced with additional music tracks, better stabilization, and improved framing when alternating between portrait and landscape orientations.
Recently deleted shots are now sorted in reverse, with the newest at the bottom.
Throughout ‌iOS 14‌, there's a new image picker wherever you use iOS to insert a photo into another app. The new version lets you select from albums or search for people, places, or photo contents. This makes it easier to find the exact photo you want to use.
Another notable update includes how to limit access to photos. Apps that ask permission to access photos can now be provided with access to a limited number of images if you don't want to give blanket permission for an app to access the entire camera roll. There are options for fully blocked access, full access, or a select list of photos that the app is able to view.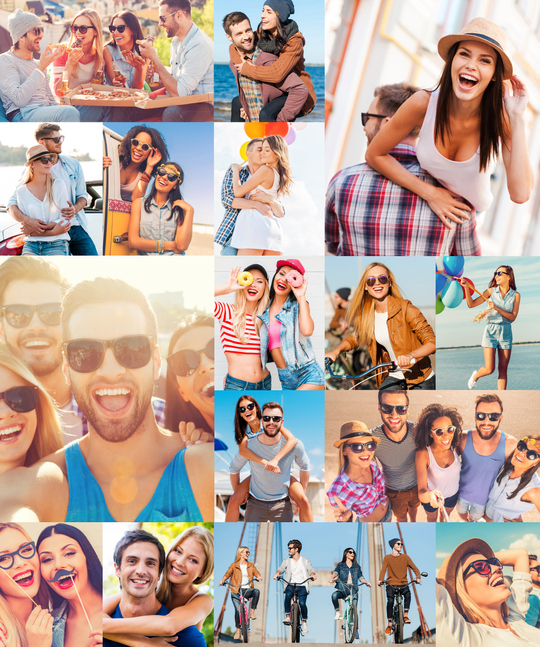 Apple Photo Library Update
The iOS 14 Apple Photo Library update focuses on a better curation of photos. Opening the Photo Library gives access to photos through specific days, months, or years, as well as all images in the photo library. The tabs sort photos by four timeframes. "Years" gives a very broad overview of the photo library. "Months" breaks down the assortment of photos by month. "Days" highlights the best camera roll photos. "All Photos" displays photos in a zoomable grid for easy navigation.

Hidden Albums
The ability to hide specific photos or videos isn't new to iOS. However, in prior versions of iOS, "hidden" photos are stored in a Hidden Album in the Photos app that was too easy to find. With iOS 14, there's now an option to hide the hidden album, giving the ability to hide photos to keep but don't want anyone else to see.
Turn on the Hidden Album feature by going to Settings > Photos and make sure to turn off the Hidden Album switch. Enabling the setting means the Hidden Album will show in the Albums tab, so here, "off" means "hidden." Anything hidden in your camera roll is still saved on your device and in the iCloud Photos library. It isn't accessible unless you go back to Setting and turn the Hidden Album feature back on.
Apple Photo Software Update
The iOS 14 Apple Photo software update is available to all users with compatible devices. iOS 14 is available for use with iPhone 6s and later. It runs on all devices able to run iOS 13. Find the app update in the Software Update section of the Settings app on your device. To update a device, make sure it's plugged in and connected to the Internet with Wi-Fi. Then follow these steps:
Go to Settings > General > Software Update.
Tap Download and Install.
The new Apple Photos updates make photos and photo albums even more accessible and useful. Organize your photos easier, utilize them better, and be a pro Photos app user in no time. And with the Motif Photos App integrated directly into Apple Photo, Apple photo books, custom calendars, and photo cards are easier than ever to create.