Reading Time: 8 minutes read
The human eye is amazingly agile for adjusting to lighting conditions. When a room gets dark, pupils in the eye expand to take in more light or shrink in a bright, well-lit room to adjust. The camera aperture works similarly in its mechanical realm. Aperture is an integral part of photography included in exposure settings, along with shutter speed and ISO.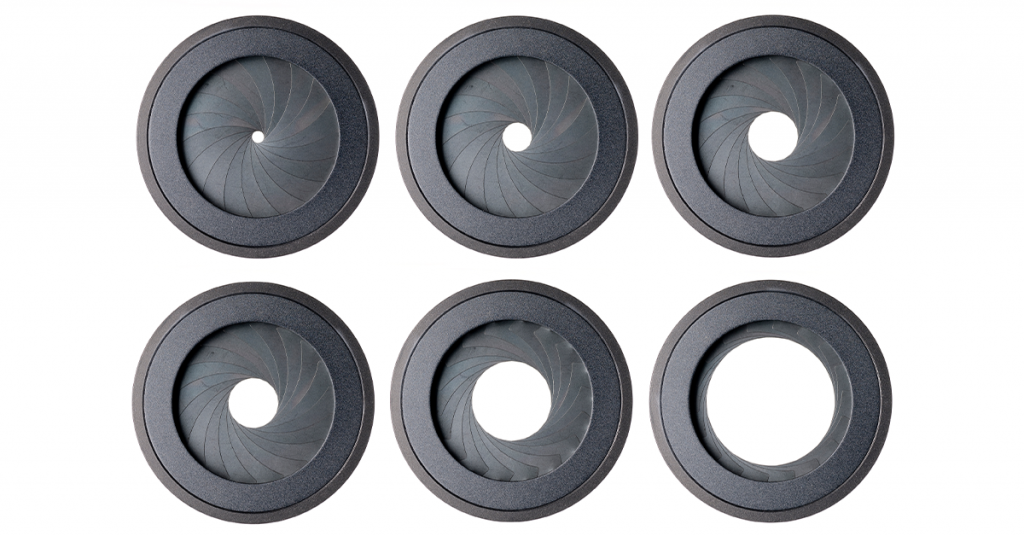 Aperture Definition

If you're asking yourself, what is aperture? An easy way to define it is to picture the pupil of an eye.  Aperture expands and shrinks to allow more or less light to a camera's sensor. The larger it is, the more light comes in, resulting in a brighter photo. If the aperture is smaller, less light enters, and the image captured will be darker.
Aperture is adjusted to control how much light is allowed in. It also controls the depth of field. Aperture is displayed in an "f/number" format.
A low number = large aperture:

Lets in more light
It has a more shallow depth of field


A high number = small aperture:

Lets in less light
Has a deeper depth of field
Aperture is defined by the size of the opening through which light can enter the camera.
Aperture sizes range from the widest (f/1.4) to the smallest range (f/32). Between them are additional "stops" of f/2, f/2.8, f/4, f/5.6, f/8, f/11, f/16, and f/22. Each f-number represents one "stop" of light, a mathematical equation (the focal length of the lens divided by the diameter of the aperture opening) that determines how much light enters the lens regardless of its size. For example, an f/4 on a 50mm has a smaller opening than an f/4 on a 200mm. However, the same amount of light travels through both lenses to reach the image sensor, thus providing the same exposure.
Aperture Camera Components
Aperture blades
Like an eye, a camera lens has an "iris" that controls the aperture. Inside each lens is a set of blades that open or close making the aperture wider or smaller. The aperture size controls how much light gets in and how exposed the photo will be. The more light that comes through the lens, the brighter the image.
Lenses have varying numbers of aperture blades, depending on the price and quality of the lens. A basic lens has five or six blades on the aperture. More professional lenses may have nine or more blades on the aperture. Aperture blades can also be placed straight or rounded on the lens. The aperture shape is often a polygon or a hexagon rather than a perfect circle.
Image sensor
An image sensor is a photo-sensitive semiconductor that captures light rays and converts them to electronic signals. These signals transform into a color image based on a processor inside a camera. Larger cameras have larger sensors and smaller cameras have smaller sensors. A smaller sensor captures a smaller portion of the image.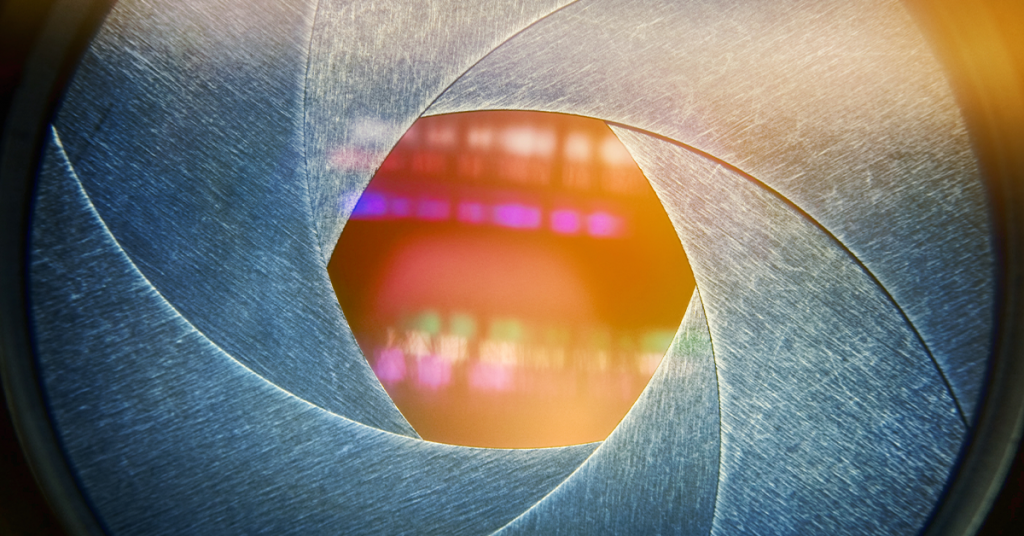 Aperture Settings

From largest aperture to lowest aperture, aperture can also changes how images look by controlling the depth of field. Depth of field refers to how much or how little of the scene is in focus. Photographs with a large depth of field have a larger focus area, while images with a shallow depth of field have a small area in focus.
What controls aperture?

Aperture is controlled by several important factors, including focal length, which controls the depth of field. Depth of field and the camera lens size, combined with the light source and the photographer's need, controls aperture. Here's how:
Focal length

The focal length is the distance from the lens's center to the imaging point (focal plane) where the light for the image is collected. When a lens is described as a "50mm lens," it refers to focal length. Different focal lengths create different levels of magnification and change the viewing angle of the resulting photograph. Camera lenses with short focal lengths have a wide-angle of view, while longer focal length lenses will have stronger magnification, such as a telephoto lens.

The brightness of a lens is a combination of focal length and lens diameter. If the focal length of two lenses is the same, the larger diameter lens will be brighter. With a 50mm lens and a lens diameter of 17.8mm, focal length divided by lens diameter gives the lens a maximum f-stop of 2.8. The f-stop value is aperture, showing how much light will pass through it when the aperture is opened to its maximum. The smaller the aperture value, the brighter the lens.

Minimum and maximum aperture

All camera lenses have a maximum and minimum aperture. Knowing how these work helps photographers understand what lenses to use for different photography types.
If a camera lens has an aperture range of f/4 to f/32, the minimum aperture is f/32, while the maximum is f/4. Since a lower f-number means the aperture is higher (more light), the maximum aperture is faster and lets in more light. Maximum aperture camera lenses are considered to be "fast" because of a higher shutter speed. With a maximum aperture of f/1.2, photos can be taken in places with little light.
Minimum aperture is used for different purposes. Landscape and architecture photography is best suited to the minimum side of the aperture spectrum. This kind of photography frequently utilizes small apertures such as f/8 and f/11. The goal is to get both the foreground and the background elements in focus simultaneously and not lose any part of the shot.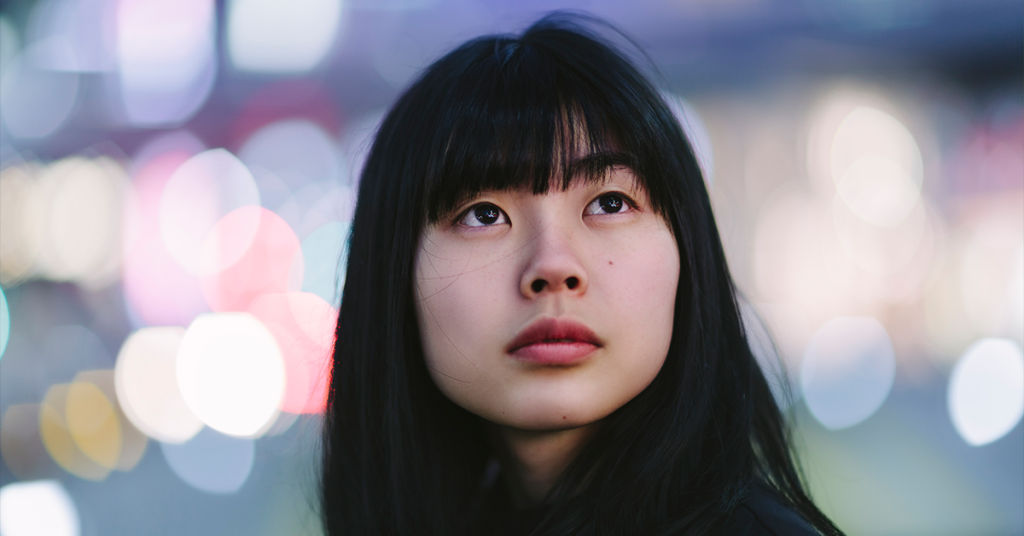 Background blur

The photography effect used to produce a sharp subject and soft, out-of-focus background is called the bokeh effect (pronounced BO-cuh). It often results in soft light flares and reflections that add to the look of the photo. To create the bokeh effect in an image, use a fast lens. —the quicker, the better. Use a lens with at least an f/2.8 aperture or even apertures of f/2, f/1.8, or f/1.4.
Using bokeh is popular in portrait photography or macro photography when a subject is very close up, or there's a lot of lighting in the background. When purposely photographed out-of-focus, harsh or bright lights become soft or diffused. Bokeh can also add softness to an otherwise brightly lit photograph.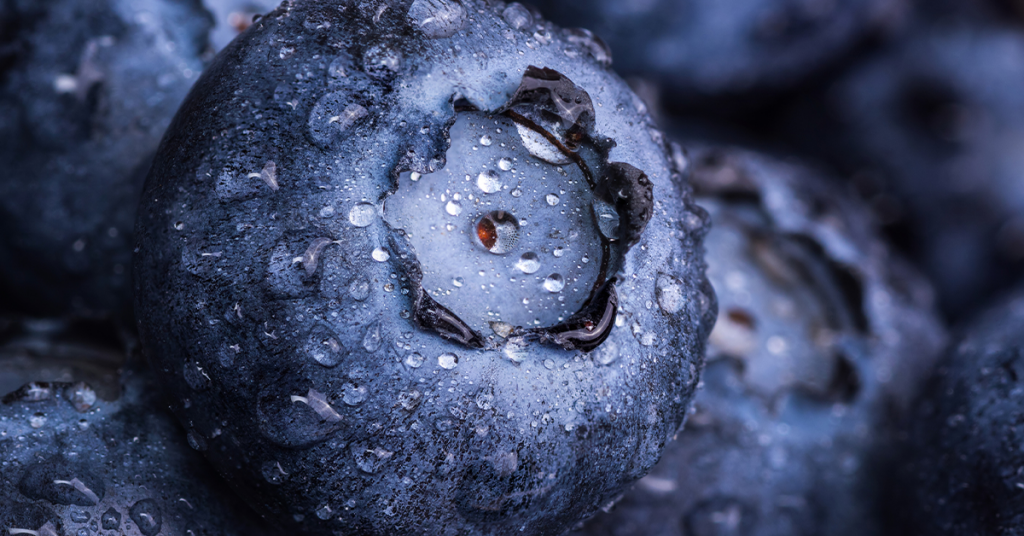 Wide aperture
Wide apertures let in a lot of light and create a shallow depth of field for portraits. For example, photographers prefer an f/2.8 aperture since it's wide and fast. A wide aperture has a lot of uses for a wide range of photography. Examples of wide-aperture photography include:
Subject Isolation
Portrait Photography
Sporting events
Night Photography
Close up (macro) photography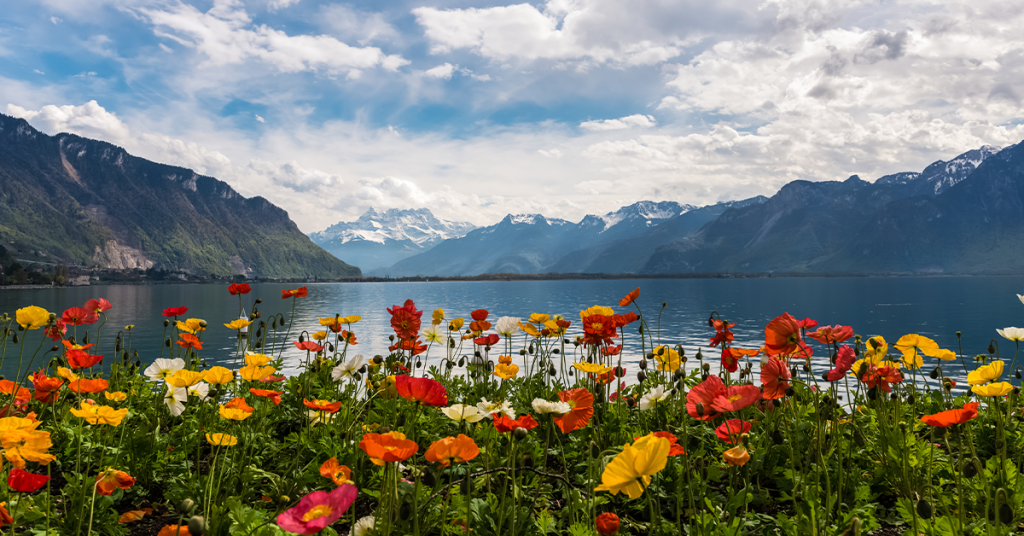 Smaller aperture
Aperture priority mode

Aperture Priority mode is a semi-automatic shooting mode in cameras. The user tells the camera which aperture and/or ISO setting to use, and the camera works out the correct exposure. It sets the remaining element, shutter speed, on its own. Some cameras label aperture priority as Av (Aperture value) or as A (Aperture) on the settings wheel.
Although only one or two settings are used manually, and the camera is doing all the balancing, it gives the photographer more control than shooting entirely automatically. After determining the subject of the photo, choose the aperture number (f-stop). When shooting a landscape, choose a larger f-number, such as f/9 or f/16. For a blurred background on a portrait shot, choose a smaller f-number, such as f/2.8 or f/4.5. The camera adjusts the ISO and shutter speed before taking the photo.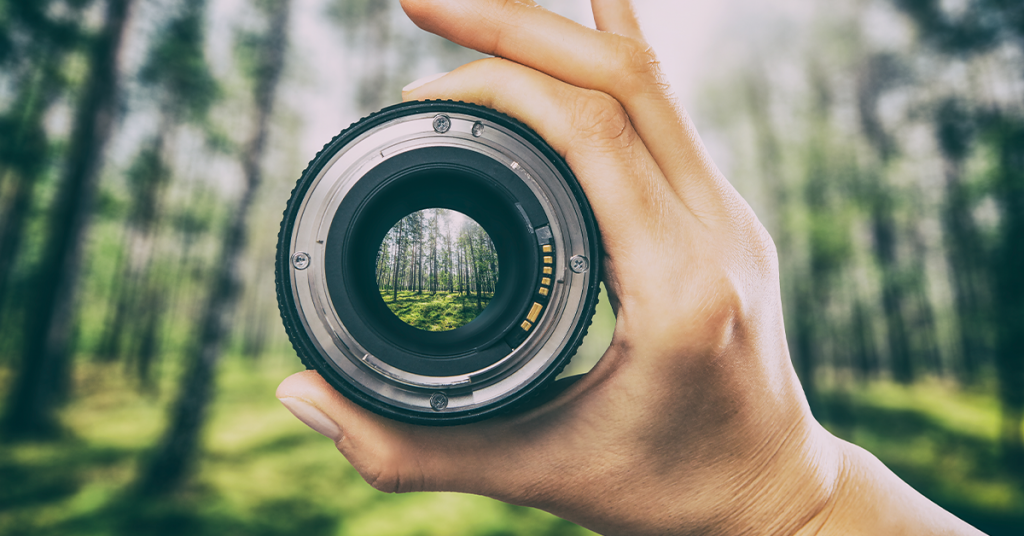 Variable aperture

Variable aperture is specifically used with zoom camera lenses. Lenses with variable apertures change the aperture based on focal length. On an 18-55mm lens, an f/3.5 aperture occurs when zoomed out to 18mm. When zoomed in to 55mm, the widest aperture available is only f/5.6. It's a smaller range of aperture choices and is more difficult to control exposure. However, lenses with variable aperture have a lighter weight, are more cost-effective, and have easier mobility.

Aperture can be a simple yet exciting way to understand and practice photography. Use different settings anywhere photos are taken to experiment with the finishes you like. See the differences in background, focus, and the right amount of light for the perfect photograph.
Bring Your Photos to Life with a Personalized Photo Book.

Once you've mastered using aperture with your camera, create a beautiful photo book with Motif. Why not celebrate your aperture photography skills with something that showcases them wonderfully? Whether it's your latest vacation snaps, candid everyday shots, or cherished family photos, creating a personalized photo book is easy with Motif.
There are over 80 personalized layouts, with various themes and sizes to help you create the perfect photo book. Photo books are a great way to celebrate and share your favorite photographs with family and friends. Download the free Motif app and get started today!