Reading Time: 9 minutes read
Pregnancy is an epic journey. The first few weeks of queasiness turn into middle months of feeling great while watching your belly grow. The last trimester isd more uncomfortable but the most exciting as you prepare to welcome your child. While nine months (give or take a few weeks) seems like a long time to wait for a new baby, it passes by faster than you can say "pregnancy photoshoot."
Pregnancy is a time for celebrations and communication. There are so many opportunities to chronicle your pregnancy journey with structured photoshoots and documented parties. You can start as early as announcing your pregnancy in a photo, complete with an announcement sign or props like tiny shoes or teddy bears. From there, you can plan many different ways to highlight your growing belly for each stage of your pregnancy journey.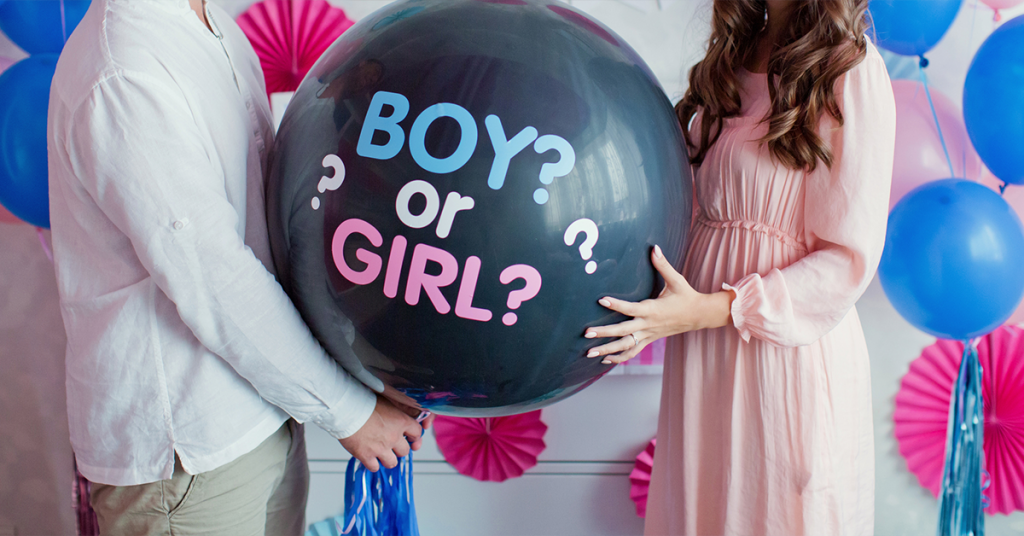 Gender Reveal Photo Book
Ask anyone who's had a baby what their most-asked pregnancy question was, and they'll tell you it's all about gender. Pregnancy gender reveals have become very popular over the past few years. The gender-reveal can be as simple as cutting into a white-icing cake and being surprised with pink or blue cake in the middle or popping a large balloon filled with colored confetti. More elaborate reveals have included hitting baseballs filled with colored powder or setting off colored smoke bombs.
Throwing a gender-reveal party is the perfect way to bring friends and family together for this moment of surprise. Most people find out the baby's gender around 14-18 weeks.
Having a friend or hiring a professional photographer to photograph the festivities will take a lot of pressure off you and your significant other capturing all the action. Make sure there's a fluid timeline for a photo book – a beginning, middle, and end that tells a complete story of the gender reveal and the celebration around it. Elements of a gender-reveal photo book can include:
Photos of the party decor, including food, decorations, and the gender reveal setup.
Welcoming guests to the party.
The gender-reveal in action.
Reaction photos of you, your partner, and guests.
Posed photos with friends and family after the big news.
General party photos.
When the party's over, and everyone finally knows whether the baby is a girl or boy, create the perfect gender reveal photobook to capture every detail of this special event.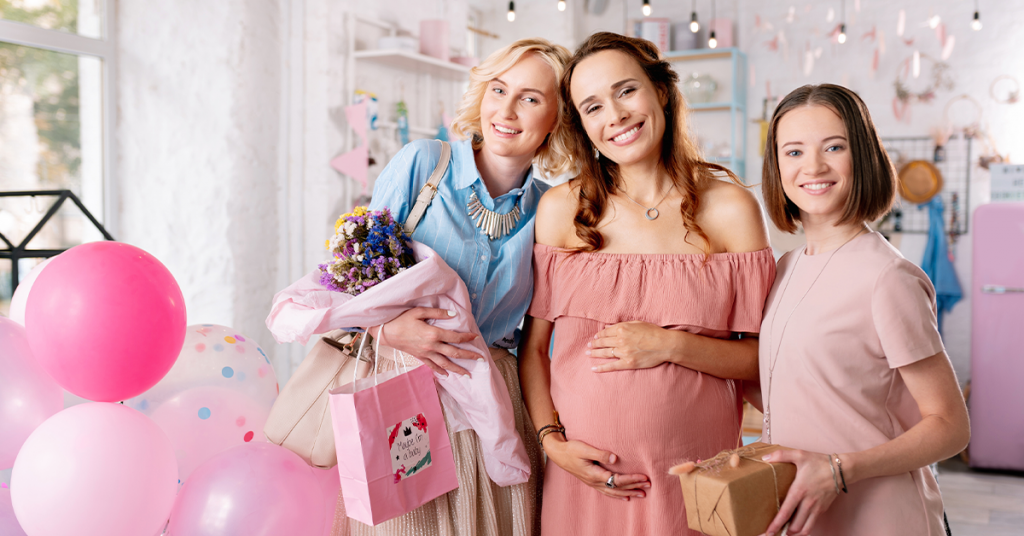 Baby Shower Photos
What better way to capture sweet moments of your pregnancy than at a party in honor of you and your cherished baby-to-be? Historically, baby showers were for the mom-to-be and her closest female friends and family. More modern baby showers include the dad-to-be and all friends and family. They can be an intimate brunch at home or a big, catered event. In either instance, it's a party to "shower" the mother and child and celebrate the journey to parenthood.
Baby showers usually occur during the third trimester (usually in the seventh or the eighth month of pregnancy). It's a chance for the parents-to-be to socialize with the important people in their lives before the baby joins the family and life gets more chaotic. It's also an opportunity for guests to give parents essential baby gifts that will be needed very soon.
A creative and very photogenic part of a baby shower is its theme. Baby shower themes can reflect the parents' style, favorite sports teams, or season. Popular themes include the nursery's colors, a favorite sports team, or themes centered around the baby's name or initials. One unique baby shower idea is to host a foodie baby shower and create a recipe photo book from the event. It's a gift everyone will enjoy for years to come.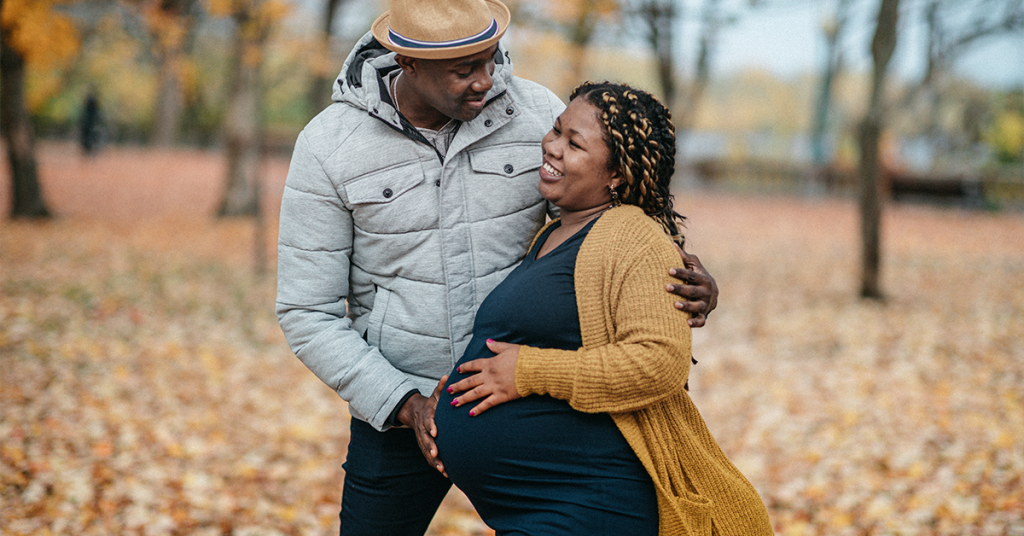 Couple's Pregnancy Pictures
A couple's pregnancy photoshoot is an essential step in your pregnancy journey because it highlights the intimate relationship between you and your partner. You can even do a series of photoshoots during your pregnancy, so you'll have couples' pregnancy pictures at every stage.
Pregnancy is a special time in the lives of soon-to-be parents. A couple's pregnancy photoshoot takes the gentle connection with the baby and documents them forever. Don't be afraid to have fun with each other, too. Capturing quiet, intimate moments together, as well as playfully enjoying each other's company before baby, are all worthy of documenting. Here are some ideas for couples pregnancy pictures:
Be romantic: Pregnancy is a growing sign of the love between two people. Dress up, take pictures for a night on the town, or do an intimate photoshoot at home by candlelight or by a fireplace.
Be silly: Show off your playful side as a couple. Use props such as bubbles, balloons, or food to get into a giddy mood.
Be outside: If you and your partner have a favorite hobby or place, take a photographer with you. An easy hike or stroll along the beach are excellent photo-ops.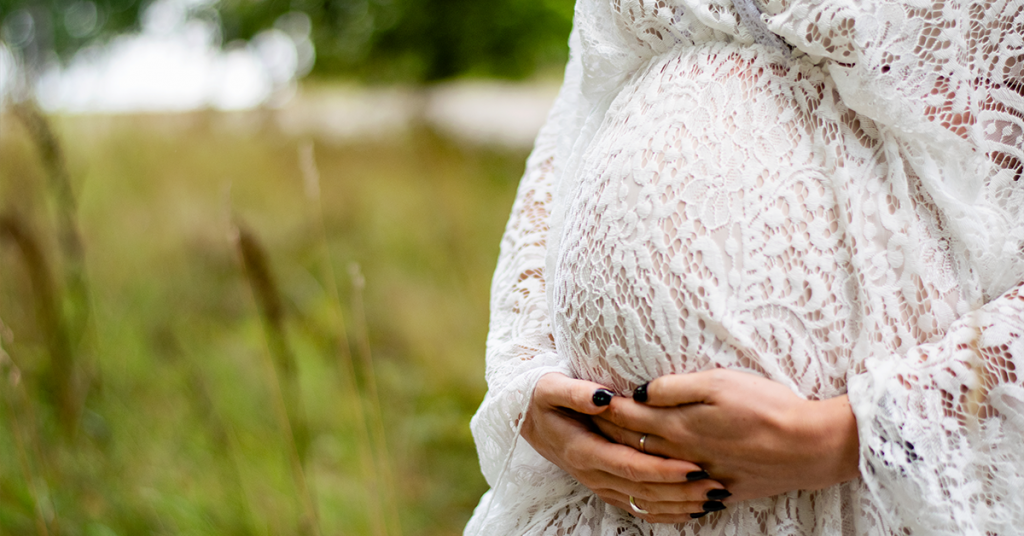 Maternity Portrait Photography
Pregnancy is a unique time in a woman's life, both physically and emotionally. Maternity portrait photography shows off the beauty of pregnancy and brings out all of the emotions of becoming a mom.
The best time for maternity photographs is between the 32nd and 38th week of pregnancy. The mother's belly is round and easily noticed. The mom-to-be is comfortable enough to stand or sit for an extended time while taking photos. Choose a few outfits to get a variety of shots. Wear something that shows off your belly, such as a flowy, dramatic dress or sheer, romantic blouse. Or, reveal your belly with an open shirt or bikini. Wear what makes you comfortable and beautiful during this personal photo session.
Adding your partner or the baby's sibling(s) makes a maternity portrait photography session more meaningful. It also creates more options when it comes to posing for pictures. Show the interaction between the siblings-to-be with sweet gestures like belly hugs and kisses. Don't forget four-legged siblings-to-be, as well! Bringing pets into a maternity shoot captures what the entire household will look like when the baby makes his or her appearance.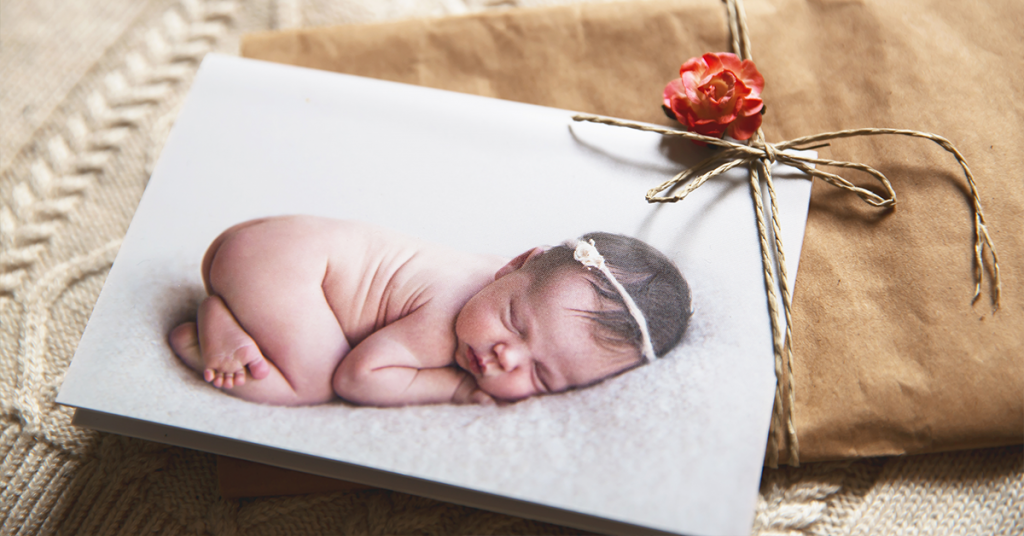 Photo Baby Announcements
Baby announcements are traditionally sent through the mail to friends and family soon after a new baby's birth. Designing a photo baby announcement before the baby's arrival makes it easier once the baby comes. However, it is acceptable to wait until after the baby has been born (and in some cases, necessary if the baby's gender is unknown).
Create the mailing list for your birth announcements before the baby's birth to save some stress once the baby is born. Here's the essential information to include on a birth announcement:
Introduce the baby with his/her full name.
Statistics (date, time of birth, weight, and length).
Older siblings: Can include all the family members' names and photos. Family pets are considered siblings here, too!
Parents' names: If the last names are different, the last name of the baby and each parent can be included for clarification. Otherwise, it is okay to have just the parents' first names.
Birth announcements should be sent as soon as possible after the baby's birth. The ideal time frame for a birth announcement to be sent is between two weeks and two months after the delivery and no later than three to four months. If announcements need to go out later, one option is to include them with a holiday card or family letter. A photo baby announcement can also be a great part of an upcoming photobook, such as a Mother's Day photo album.
Baby Announcement Ideas
Thankfully, there's plenty of time to design a baby announcement when waiting for a new baby to arrive! Whether you're creating a birth announcement to be sent out online or through the mail, they can take some time to design. There are endless design ideas for the announcement itself, but it's the photo that will be the most exciting to choose.
There are so many ways to show off your newly growing family, including these baby announcement ideas:
Have the baby gently held by siblings.
Create a holiday-themed announcement (if the timing works).
Dress up the baby in the parent's favorite sports team gear or colors.
Recreate a parent's baby photo.
Take candid photos of the baby meeting their family.
However you design the announcement, friends and family will be thrilled to see your new little one.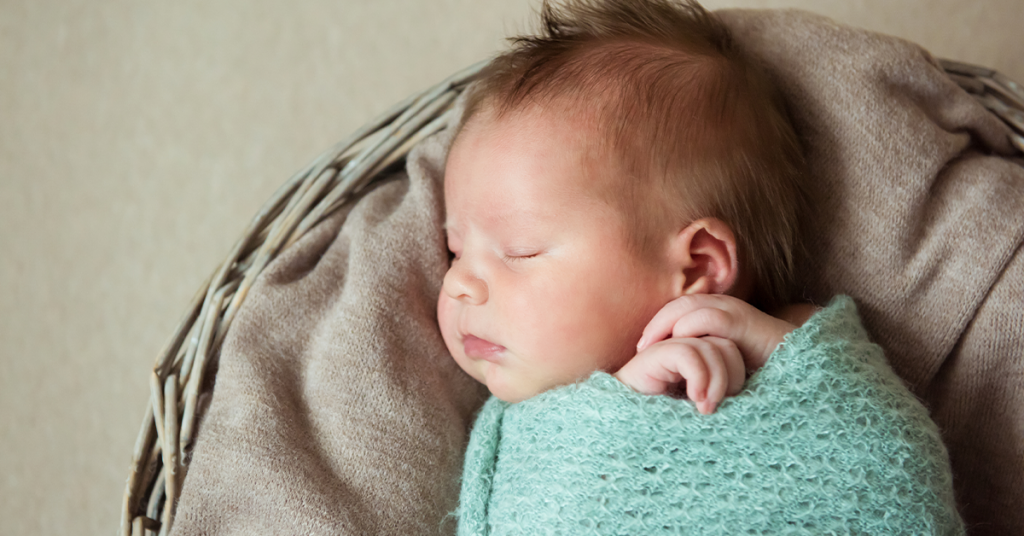 Newborn Photography Ideas
The real fun begins when you've reached the end of your pregnancy journey. You've carried your little boy or girl for nine months, and they're finally here to be cuddled and loved. Newborn photography is adorably creative. Ideally, newborn photos are taken between 7-14 days after a baby is born. This is when babies are still sleepy and can snuggle up in cute poses or be wrapped in blankets. However the baby is posed, they're almost guaranteed to sleep and stay in one place for some time.
If you're using a professional photographer for a newborn photoshoot, make a shot list with them in advance so you'll all know what to expect during the session. Be flexible with photography ideas during the photo shoot since it all depends on the baby. Newborn photography ideas feature many different ways to capture your new addition, including:
Tiny hands and feet
First day in the hospital
First day at home
Siblings meeting baby for the first time
Bonding with you/your partner (together as well as separately)
Swaddled in blankets
Photos with props (such as baskets or stuffed animals)
From the gender reveal, memorable portraits with your partner, a maternity photoshoot just for you, a baby shower with friends and family, to welcoming your bundle of joy – these are all just the first steps in a lifetime of making memories with family. By documenting each step of your pregnancy journey, you've laid a great foundation to tell your child's and family's unique story.
Bring Your Photos to Life with a Personalized Photo Book.
Celebrating a baby-to-be takes a village of loving friends and family. Throughout your pregnancy, create beautiful memory books with Motif. Whether it's for your babymoon photos, candid everyday shots, or cherished formal family photos, creating a personalized photo book is easy with Motif. It's a practice you'll be happy you developed as your family grows. Being able to choose from a library of photo books that chronicle your lives is priceless.
There are over 80 personalized layouts with various themes and sizes to create the perfect photo book for your needs. Photo books are the best way to celebrate and share your favorite photographs with family and friends. Download the free Motif Photos app and give your stories a home with Motif.