Reading Time: 5 minutes read
Tanya's Motif photo book showcases her favorite birthday treats.
We love people who capture and share their amazing moments, and we love getting to be part of keeping those moments alive. With that… Have you met Tanya Schroeder?
Tanya is the amazing force behind Lemons for Lulu, a blog that shares thoughtful recipes for every level of cooking experience alongside beautiful foodtography (yep, that's a thing). She recently shared on her foodie blog her own Motif experience, and we loved it so much we asked her to join us on our blog for a 1-on-1 Q&A!

Q: How would you describe Lemons for Lulu?

A: It is technically a blog, but it's really so much more. When I launched in 2012, it was in hopes that someone else might be able to benefit from my trial-and-error, self-taught cooking experiments. But over time, it grew into a space where others came to share their love of food. I truly loved photographing gorgeous foodscapes, and the blog married so well with that love. So, in short, it's a beautiful culmination of community, cooking (by my self-taught self), and food photography that brings the beauty of those colors and textures to life.

Q: You call it a blog, but it sounds like it's grown into something beyond the typical URL. Where has your work reached outside of Lemons?
A: That's the great thing about an online endeavor: It can take on a life of its own and open doors you never dreamed of opening. Since launching the blog, I've had the pleasure of working with some amazing outlets including Country Living, Redbook, Fitness Magazine, and Parade, to name a few. I've also officially published a book, Sandwiched, Eat Em, Toast Em, Stuff Em, Grill Em, because who doesn't love a sandwich? I personally believe that, if you can make a great sandwich, you can cook anything.

Q: Speaking of books, you recently posted about creating your own photo book with Motif. What type of book did you make?
A: Well, around the holidays I was trying to come up with the perfect gift for some of the more challenging recipients on my list. You know, the ones who want for nothing and are always very gracious…but you really want to do something thoughtful for. So, after much thought, I decided to go the homemade route because I love the thoughtfulness of well-made, self-made gifts. And photo books are simply awesome. Given my blog, I decided to share my family's memories through food with a photo book of all my family's favorite birthday treats.

Q: When people hear "photo book," many think of it as a substitute for the old-school photo albums. How did you tailor yours to your family birthday recipes?
A: Beautiful photos are at the heart of every photography project, of course. But since mine was a recipe book, it was important to include the recipes, pairing them with amazing images. I found that, for my book, the best format was one recipe per two-page spread, with the photo on one page and the paired recipe on the other. That way, I could tell and illustrate the story through words and images.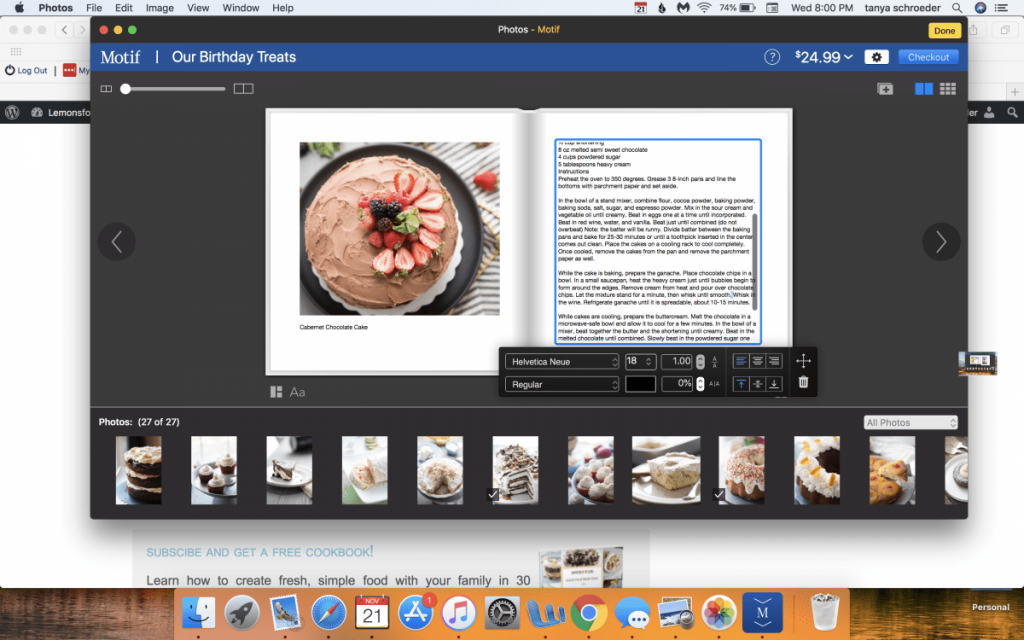 Q: How did Motif help you carry out that vision?

A: Since it was a book with an intentional layout, I had something of a vision going in, which helped. When I started my book, Motif had me choose how many images I wanted on each page. Since I knew I wanted one per page, I made that selection and then just added in blank pages and text blocks as I went.
One thing that was really neat was how I could see my photos in the various themes from the start. Even though I kind of knew what I wanted it to look like, this fun little feature made the final choice so easy.
Essentially, after picking my theme and layout, I added the pictures, and then added the text boxes and copy/pasted my text into those boxes. Working with the text in Motif was pretty easy—the fonts and colors and everything are easy to access. I think that was the biggest part of the work, but that's the case with any book.

Q: What was your favorite part of using Motif?
A: The finished book! And of course, watching the recipients' faces when they opened them and realized what they were. But beyond that, I loved how easy it was to bring my photos into Motif. Two clicks and it was ready to go in just seconds.
Q: What advice would you give to future Motif users?
A: Make your book about what you love. And have an idea, before you start, about the feeling you want your book to invoke. Everything else will come from that.
Q: One last one—just for fun: What's your favorite recipe from your blog?

A: I couldn't possibly pick just one. But I do like the complexity of flavors and easy cleanup of the Hawaiian Chicken. However, I'd be remiss if I didn't include the Ricotta Donuts. The texture is heaven and they make such a pretty plate. Or the creaminess of the super-easy Potato Leek soup. Nope, I can't pick just one.