Reading Time: 12 minutes read
When it comes to photo editing on iOS and macOS devices – the world is your oyster.

There are a number of different apps available for photography enthusiasts to sink their teeth into – and if you count yourself amongst that crowd, then you've certainly come to the right place.

Below you'll find a breakdown of the best free and paid photo editors available on iOS and macOS devices.

It doesn't matter whether you're an experienced photographer, or only just starting your journey. We've carefully selected a list of apps to suit a wide range of capabilities behind the lens.

Scroll down to explore where you can find each app, along with the advantages and disadvantages associated with each.
The best free photo editors

If you've only just ventured into the world of photography, but are still keen to test the potential of your iPhone or Mac from a photo editing perspective – it might be worth checking out what the free apps have to offer before splashing the cash on the more advanced programs.
Here's a few suggestions to get you started…
Canva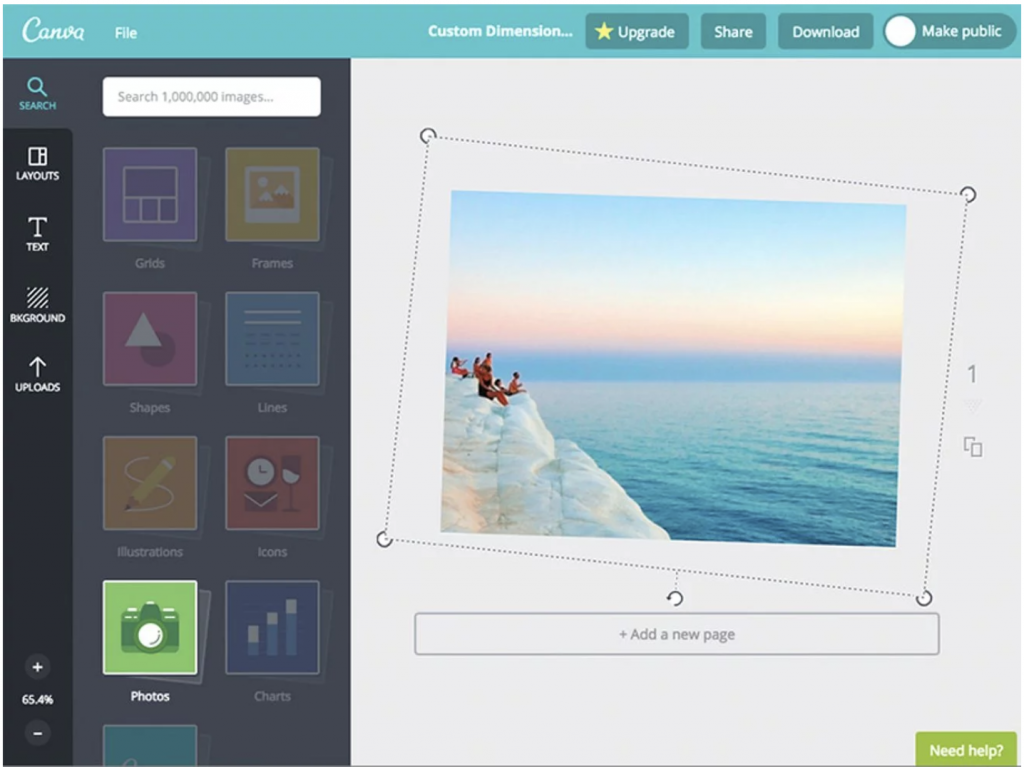 Canva is a multi-purpose design app that can be downloaded on mobile and desktop.

Also available directly from you web browser, the vast majority of Canva's functionality is free (although you can pay for some additional features).

As far as actually editing photos, Canva is fairly limited compared to other apps on the market – although it's very easy to upload images and work them into a variety of design templates ready provided.

This includes cards, flyers, social media posts .

Price
FREE
Where can I get it?
Online, App Store
Benefits
✓ Free to use
✓ Easy to upload images
✓ Easy to share things when working in teams
✓ Extensive choice of design templates
✓ Automatically saves designs
Drawbacks
☓ System glitches and bugs are sometimes common
☓ Limited tool for advanced technical photo editing
Fotor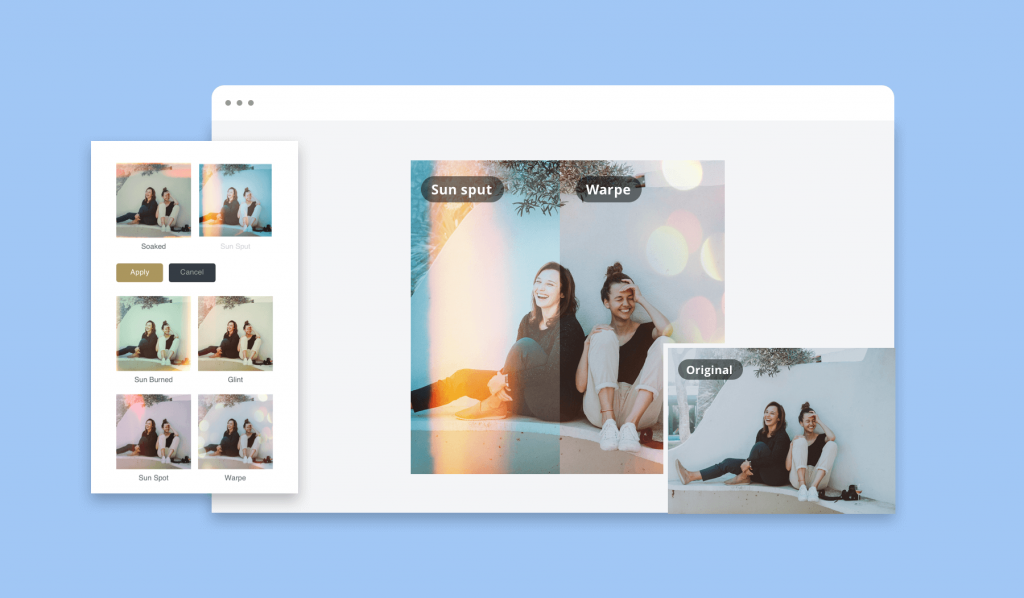 Much like Canva, Fotor is a multi-platform photo editing and graphic design tool which couldn't be more straightforward to use.

Again, it's fairly limited when it comes to the more technical elements of photo editing, but if you want to get a simple introduction into the basics – Fotor is a great place to start.

The standard photo editor feature is especially great for mobile users, as it's a nice tool to play around with while you're on the move.

And, with more than 300 million using the Fotor app worldwide – you have all the social proof you need right there to convince you to give it a try!
Price
FREE
Where can I get it?
Online, App Store
Benefits
✓ Free to use
✓ Easy to upload images
✓ Easy to make basic photo edits (brightness contrast, saturation etc.)
Drawbacks
☓ Limited tool for advanced technical photo editing
Snapseed
Given the fact that Snapseed isn't available on Mac, you might be wondering why we've included it on our list?

Well, for starters – Snapseed is widely regarded as the best free photo editing app exclusively for mobile devices and images captured via mobile.

One of the main reasons why iPhone and iPad users speak so highly of Snapseed in app review forums especially, is that it takes up such little storage space in comparison to other free photo editors.

It's also less limited in terms of functionality – with plenty of effects and creative frames beyond the basic editing tools. This makes it a great free option for beginners looking to hone their craft.
| | |
| --- | --- |
| Price | FREE |
| Where can I get it? | App Store |
| Benefits | ✓ Free to use >br>✓ Only takes 22MB of memory>br>✓ Available in 40+ languages |
| Drawbacks | ☓ Limited to iOS only |
GIMP
GIMP is seen as the go-to free alternative to Adobe Photoshop.

This alone makes it a popular choice for people with a more advanced eye for photo editing – not least because they can access many of the equivalent tools that Photoshop users enjoy.

Of course, it doesn't have everything that Photoshop has to offer – but when you look at the price tag (or lack thereof!) you won't see many people complaining.
Price
FREE
Where can I get it?
Online, App Store
Benefits
✓ Free to use
✓ Provides many of the features you normally get on Adobe Photoshop
✓ Wide range of free plug-ins

Drawbacks
☓ System glitches and bugs are sometimes common
PhotoScape X
Photoscape X is an all-in-one photo editor, collage maker, animated GIF creator and printer.

It supports all the usual file formats – and much like Fotor and Snapseed, it enables you to carry out basic photo enhancements very easily and quickly.

However, unlike the apps we just mentioned, Photoscape enables you to perform batch edits for extra efficiency and also has a printing capabilities – enabling you to convert RAW image files into works of art in JPEG format, ready to come out of your printer.
Price
FREE
Where can I get it?
✓ Online, App store
Benefits
✓ Free to use
✓ Good for batch editing and printing
✓ Comfortable layout
Drawbacks
☓ Limited to Mac OS only
The best photo editing software (paid)

If you're willing to part with some cash to get the best from your photos – it's worth remembering some paid-for programs might be more suitable for what you need than others, so invest wisely!

Here's a list of apps worth looking at before you make up your mind…
Adobe Photoshop CC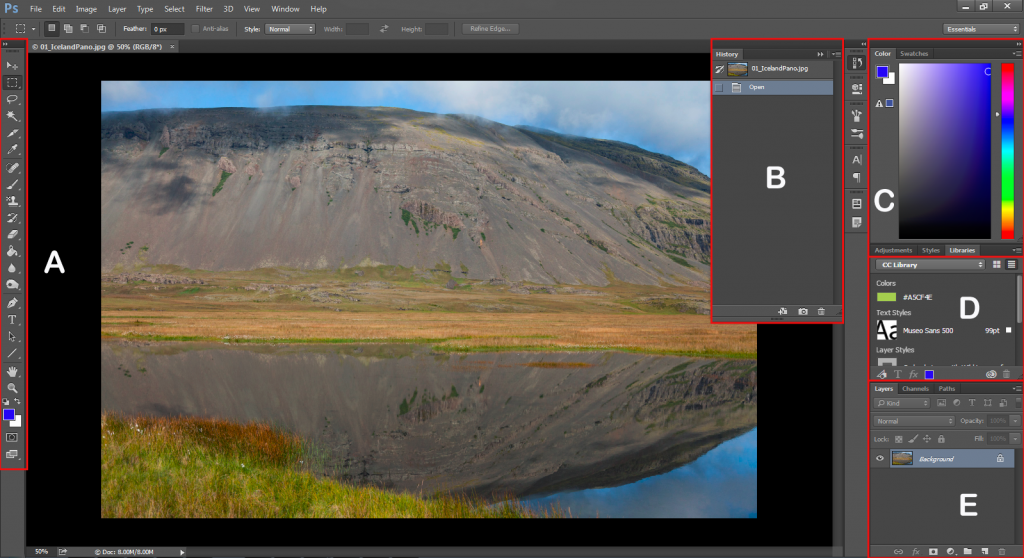 Photoshop is one of the most widely used programs for creative professionals – let alone photographers.

Being Photoshop-savvy is a skill in itself. And that's before you start trying to edit photos.

If you know your way around the program – the possibilities are endless. If you're a beginner, you might want to consider Lightroom instead (more on that below).

Price
Annual Plan, prepaid – $239.88Annual Plan, paid monthly – $20.99
Where can I get it?
Online, App Store
Benefits
✓ Good place to start taking your photography skills to the next level
✓ You can import more photos and videos than you're able to with free apps
✓ Enables you to easily transfer files across other Adobe programs
Drawbacks
☓ Can be challenging for beginners to get used to
☓ Expensive if you don't make full use of it
Adobe Photoshop Lightroom Classic/CC
Lightroom is a program that's more specifically tailored towards photography.

While Photoshop is a designer's dream, which enables you to completely change the elements within a photo – many photography enthusiasts tend to prefer Lightroom as it's a more scaled-down and simplified tool.

Lightroom enables you to do the basics, even better. Lighting, contrast, definition – you name it.

And, once you've mastered Lightroom, you can always turn your hand to Photoshop later.

Price
Pay monthly plan – $9.99
Where can I get it?
Online, App Store
Benefits
✓ Easier to grasp the basics of Lightroom in comparison to Photoshop
✓ Robust UI design
Drawbacks
☓ Slightly limited in comparison to Photoshop
Affinity Photo 1.7
Affinity gives you many Adobe features, without the hefty monthly subscription.

You can literally buy the program outright, install it on your Mac or iPad – and benefit from the vast array of features provided.

Of course, there are some limitations which may frustrate the more experienced photo editors out there – but we'd argue that it's a more than worthwhile investment for beginners looking to sharpen their skills.

Price
Mac OS version – $39.99iOS version – $15.99
Where can I get it?
Online, App Store
Benefits
✓ Great value for money
✓ Plenty of formats supported
Drawbacks
☓ Lack of lens-profile based corrections
☓ Can't create custom workspaces
PhaseOne Capture One Pro 12
As reflected in the price, Capture One Pro 12 exists on the market to directly compete with Photoshop.

However, a more fair comparison is probably Capture One Pro 12 vs Lightroom – with Capture One arguably having the upper hand over Adobe as far as colour management and adjustment is concerned.

That being said, files created in Photoshop and Lightroom can be seamlessly transferred across other Adobe programs – while Capture One Pro 12 is limited to PhaseOne applications which don't have the same functionalities.
Price
Whole software – $299Annual plan, prepaid – $180Annual plan, paid monthly – $20
Where can I get it?
Online
Benefits
✓ Outstanding colour capturing qualities across all formats
✓ Great composition features
✓ Advanced primary image rendering
Drawbacks
☓ Export option can be tedious
DxO PhotoLab 2.3 (OpticsPro)
Depending on which version you decide to buy, there are a range of different tools across OpticsPro which make it worthy of a mention here.

While you can compare Capture One Pro 12 to Lightroom, OpticsPro is comparable in many ways to Photoshop – in the sense that it's a useful program for manipulating image elements.

One thing to bear in mind however, is that OpticsPro only supports some RAW files – with Fujifilm being a notable exception.

Price
ESSENTIAL version – $129ELITE version – $199
Where can I get it?
Online, App Store
Benefits
✓ Extracts amazing detail from certain RAW files
✓ As good as Photoshop in terms of photo manipulation
Drawbacks
☓ Only supports some RAW file formats from a handful of camera-types and lenses
☓ No built-in perspective tools
Why should you edit your photos?

The answer to this is simple.

You take pride in your work!

And, with all the programs we've just listed – the potential to improve the quality of your shots is immense.

Sure, most digital cameras nowadays capture amazing still photographs on their own – but there is always room for improvement.

The only thing to watch out for is 'over-editing' your photos. Once you become invested in the tools it's easy to get carried away!
What is the best photo editing software for you?

Always start basic and work your way up.

If that means playing around with some of the more basic apps at no cost – then go for it. Then you can progress into the more advanced software features for photo editing and manipulation.

If you have a bunch of edited photos lying around doing nothing, then we might be able to help.

Motif enables you to make the best use of all your most treasured photographs. You can easily convert your edited photos into beautiful photo books, calendars and cards that you'll cherish forever.

All produced at your own fingertips.

So, what are you waiting for? Download our free app extension for macOS or iOS and start creating today.