Reading Time: 5 minutes read
So often, creating high-quality, lasting photo mementos requires numerous apps and programs, downloads, uploads and, well, quite simply, steps. All these pieces theoretically work together to give you a beautiful end product, but why use a complex process when you could instead do it all seamlessly in just one place? We're all about using the best photo editing apps to enhance images, but did you know you can complete many of the tasks those apps accomplish right in Motif? Read on for five ways Motif can simplify your photo project creation process!

Crop your photos

Cropping your photos is an easy way to give images a specific focus, removing the distractions from the edges of the photo. This minor adjustment can make a huge difference, so it's easy to see why cropping is a popular feature within image-editing apps. It is still, however, an extra step—and one you need to complete before you actually do anything with your photos. Streamline your photo editing process by simply making your crops directly in Motif.

Once your photos are placed in layouts, you can edit them directly to crop them as you wish. Motif's intelligent software will even automatically re-zoom and size your image to properly fit the layout once you crop!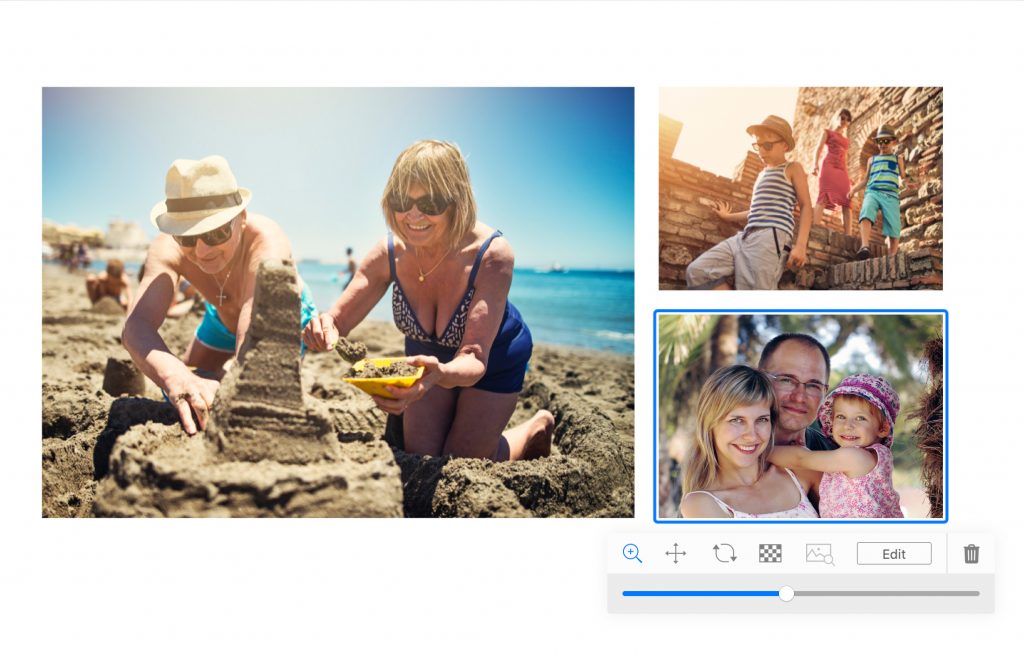 Autoflow: One trick the best photo editing apps can't do
Photo editing apps can be great tools, but they're typically standalone tools that have one real function: to edit your photos. What you do with those photos after using the app is up to you. Motif is different in that it has, built in, an array of photo-editing features to polish your photos while you give your images purpose.

For example, if you're creating a one-of-a-kind photo book using a collection of photos, you can select the entire folder of images right in Photos and start your Motif project, choose your page count, the number of images, and more and let Motif use its autoflow feature to create your book for you. Its smart tools will automatically review each of your photos, selecting those with the best quality based on clarity, focus, and more, and intelligently lay them out into a photo book for you. You select the theme up front—Motif has a multitude, from modern white and black to baby book-friendly pastel pinks and blues, romantic flourishes, playful geometric shapes and beyond to fit every topic and design preference. Motif does the hard part for you, reviewing and evaluating your images, determining optimal layouts and even placing your photos for you.
You have complete creative freedom to swap images, resize, crop, lighten, darken, and more—all from within the app. If you haven't created a photo book with Motif, check out our get-started guide.

Modify the hue and saturation

Even the most perfectly staged photos can be improved through the best photo editing apps. A few clicks can darken the low lights, creating drama in the clouds or shadows that enhance the brilliant greens in trees. Saturate the colors in the sunset so your photo mirrors how your eyes saw it. These minor post-production tweaks can make a drastic difference in your photos and help to make them look professional.

Typically, you'd need to review your photos and plan the updates, use your favorite photo editing app to make changes, upload it into your photo project app of choice, and work it into your photo book, calendar, or other project.

With Motif, you can scratch all of those preliminary steps and, after taking advantage of smart auto flow (as mentioned above), make the edits right within the platform. Built-in editing tools let you adjust your hues, saturations, and more, directly within the Motif app, saving you time and steps! If you have past Apple Photo projects you want to continue working on or even translate to something new, you can convert them with Motif so that you don't have to start from square one, saving even more time!

Create panoramic spreads

Sometimes you need some extra real estate for your photos in order to tell your story just right, and Motif makes that easy, creating two-page spreads that capture your panoramic photos perfectly, without any extra steps or miscalculations.

From within Motif, simply place your photo on a photo book page. Then use the click and drag image resizing handle and pull it across to the second page of the spread. Any other images you may have remaining in a multi-photo spread will automatically—and responsively—resize.

You can also opt to delete them and showcase a single panoramic image. Don't worry—those deleted photos are available to add back to your book wherever you like (just look in the image tray).

Add text

Caption photos or add anecdotes directly over an image using Motif's built-in tools. Even the best photo editing apps struggle a bit when combining text and photo. Oftentimes, the text ends up a bit pixelated or misaligned. However, Motif is a master at combining the two so you can turn a photo book into a storybook, add captions and blurbs around your photos, or overlay text on top of a photo. You can even resize your text, change its color, and select your perfect font.
Carry your text onto the photo book's spine for a professional touch that makes finding the book you're looking for on a shelf that much quicker.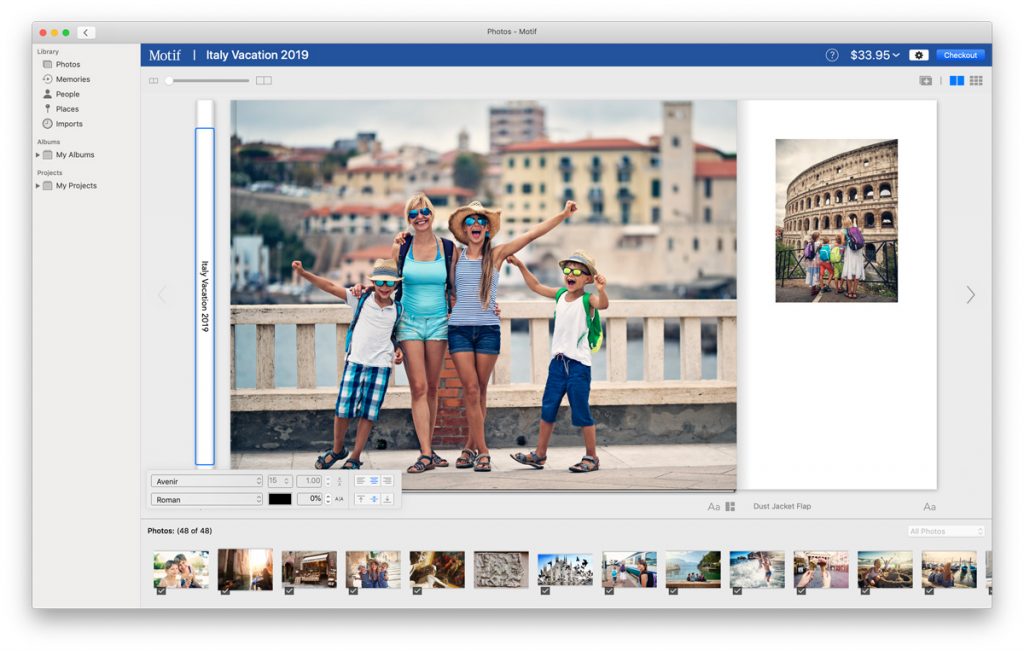 The best photo editing apps are great! But what if there's a better way? Motif functions seamlessly within your Photos app, helping you create stunning, one-of-a-kind calendars, photo cards, and photo books, and saving you time and steps while filling you with joy along the way. What's not to love?