Reading Time: 6 minutes read
Coffee table books are often a representation of your interests while also displaying your sense of style. There are stacks of them available to anyone at most bookstores or online retailers. The risk in purchasing one there is finding the same coffee table photo book in someone else's living room or den.
Quick Links
However, there's an easy way to prevent that from ever happening. Popular photo project apps like Motif allow users to create their own custom coffee table book using their very own photos. The finished product may have you wondering why you even considered a store-bought coffee table book.
But wait, there's more!
Use the text tool in the app to include yourself as the author on the cover and spine of the book. That's sure to raise an eyebrow or two of guests who pick them up. You're literally a few clicks away from being a published author.
If the sound of being a published author and featuring unique custom coffee table books in your home has a good ring to it, read on.
What is a Coffee Table Book?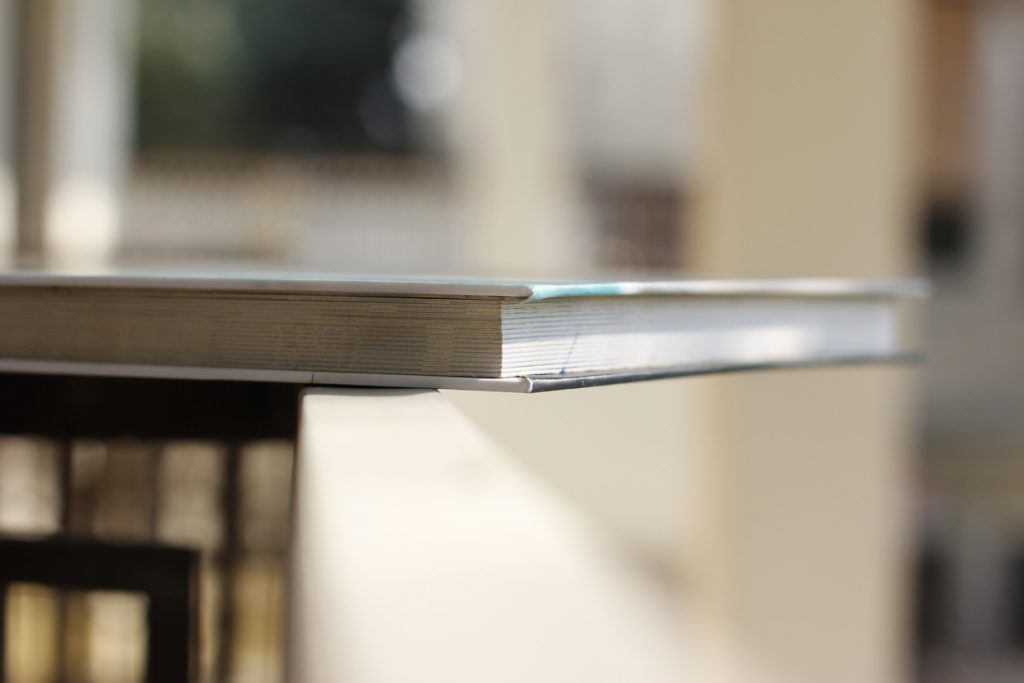 A coffee table book is usually oversized and often hardcover book filled with stimulating, eye-catching visuals. They're usually light on copy and rely heavily on the imagery to hold your attention. Sizes do vary to accommodate the different size coffee tables found in most homes. Some consider them mostly decorative but they can be the source of good conversation among friends, family, and guests.
Ultimately, if you're making your own coffee table book, there are no rules. Your coffee table book should look just how you want it to. Most photo book providers offer a wide variety of sizes to choose from.
Why Make A Custom Coffee Table Photo Book
It's a question that's been asked for years. There's an amazing array of coffee table books available. The main problem with them is they're filled with someone else's photos. You may know something about the photos in them, but when you create a coffee table book for yourself, you know everything about every photo in it. When you pick it up you're transported back in time to the moment you took the photo. All the details of the moment come rushing back.
If you're one of the many who rent out their homes to guests, a custom coffee table book is the perfect vehicle for information about the home, places to visit or eat nearby. It certainly looks way more professional than a few sheets of paper stapled together as a home guide.
And let's not forget, a coffee table photo book can be an excellent gift. Say you went on vacation with someone. Imagine the look on their face when they open a professionally printed book filled with photos they're featured in. Gifts that you make are the ones that are most appreciated.
Inspiration, Ideas & Design Tips
So what do you put in your coffee table book? Well, because you're creating it, just about anything. That's the beauty of making your own coffee table photo book. You are your own editor so what you say goes.
Some, create a coffee table photo book featuring their wedding photos. There's plenty of photos to choose from and it's always a great time to look back at that special day. Your guests will enjoy the book too. They also make for great wedding party gifts.
Vacations are another excellent subject for coffee table books. Again, we take tons of photos while we travel. Feature big travel photos and include additional text for things like names, dates, and particular details about that moment. A coffee table with a stack of travel photo books is always a great place to gather around.
Children are also great coffee table book subjects. And, we have no shortage of photos of them. Rescue them off your devices and feature them in a professionally produced printed photo book. Feature the family in a series of coffee table photo books.
With the Motif photo app it's easy to make all kinds of coffee table photo books. It has the tools to let you customize it with your own colors, text, and a variety of themes and patterns.
How To Create Your Own Coffee Table Book
There are three basic ingredients to making your own coffee table book: photos, the Motif app, and a Mac, iPhone, or iPad. Really, that's it. Your photos are most likely in your Apple Photos app and that's where Motif runs natively within.
(Let's use the screen capture (or the actual image) named MotifAppOS-iOS)
On your Mac desktop or laptop:
Download the Motif Photos app from the Mac App Store for free.
In Apple Photos select the photos you want included in your book.
From the File menu choose Create then Photo Book then Motif.
Choose a theme fitting of your story then let our smart tech arrange all your photos into a coffee table book.
Add all the color, patterns, photos, and copy you want.
Click Checkout, sit back, and let us print then ship your creation.
On your iPhone or iPad:
Open the App Store on your device and download the Motif Photos app for free.
Open Motif and choose Photo Book in the products page.
Select the photos you want in your coffee table photo book.
Motif can automatically place all your photos into your photo book format.
Stylize as you wish with color, patterns, and your own copy.
Tap Checkout, sit back while Motif professionally prints and ships your book.
Whichever device you choose to make your own coffee table book, you'll be pleasantly surprised at the print quality you receive. Then, clear some space and position it smartly on your coffee table. Don't be surprised at how easy the whole process was. Enjoy your newest conversation piece.