Reading Time: 6 minutes read
The time is near when many of us make that final flip of our calendar. That household tool that reminds us of special events like birthdays, anniversaries, appointments, holidays, and basically whatever we don't want to forget.
So, we head out to our local getting place in search of a 2022 calendar. We flip through the calendars filled with kittens, landscapes, and dozens of other themes before settling on one. There's nothing wrong with kittens, landscapes, or whatever theme you may like. There is something wrong with settling.
Quick Links
Instead of settling on photo wall calendars filled with someone else's kittens, landscapes, and featured dates, make your own custom wall calendar. All you really need are photos which most of us are flush with. An easy-to-use photo project app makes it possible to create your own wall calendar.
How to Make a Wall Calendar in 7 Steps
Now if you're thinking a personalized wall calendar will require enlisting your tech savvy kids or relatives for help, you're wrong. The photo project app Motif works within your Apple Photos seamlessly. A slick tutorial is available to walk you through your first project. You can also follow along the next few segments for a quick overview.
1. Download the Motif App
Making a wall calendar begins by visiting the App Store or the Mac App Store. Search for the Motif Photos app and download to your Mac desktop/laptop and iPhone/iPad. It's free to download and use. If you like what you create, hit the Checkout button to purchase.
2. Open Apple Photos
A custom wall calendar is usually filled with your own photos, so what better place to start one than in your Photos app. There's no uploading photos required.
On your Mac, select the photos you want to create your calendar with. In the File menu select Create, then Calendar, and then Motif.
On your iPhone or iPad, open the Motif app and choose the Calendar product. Set your calendar options and tap Next to select the memory or album for your calendar.
3. Set your calendar options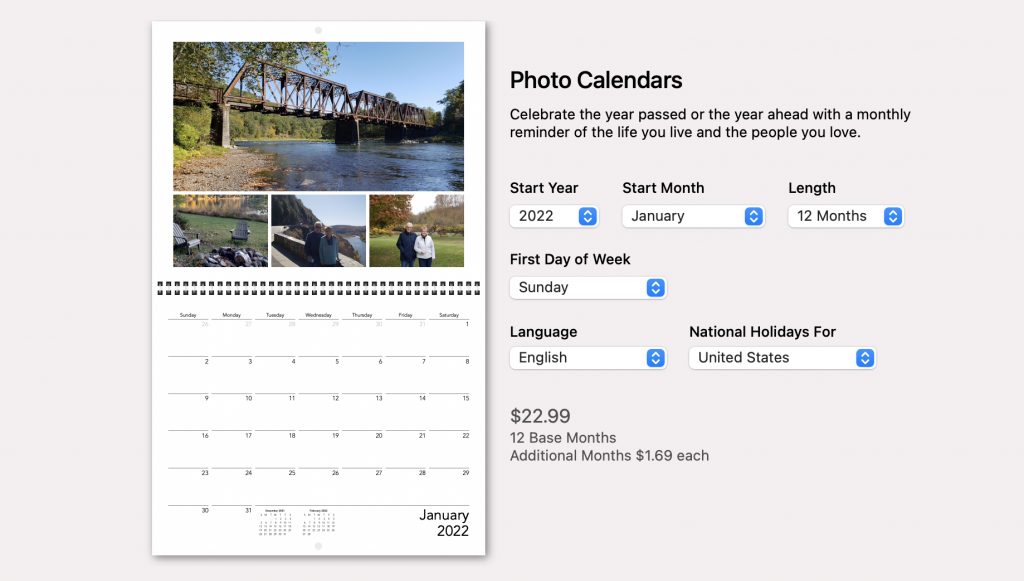 The calendars you buy off the shelf come preset with common holidays. They begin with January and end in December. The next step of creating photo wall calendars is setting your calendar options. Choose the start year, start month, length, first day of the week, language, and national holidays you'd like to include.
If you want to make your own wall calendar week begin on a Monday and end on a Sunday, then do it. Motif gives you the power to make it fit your needs.
4. Select a theme
(SelectThemePage.jpg)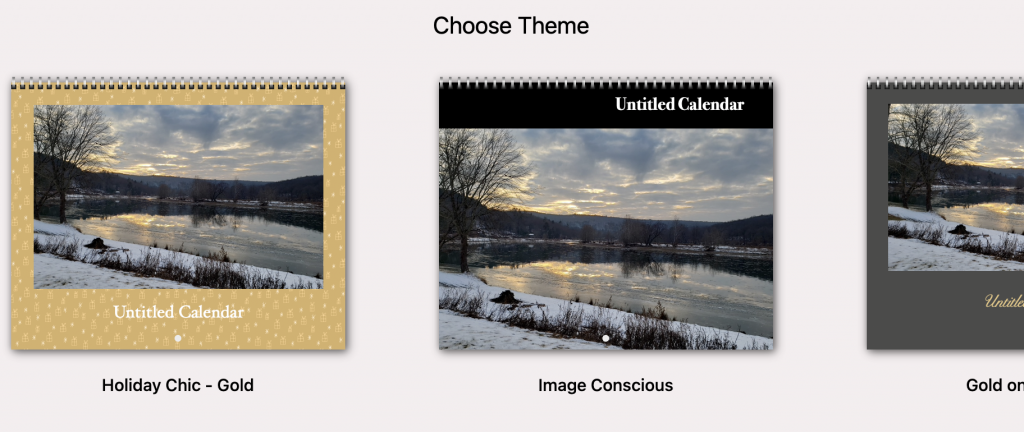 Your custom wall calendar can easily take on a predesigned theme simply by choosing one of many Motif provides. Since your calendar is going to be a photo calendar, the theme will compliment the photos you choose for it.
Once you select your theme you'll have the option to choose Autoflow Calendar or Don't Autoflow. The Autoflow feature places your best images throughout your calendar. It balances image orientations and optimizes image centering and cropping. If you'd like to place all the images yourself, select Don't Autoflow.
5. Add custom dates and text
Here's your opportunity to get creative. This calendar might need a title. You might want to add a caption to the photos throughout your calendar. Click the Aa icon in the lower right corner to customize away.
Click on any date to add text for birthdays, anniversaries, or whatever occasion you deem special.
6. Add photos to custom dates
If a simple "Mom's Birthday" doesn't quite capture the magnitude of the occasion, drag a favorite photo of Mom from the image tray below to that date box. Scale, screen, or rotate it to make it perfect. If you have a tropical vacation planned, fill those days with fitting imagery. Just another way to make a custom wall calendar your own.
7. Check out to make it yours
Once you've looked for spelling errors and have made sure the photos are just the way you want them, click the Checkout button. Motif automatically checks your images for resolution issues and other possible errors.
In the following screens you'll enter your billing/shipping information. Then, think about how many copies you'd like. These make for great gifts. Then enter your credit card information and any promo discount codes before hitting Pay.
Then, sit back and let our professionals do what they do best. With over 100 years of printing expertise, you can trust we'll ship a quality calendar.
DIY Wall Calendar Ideas & Tips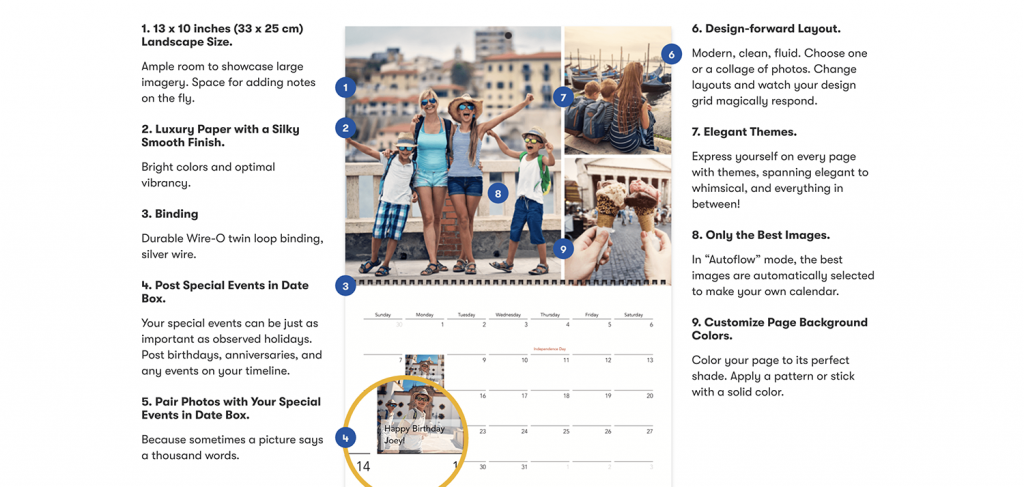 When you decide not to settle on a store-bought calendar, you're taking control of how your calendar will look. The photos you use will obviously be your favorites and will bring out the true character of every friend or family member featured. If you have a favorite color or region on the color wheel, be sure to apply the proper amount to your calendar. Select the theme and maybe some patterns to bring it all together.
Just like you might find in the store, you too can fill your calendar with some really nice landscape or nature photos. Is your kitten the cutest thing ever? Gather all your favorite shots of Sylvester. That device you stare down at so much has the ability to take really amazing photos. The possibilities of photo themes are as endless as your imagination.
Create a Custom Photo Wall Calendar For 2022
Given the fact that most of the photos you'd use in your calendar are already in your Photos app, a custom wall calendar is only a handful of clicks or taps away. Just follow the steps covered earlier in the story and you'll find out how easy it is. Never settle for a store-bought calendar again.
Bring your best photos to life with Motif.
Experience how easy creating personalized photo projects is with Motif. Our photo project app seamlessly works with Apple Photos in macOS and iOS. We do all the complicated stuff leaving the fun creative freedom to you.