Reading Time: 15 minutes read
Capturing stunning photography on an iPad is possible. Many professional photographers regularly rely on their iPad for their work. The multifunctional tablet takes photos on the fly, then edit and shares those photos with just a few clicks. High-quality images are not guaranteed right out of the box. Apple has made it as easy to set up an iPad as it is to adjust your iPhone camera settings. This guide walks through the necessary steps. You'll find everything from deciding on the best iPad to navigating its fundamental features.
Which iPad Has the Best Camera?
Compared to other tablets on the market, Apple's iPad has always ranked as one of the best for photography. Apple offers several different iPads. Some of their most recent innovations include the 8th generation iPad, iPad Mini, iPad Air 10.5, iPad Pro 11-inch, and iPad Pro 12.9-inch. Many of them offer a Wide camera lens, HDR setting, and exposure control. There are a few key differences, however.
Which is the best iPad for photographers?
All things considered, the iPad Pro 12.9-inch is currently the top of the line choice. With the A12Z Bionic chip and Neural Engine, it is the most powerful iPad to date. Expect even the most robust photography apps to run smoothly and quickly, making photo work more efficient. The large Liquid Retina display with LED backlighting further enhances the user experience.
If the iPad Pro 12.9" doesn't fit your budget, there are other high-quality options. The iPad Pro 11" offers the same powerful processor, crystal-clear resolution, as well as rear and front cameras. The only notable difference is the slightly smaller screen size.
iPad Camera Specs
Now that you know the iPad Pro 12.9" is the best iPad for photographers let's run through its camera specs.
iPad Camera Resolution
What is it?
Resolution describes the size of the digital image a camera produces. It's measured in pixels. It can also be expressed as pixels per inch (ppi). The iPad Pro 12.9" has a resolution of 2732 x 2048 pixels at 264 ppi. Such a high resolution speaks to the iPad camera quality.
Why is it important?
The resolution of a camera affects two significant factors:
Image display – A high resolution provides more image details.
Print size – A high resolution allows you to print larger photos without losing image details.
iPad photo storage
What is it?
Photo storage refers to the digital space available for saving photos, videos, and other downloadable materials. The iPad Pro 12.9" and iPad Pro 11" offer the following photo storage options:
Why is it important?
Storage size matters when it comes to photography. The more available space you have, the more photos you can snap and save on the iPad. While it's always good practice to back up your photos, there's something to be said for convenience. Large photo storage allows photographers to keep original high-resolution images on the iPad. This means instant access to the collection anytime the photos are needed to view, share, or edit. It also makes it easier to create print projects with native Apple apps, like Motif.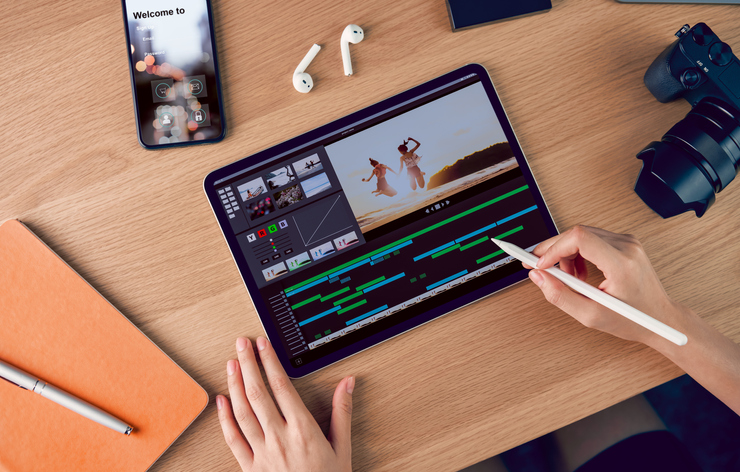 iPad Photography Apps
All apps are not created equal. To produce quality images, the right tools are needed. Below are the best apps for photography on the iPad. Many of these are also great options if you're looking for iPhone photography tips.
Best camera app for iPad
Adobe Lightroom – The embedded camera in this app lets photographers take RAW pictures on the iPad. Shooting RAW produces the highest quality image files and makes editing a breeze. Adobe Photoshop Lightroom is also one of the best photo editing apps for iOS.
Camera+ 2 – Using this app's long shutter speed (up to 30 seconds) helps capture action shots and waterfalls with more clarity. It also has a macro mode for shooting closeups and a built-in portrait editor. This feature allows control of the level of background blur in portraits. For even more customized portraits, use Camera+2 to edit the background and foreground separately.
Halide – Customize a wide range of settings with Halide, including exposure, focus, ISO, and shutter speed (up to 15 seconds). It's also uniquely designed to quickly transition from autofocus to manual mode by simply swiping left or right.
VSCO – VSCO doubles as a top-notch photo editing app and camera app for iPad. It has everyone's favorite functions: the ability to control shutter speed, ISO, white balance, and exposure. More advanced photographers can even use VSCO to shoot RAW. The only downside is that many of this app's outstanding features are only available through a paid subscription.

ProCamera – The ProCamera white balance adjustment tool is one of the best among Apple camera apps. Other features include anti-shake protection, grid lines, focus lock, and exposure lock. Like Camera+2 and VSCO, ProCamera lets you shoot in RAW format and supports JPEG, TIFF, and HEIF.

Photo editing apps for iPad
A Color Story – This free-to-download app has over 100 different filters that instantly change the tone of photos. Temperature, saturation, brightness, contrast, and other features can all be quickly adjusted. After perfecting the basic settings, add a lens flare or colored mist to the photo. There are several options available for touching up images with A Color Story.
Facetune – As the name implies, Facetune specializes in editing fine details in hair, skin, and eyes. Essentially, this app has all the editing capabilities of Adobe Photoshop. But its lower price tag makes it much more accessible. All the in-depth editing tools may seem complicated to novice users. Make sure to watch the Facetune tutorial before getting started.
Pixelmator Photo – Using artificial intelligence, Pixelmator Photo automatically enhances photos. Users can tap into its collection of professional-grade photo effects and presets. Customize the presets as desired, or create new ones. The app saves the idea, so it's accessible later.
Photoshop Fix – For those who are already Photoshop users, this app is a no-brainer. Send edited photos from the iPad to Photoshop on the desktop, in case editing is needed from another device. As for actual editing tools, Photoshop Fix offers everything most photographers require. The Adjustments module can be used for making global changes to exposure, contrast, and saturation.
Prisma – The unique feature of Prisma is its ability to imitate art. Its filter selection assists in enhancing photos with specific art styles. The most popular filters are anime, Van Gogh, and pencil art. But there's an expansive variety to explore. The photo editing app even permits users to upload their creative ideas. Best of all, it's free.
Snapseed – This app was specifically designed to edit RAW photos. It has a healing brush, cropping feature, white balance adjustment tool, and several other fun editing tools that help to achieve a professional-looking photo. Want portraits to have an old-timey feel? Snapseed is stocked with photo effects, like a vintage overlay or grainy film.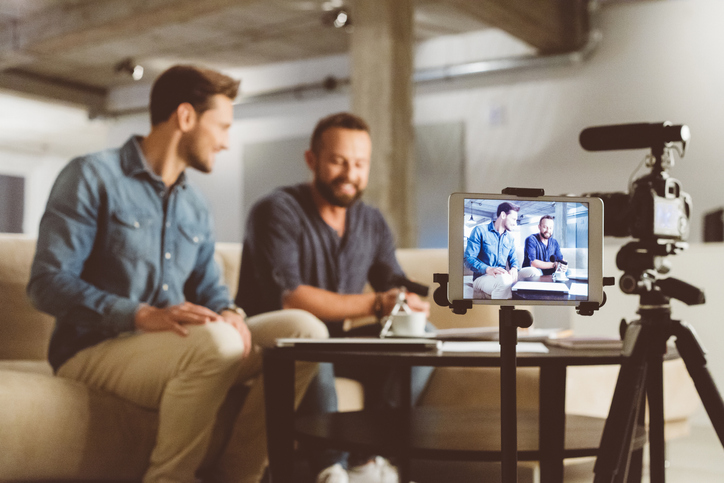 iPad Photography Accessories
Apple's latest iPads have dual, high-resolution cameras and 4K video capture. A beautiful photo is practically guaranteed, even when just pointing and shooting. For photographers who want the absolute best, there are a few accessories that expand the iPad's potential.
Macro/telephoto lens
Some iPad owners may already be familiar with the new iPhone camera lenses. They now come with a Wide, Ultra Wide, and Telephoto lens for shooting various types of photography. The iPad Pro also features a Wide and Ultra Wide camera. But in order to shoot beyond that, a special conversion lens is necessary. A macro lens will get photos up close and personal with the details of the subject. A telephoto lens attachment is best when it's necessary to keep a distance – as required in nature photography.
iPad Air camera flash attachment
Apple's iPad didn't always have a camera flash. The latest iPad Air and iPad Pro do feature a flash button. Sometimes photographers need more lighting than the built-in flash. An LED flash attachment, for instance, adds brilliant soft white light – perfect for professional photography and videos. Look for lighting accessories that are specifically designed for the iPad.
iPad photography stand
If wildlife photography ideas are in mind, make sure to have a sturdy iPad stand on hand. While the iPad is easier to shoot with than a compact iPhone camera, it still needs stabilizing. There are specially made mounts for the iPad. Many of them are sold as kits, with a few lenses, a light source, a protective case, and a tripod stand.
Portable battery pack
Even though the iPad Pro promises up to 10 hours of battery life, don't leave home without a backup plan. A portable battery pack will recharge the iPad in a pinch. Be sure to throw the iPad's USB charging cable into the camera bag, too!
Using iPad With an External Camera
It may seem strange to use an external camera with an iPad. Isn't that double the work?
The iPad already has an excellent camera. Why add an external camera to the mix? As counterintuitive as it may seem, professional photographers use external cameras with their laptops and tablets all the time.
Most professional cameras have a small screen for previewing photos. By connecting to an iPad, a much larger and clearer view of what's in the frame is visible. In some cases, photographers can even make adjustments to exposure and lighting straight from the tablet. The other notable reason for connecting a camera and iPad is to transfer files. This is a common practice with DSLR users, who use an iPad to edit, share, or create photo projects.
How to tether camera to iPad
There are three main tethering methods: WiFi, Bluetooth, and USB. Each has its pros and cons.
1. WiFi – This is the easiest tethering method to initiate. It's also the most universal. All iPads support WiFi, which means they can all be tethered to a camera this way. In fact, multiple devices can be tethered at once using WiFi. The drawbacks are security and battery life. WiFi connections are not always secure, and they certainly drain the device. Also, with WiFi, access to a WiFi connection is not always available.
2. Bluetooth – While Bluetooth is known for connecting mobile devices to headphones or speakers, it's also a way to tether the camera. It's not a particularly popular option among photographers. Setting up a Bluetooth connection is more involved than WiFi or USB. Those who do use Bluetooth are probably concerned with battery life. Bluetooth consumes less power than WiFi.
3. USB – For years, the iPad lacked a USB port that would allow for a direct connection between the tablet and an external camera. That changed with the iPad Pro 12.9" and iPad Air (4th generation). Both models feature a USB-C connector, which opens up the connectivity options. By using a USB cable to tether a camera to an iPad, you create a hard-wired connection. Hardwire connections are the fastest and most secure way to tether.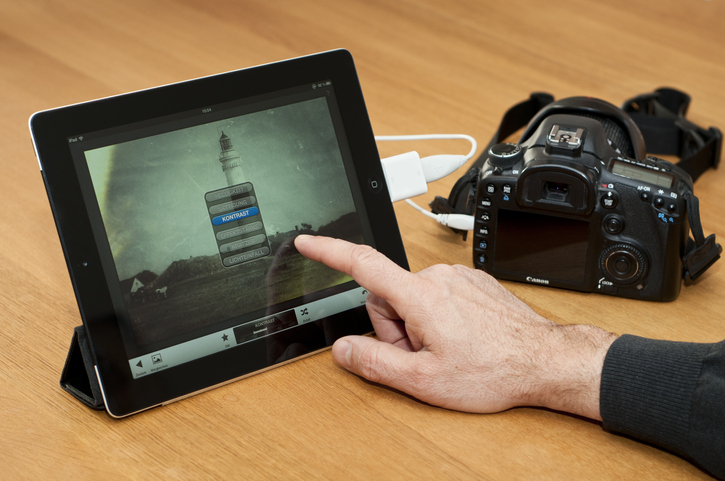 Connecting DSLR to iPad
Generally speaking, Apple wins the iPhone vs. DSLRL debate. But many photographers still use DSLRs to shoot and prefer the iPad for editing. In order to edit those photos, the DSLR must first be connected to the iPad. Then the files can be transferred, allowing image editing. As noted above, the newer iPad Pro 12.9" and iPad Air feature USB-C cable ports to make this connection faster and easy.
How to connect DSLR to iPad Pro 12.9" or iPad Air:

Most new mirrorless cameras also use USB-C. That means they can directly connect to the DSLR using the USB-C-to-USB-C cable that came with the iPad.
Once the camera is connected to the iPad, photos should launch into the Import tab.
Tap the images to select the ones desired for importing.
Tap Import in the upper right corner.
Tap Import Selected or Import All.
How to connect DSLR to older iPad models:
The 8th generation iPad plus any iPads released before 2018 have a Lightning connector. To connect these models to a DSLR, an adapter is necessary. There are two ways to go about this. First, connect the iPad to the camera's SD card. This requires a Lightning-to-SD-Card Camera Reader. The adapter plugs into the iPad, and the SD card plugs into the adapter. The other option is to convert the iPad Lightning port into a USB-A port. A Lightning-to-USB adapter is required. The adapter plugs into the iPad's Lightning port and allows connection to the tablet via standard USB cables.
Choose the preferred path, and then follow steps 2 through 5 above. Everything is the same.
iPhone to iPad Photo Transfer
Tired of touching up photos on a smaller iPhone screen? Consider transferring photos from iPhone to iPad. The larger screen paired with the best iPad editing apps results in more precise revisions that are harder to achieve on an iPhone. The process of sharing photos across Apple devices is simple. Here are three options:
1. Transfer photos with iCloud – With an iCloud account, photos automatically sync across devices. Enabling the iCloud setting on both iPhone and iPad is required for it to work. iCloud takes care of the rest. This is, by far, the easiest option.
2. Transfer photos with AirDrop – Apple's AirDrop feature is not automatic, but it is relatively quick. Again, enable AirDrop on both devices. Allow AirDrop access to Everyone or Contacts Only. When ready to make the transfer, select the photos, and hit the Share icon. The iPad AirDrop will pop up in the menu bar. The devices do need to be fairly close to one another for AirDrop to connect. Accept the AirDrop notification on the iPad once they've been sent.
3. Transfer photos with a USB-C cable – For this transfer, iPhone and iPad have to be very close. The cable must be able to reach between the devices. Other than that, it's a simple process. One end of the USB-C cable is plugged into the iPhone while the other end plugs into the iPad. As soon as the connection is recognized, unlock the iPhone and allow access. An import screen pops up on iPad to select the photos and transfer over.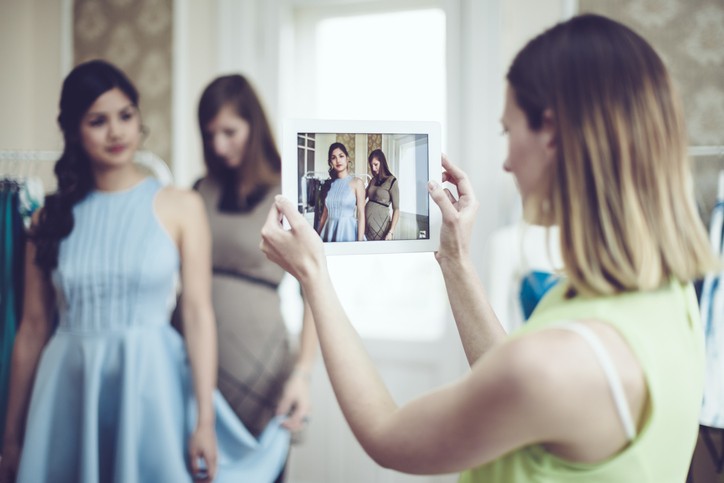 iPad Pro for Photography
iPad photography workflow
Workflow is how to access and play around with photography on iPad. Establishing a workflow is crucial to streamlining photo projects. Whether just trying to edit photos or turn them into beautiful Apple photo books, an organized workflow keeps you on track – and on deadline. The setup of your workflow depends on how photos are taken.
Tips for creating an iPad workflow when using an external camera:
Find the favorite method of transferring photos. (Refer to the connectivity tips above.)
When moving over photos, create a separate folder on iPad and give it a descriptive title. This puts the photos in a central location so that they can be worked within any program. Photos can even be worked on in Lightroom, Snapseed, and Motif simultaneously.
Avoid transferring photos directly to any one app. This significantly limits the workflow.
If there are thousands of photos, consider saving them to an external hard drive. Having a secure set of copies offers peace of mind. It also allows users to pull photos to the iPad in smaller groups, as needed.
Tips for creating an iPad workflow when using the iPad camera:
Whenever possible, opt for larger storage. Taking photos on iPad means they automatically save to the device in the Apple Photos app. Luckily, the iPad Pro 12.9" is available in 256 GB, 512 GB, and 1 TB. These all provide enough space for storing photos locally.
If the iPad has anything less than 256 GB, consider saving photos to an external hard drive. This frees up iPad storage.
Take time to organize photos in your Apple photos app. Categorizing photos makes it easier to access them later. You'll know exactly which album to call on when pulling photos into a favorite program.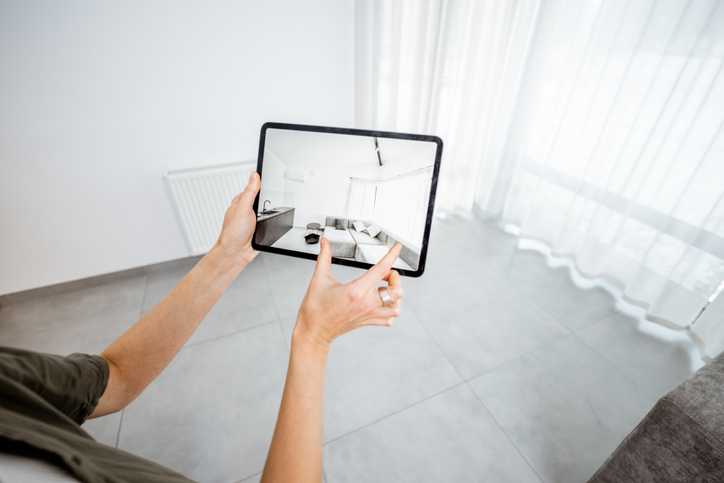 iPad Photography FAQs
Anyone new to using the iPad camera may have some questions. Below are a few of the most frequently asked questions and responses for each one.
Why are my iPad photos grainy?
The primary causes of graininess are instability and lack of lighting. Unfortunately, the latest iPads do not have Optical Image Stabilization (OIS). It is necessary to either switch to Live Photos mode or invest in an iPad photography stand to keep the device stable. If it's a lighting issue, try a camera flash attachment or other external lighting sources. Don't forget to keep the iPad camera lenses clean. A dirty lens results in blurry images.
Do iPads have portrait mode?
Yes, the Camera app on iPad offers multiple photography modes, including Portrait mode. Simply swipe right and left on the iPad camera screen to switch modes. Portrait mode photos on iPad can also be edited. Adjust the lighting effects and depth control after the photos are taken.
What is HDR on iPad camera?
High Dynamic Range (HDR) is a feature that helps get quality shots in high-contrast situations. It works by taking three photos, one right after the other. Each photo is taken with a different exposure setting. HDR then blends the three photos together to create one highly detailed, perfectly exposed photo.
On iPad models with Auto HDR and Smart HDR, the iPad camera defaults to HDR when it detects high contrast. This function can be turned off. Go to Settings on iPad. Scroll to the Camera section, and toggle the Auto/Smart HDR slider to the Off position (gray). When HDR is activated, the iPad camera automatically saves the HDR version to the Photos app. If you want the HDR and non-HDR versions of the photo, turn on Keep Normal Photo. This can also be found in Settings.
Take photos!

Now that you have a firm grip on your iPad and all it can do, start snapping those photos. Practice using the features, download a few editing apps, and hone your skills. You'll find that your iPad is a great tool in your photography arsenal. Don't lose those photos in the vast chasm of your iPad's memory or on iCloud storage. Save the ones worth keeping in a separate folder, and delete the others. You can also use them to create a photo book so they'll always be accessible. With Motif, all those great photos can be added in a snap!