Reading Time: 7 minutes read
If you're an Apple product user, it apparently pays to let them know what kind of iOS features you'd really like to see in future releases. Apple's product teams are experts in developing better ways to use their operating system. However, any company who wants to stay in business listens to what their customers are looking for in product improvements. So when a screen pops up on your device asking if you'd like to rate and/or review a product, this is your opportunity to shape something to meet your needs.
Quick Links
In the case of iOS 15 features, the new/updated feature list is quite impressive to say the least. Like, did you ever wish there was a special notifications setting that could help you focus better? Well the new Find Focus feature allows users to filter notifications to help improve work productivity, family time, and also sleep time without missing what's important.
We'll cover more iOS 15 features later in this article, but the one feature that everyone's all excited about is the iOS 15 FaceTime screen share called SharePlay.
What is SharePlay?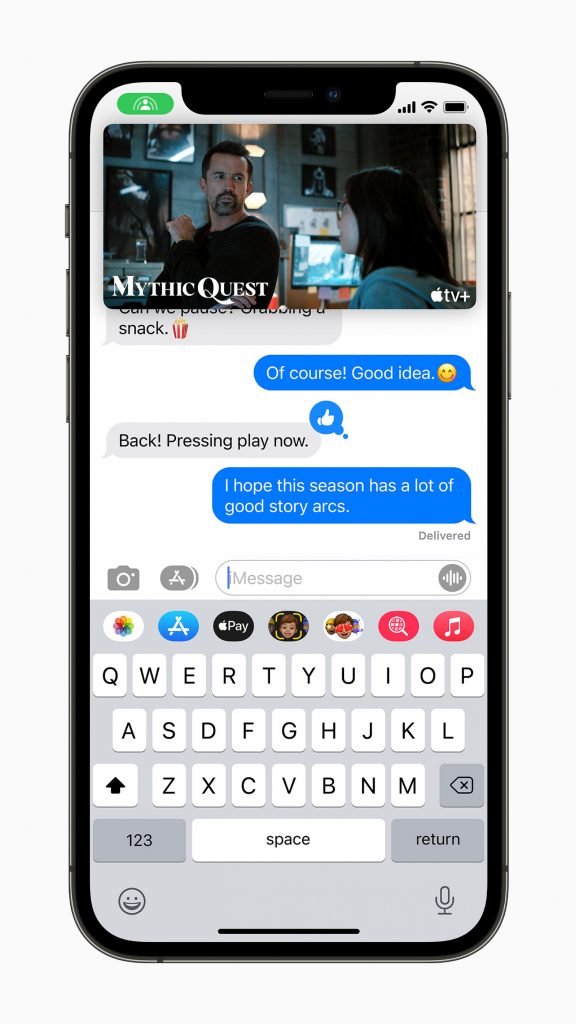 SharePlay on iOS 15 is ‌FaceTime‌'s biggest new feature. For the most part, it's basically a way for you to do more on ‌FaceTime‌ calls with your friends and family. Being able to share your screen over FaceTime has been high on the list of the most requested iPhone and iPad features over the years. The other reasons people want this iOS 15 screen share feature include easier tech support, playing games and puzzles together, and more.
Screen Share on FaceTime with iOS 15.1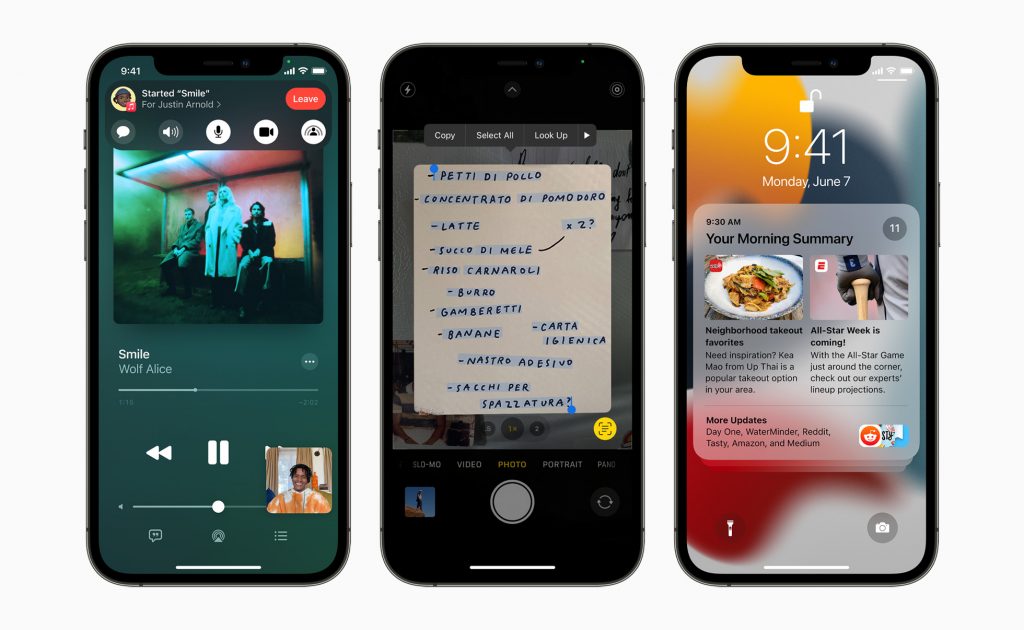 iOS 15 FaceTime lets you watch a favorite TV show or movie on Apple TV+ and other streaming services in sync together including all the comments, laughter, and OMG's. Create a FaceTime dance party by sharing music if you can't be together. If you're having technical issues with your device, simply share your screen to let an Apple support expert take care of it remotely.
SharePlay was introduced in iOS 15.1, iPadOS 15.1, and tvOS 15.1, after being delayed from the initial launch versions of the software. It will also work with ‌macOS Monterey‌ in a future update.
9 iOS 15 Features to Try On FaceTime
In addition to the wonders of SharePlay, the iOS 15 control center also lets you set up your FaceTime to fit your needs. Here's just a few new/updated features:
Portrait mode
Inspired by portraits taken in the Camera app, Portrait mode in FaceTime blurs your background to put the focus on you.
Grid view
Lets you see people in your Group FaceTime calls in same size tiles, and highlights the current speaker. You'll see up to six faces in the grid at a time.
Spatial audio
Creates a sound field that helps conversations flow just as they would face to face. Spatial audio spreads out voices to sound like they're coming from the direction in which they're positioned on the call.
Voice Isolation mode
This microphone mode spotlights your voice by using machine learning to identify ambient noises and block them out. It's a great feature when there's a fire truck driving by or a dog barking in the next room.
FaceTime links
Invite anyone into a FaceTime call using a web link you can share anywhere.
Join FaceTime on the web
Even friends without Apple devices can join you for one-to-one and Group FaceTime calls straight from their browser instantly — no login necessary.
Calendar integration
Generate a web link for a FaceTime call while creating an event in Calendar, so everyone knows exactly where to meet and when.
Mute alerts
Be heard with this feature as it lets you know when you're talking while muted. Tap the alert to quickly unmute.
Zoom
An optical zoom control for your back camera helps you zero in on what matters when you're on a FaceTime call.
Map, Memojis, Messages & More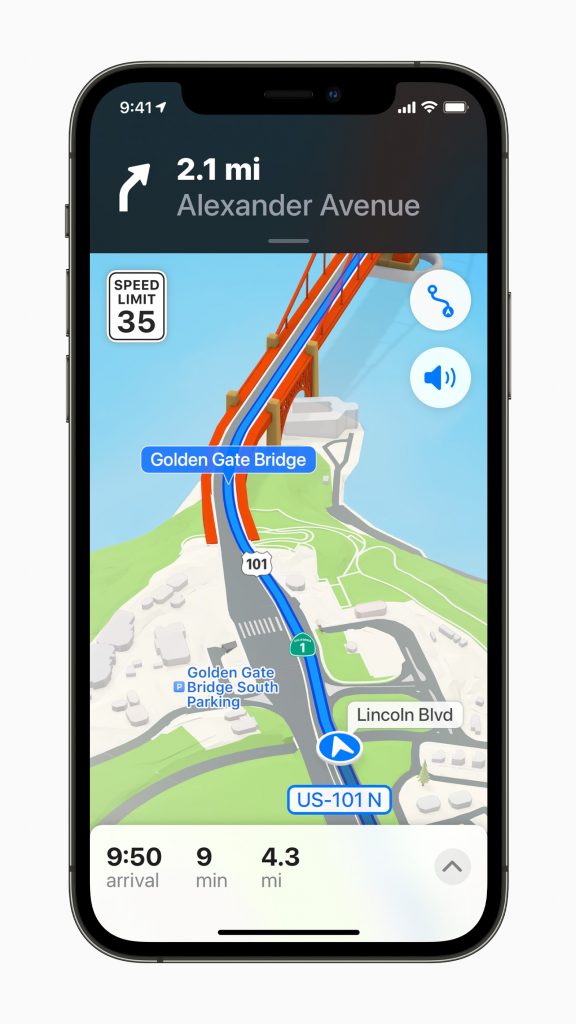 In addition to FaceTime improvements, the new operating system includes an improved Apple Maps for iOS 15. Experience the natural beauty of Earth with an interactive 3D globe, including enhanced details for mountain ranges, deserts, forests, oceans and more. A new dedicated driving map highlights traffic and incidents. Immersive walking directions get where you're going with step-by-step directions shown in augmented reality.
Redesigned public transport now shows key bus routes. And when you're approaching your stop, Maps notifies you that it's almost time to disembark. Nearby public transport lets users get one-tap access to all departures that are near them. They can even pin their favorite lines so that they always show up at the top if they are nearby.
New iOS 15 Memojis have updated clothing with over 40 outfit choices to reflect your style, mood or the season — and choose up to three different colors. You can now select a different color for your left eye and your right eye. There are three new glasses options, including heart, star and retro shapes with color options for the frame and lenses. Stickers, headgear and accessibility options are also available.
New iOS Message has content sent to you via Messages automatically appear in a new "Shared with You" section in the corresponding app. View messages when it's convenient for you. Shared with You will be featured in Photos, Safari, Apple News, Apple Music, Apple Podcasts and the Apple TV app.
iOS 15 CarPlay through Siri can announce incoming messages. You can turn announcements on or off when a message is read and Siri will remember your preference. Or you can set announcements off or always on through Settings.
For a complete list of iOS 15 features, click here.
Update To iOS 15 and get more from Motif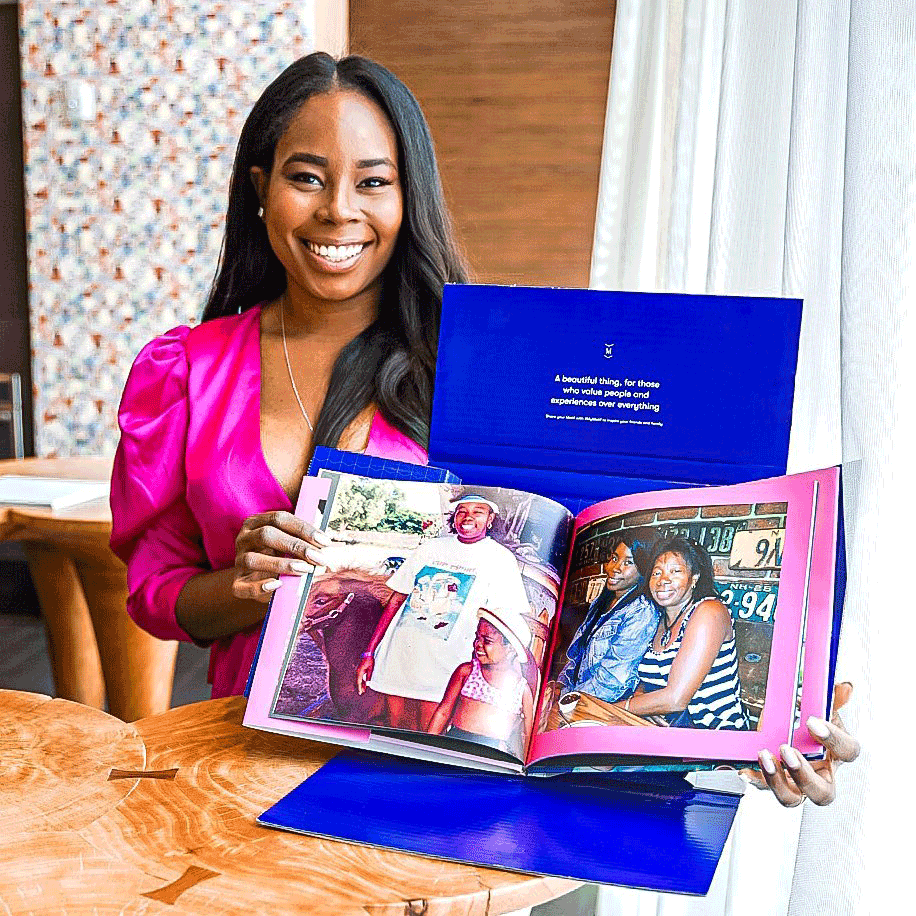 By updating to iOS 15 before the holiday season begins, you're adding better tools to share in your gift giving and receiving. Find your favorite holiday program like A Christmas Story, or Elf, or whatever movie you and your family love, and coordinate a watch party via SharePlay. Bring your family together wherever they may be.
FaceTime can easily make gift opening so much better for those who shipped gifts and can't be there in person. See their joy as they open your gift by streaming the moment. If you made them a photo book filled with favorite memories, share that moment as if you were right there beside them. And while you're at it, record it and share your opening moment with Motif. We love, love, love seeing the faces of our customers just as they open a photo project.
Bring your best photos to life with Motif.
Experience how easy creating personalized photo projects is with Motif. Our photo project app seamlessly works with Apple Photos in macOS and iOS. We do all the complicated stuff leaving the fun creative freedom to you.